Gibb House
Introduction
Built in 1890, Gibb House sits on Arch Street in the southwestern corner of the Quapaw Quarter. The Quapaw Quarter is a section of Little Rock which comprises its oldest and most historic business and residential neighborhoods. The name Quapaw comes from a corruption or mispronunciation of a word for a Native American Tribe which originally inhabited the area where the city of Little Rock is now situated. This name was informally applied to the land west of the original city of Little Rock in the nineteenth century. Then, in 1961 the name of Quapaw Quarter was more formally assigned. Now, it is a well-loved and treasured historic district featuring constructions of the Victorian, Queen Anne, Colonial Revival, Georgian Revival, Italianate, and Craftsman Styles.
Images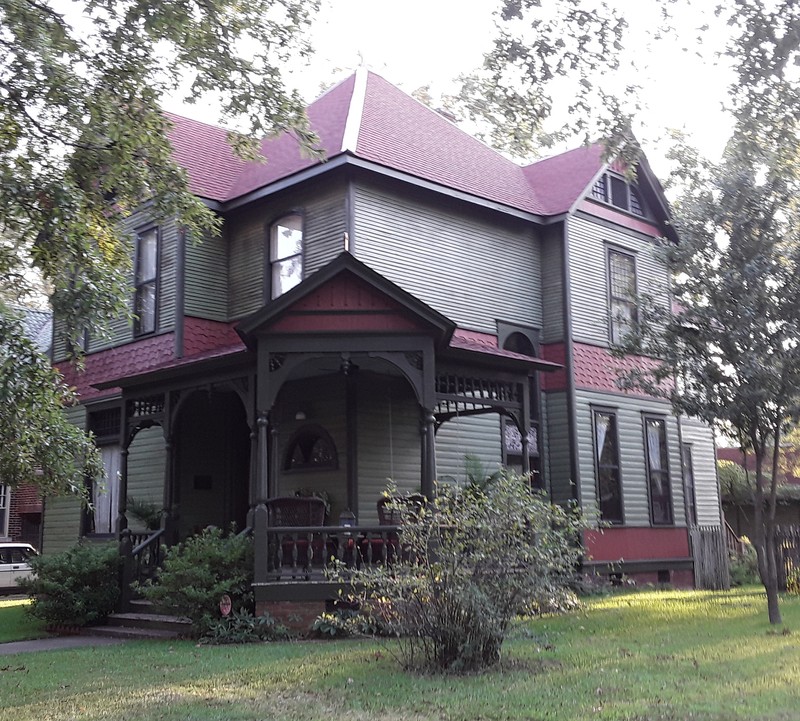 Backstory and Context
Designed by the nationally-noted Little Rock architect Frank Gibb, Gibb House conforms to the Queen Anne Style. In the United States, the Queen Anne Style of architecture refers to a wide range of picturesque buildings which borrow freely from the architectural features of the Italian Renaissance and avoid the features of English Gothic. The Queen Anne Style dominated design from approximately 1880 to 1910; it refers to architecture, decorative arts, and furniture. In architecture, the Queen Anne Style incorporates distinctive gables and turrets, asymmetrical facades, dominant front-facing gables which are often cantilevered out beyond the supporting wall, pedimented porches, balconies, overhanging eaves, leaded glass, dentils, balustrades, columns, multi-textured exterior skins, and wooden or slate roofs. Gibb House demonstrates the asymmetrical façade, multi-textured exterior, and embellishment typical of this style.
Sources
http://www.quapawtribe.com/401/Tribal-Name
https://encyclopediaofarkansas.net/entries/quapaw-550/
http://www.historicarkansas.org/exhibits/we-walk-in-two-worlds
https://www.littlerock.gov/!userfiles/editor/docs/planning/hdc/QQA%20tour%202014.pdf
https://encyclopediaofarkansas.net/entries/frank-wooster-gibb-7588/
http://www.askthearchitect.org/architectural