Marshall House
Introduction
Built in 1908, Marshall House is located on Arch Street in the southwestern corner of the Quapaw Quarter. The Quapaw Quarter is a section of Little Rock which comprises its oldest and most historic business and residential neighborhoods. The name Quapaw comes from a corruption or mispronunciation of a word for a Native American Tribe which originally inhabited the area where the city of Little Rock is now situated. This name was informally applied to the land west of the original city of Little Rock in the nineteenth century. Then, in 1961 the name of Quapaw Quarter was more formally assigned. Now, the Quapaw Quarter is a well-loved and treasured historic district featuring constructions in the Victorian, Queen Anne, Colonial Revival, Georgian Revival, Greek Revival, Italianate, and Craftsman Styles.
Images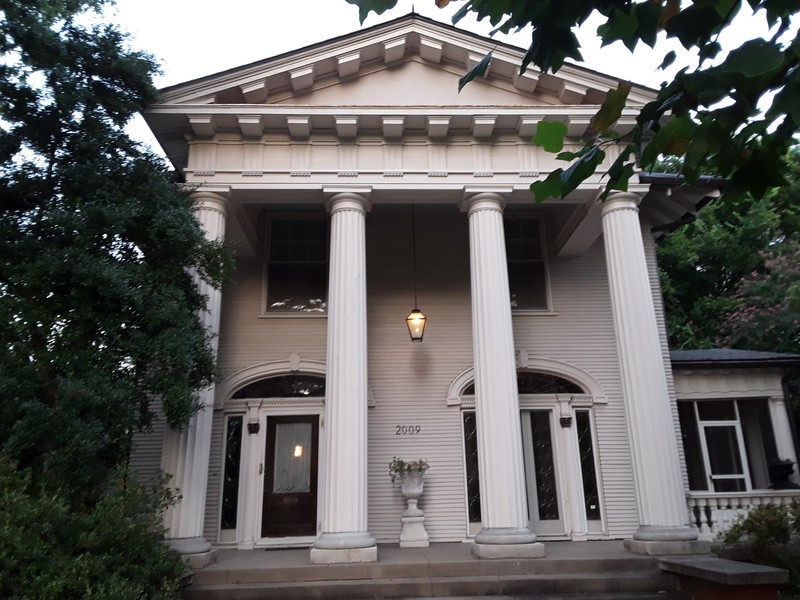 Backstory and Context
The Marshall House was designed by noted Arkansas architect Charles L. Thompson and originally constructed for attorney Joseph C. Marshall in 1908. In 1982, the Marshall House was listed on the National Register of Historic Places due to its architectural significance. According to the U.S. Department of the Interior Nomination Form for the National Register of Historic Places, the Marshall House represents the Georgian Revival Style.
Georgian Revival Style is the resurrection of the dominant architectural style used in the English colonies during the period 1700 - 1780. The original Georgian Style of the 1700s featured a rigid symmetry, clapboard or wooden cladding, decorative pediments over windows, a hipped roof, and formal embellished entrances. As can be seen in the photograph above, the 1908 Marshall House brought these flourishes back to life in the early twentieth-century American South with its double front doors surmounted by decorative arches and its staid, four-columned porch. In addition, the Marshall House features a hipped gray slate roof with exposed rafters, monumental fluted Roman Doric-like columns, an embellished frieze, modillions lining the cornice, a raking cornice on the pediment, tracery around the doors, arcs crowned with dentil molding, elliptical arches with keystones, and front doors flanked by pilasters topped with Corinthian capitals.
Sources
https://encyclopediaofarkansas.net/entries/quapaw-550/
http://www.quapawtribe.com/401/Tribal-Name
http://www.historicarkansas.org/exhibits/we-walk-in-two-worlds
https://www.littlerock.gov/!userfiles/editor/docs/planning/hdc/QQA%20tour%202014.pdf
http://www.arkansaspreservation.com/National-Register-Listings/PDF/PU1483.nr.pdf
https://encyclopediaofarkansas.net/entries/marshall-house-13590/
http://www.askthearchitect.org/architectural-styles/georgian-style-architecture