Railway Museum of San Angelo
Introduction
Opened in 1994, the Railway Museum of San Angelo showcases the history of railroading in San Angelo and the surrounding region. It features exhibits, model trains, and a research library. A locomotive and a few other railroad stock are on display outside. The museum is housed in the historic Santa Fe Passenger Depot, which was built in 1910 and listed on the National Register of Historic Places.
Images
The Santa Fe Passenger Depot was built in 1919.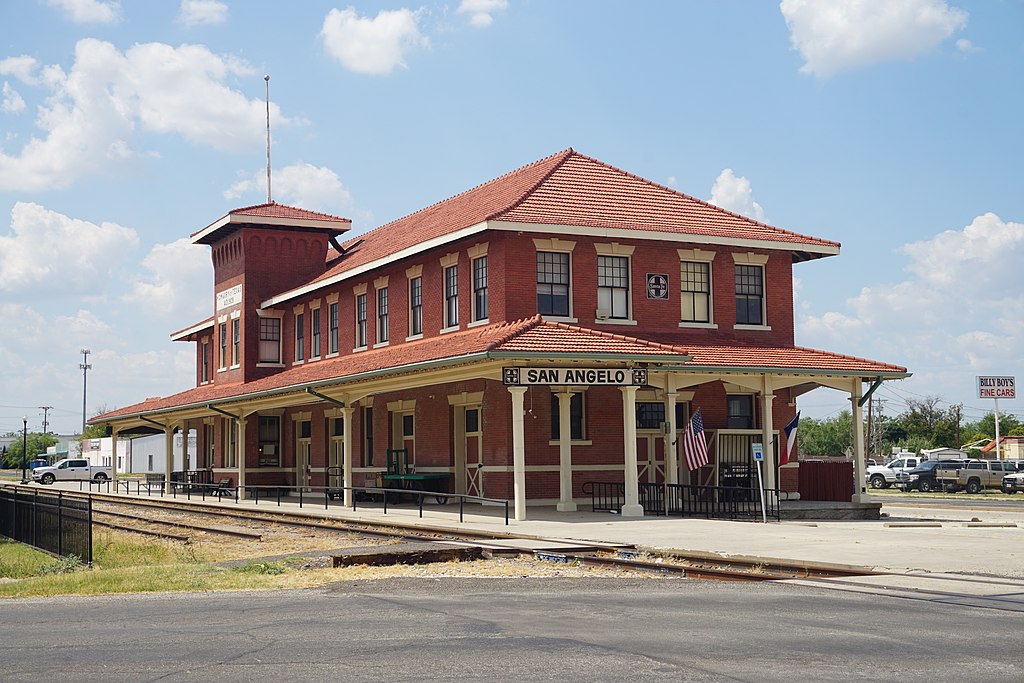 Backstory and Context
The Kansas City, Mexico, and Orient Railroad built the depot from 1909 to 1910. The two-story building was designed in the Prairie School style and features a tile roof, dormers, and overhangs. The railroad was founded by mining and railroad businessman Arthur Stilwell, who was a prominent figure in the Southwest. His intent was to connect Kansas to Asia (the Orient) by building a line from Kansas to the Pacific coast of Mexico. The company never fully realized this goal as it struggled financially. However, it played a key role in transporting oil during the 1920s and establishing San Angelo as key retail and wholesale center in the surrounding region. The depot, which the company also used it for its district offices, is one of the few buildings the company built that are still standing. The Santa Fe Railroad bought the company in 1928. It is not readily apparent how long passenger service continued at the depot or what happened to it before it became the museum.
Sources
"Santa Fe Passenger Depot." National Parks Service - National Register of Historic Places Nomination Form. November 27, 1989. https://catalog.archives.gov/OpaAPI/media/40970237/content/electronic-records/rg-079/NPS_TX/88002561.pdf.
Sutton, Samuel. "San Angelo Railway Museum back on track thanks to new contract with city." GoSanAngelo.com. February 5, 2019. https://www.gosanangelo.com/story/news/local/2019/02/05/city-san-angelo-announces-new-contract-railway-museum/2778057002.
Image Sources
Michael Barera, via Wikimedia Commons: https://en.wikipedia.org/wiki/National_Register_of_Historic_Places_listings_in_Tom_Green_County,_Texas#/media/File:San_Angelo_September_2019_54_(Santa_Fe_Passenger_Depot).jpg

Additional Information