The Marshall House
Introduction
Built in 1871, the Marshall House has been a prominent visual landmark in Healdsburg since its construction. The home blends vernacular Italianate style and Greek Revival. The Marshall House is known by the name of its first residents, John and Sarah Marshall. The home was specifically built and designed by John Marshall as his family's residence. Over its nearly 150 years of history, the Marshall House changed hands very few times. After years of deferred maintenance, the home fell into disrepair. In 2009, Mark Goff and Philip Engel bought the house. They undertook a massive renovation and restored the house over the next six years. In 2016, the owners received a Historic Residential Restoration award from the Healdsburg Museum & Historical Society for their extensive work on the property.
Images
1872 Marshall House. Photo taken from Fitch Street, looking north at North Street.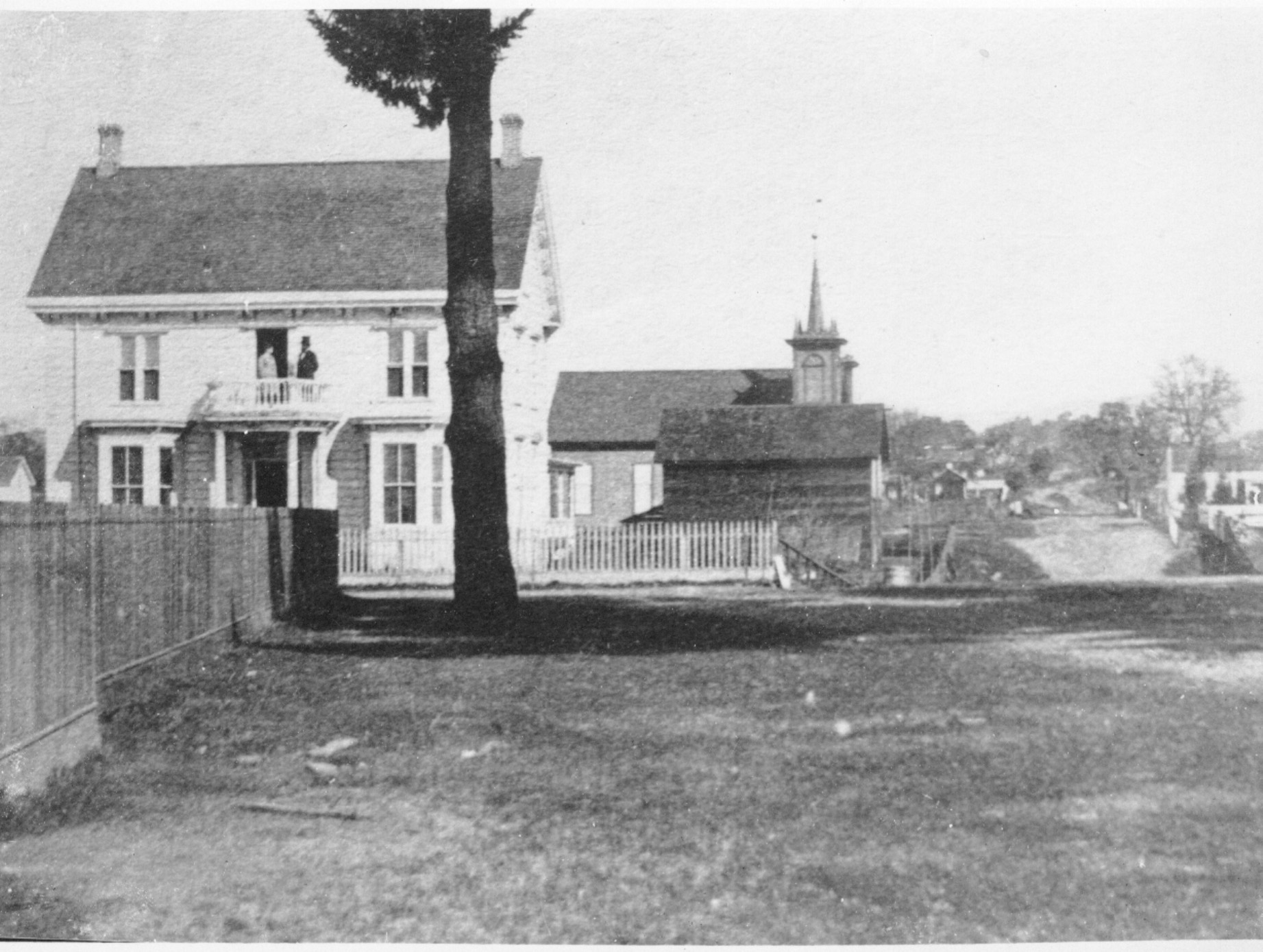 Marshall residence at the corner of North and Sheridan (Fitch) Streets, 1872.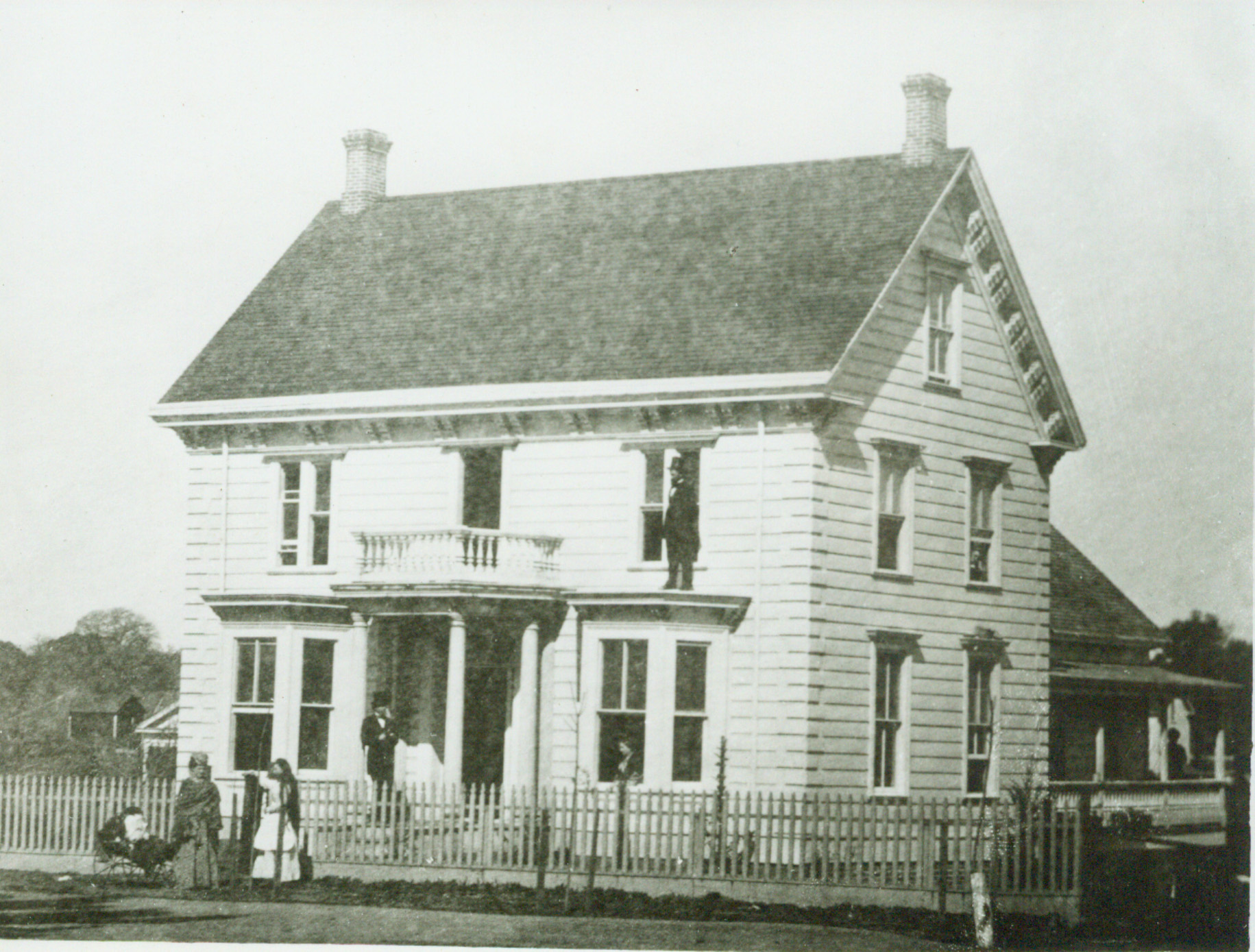 Marshall House, looking west toward East Street, March 8, 1873.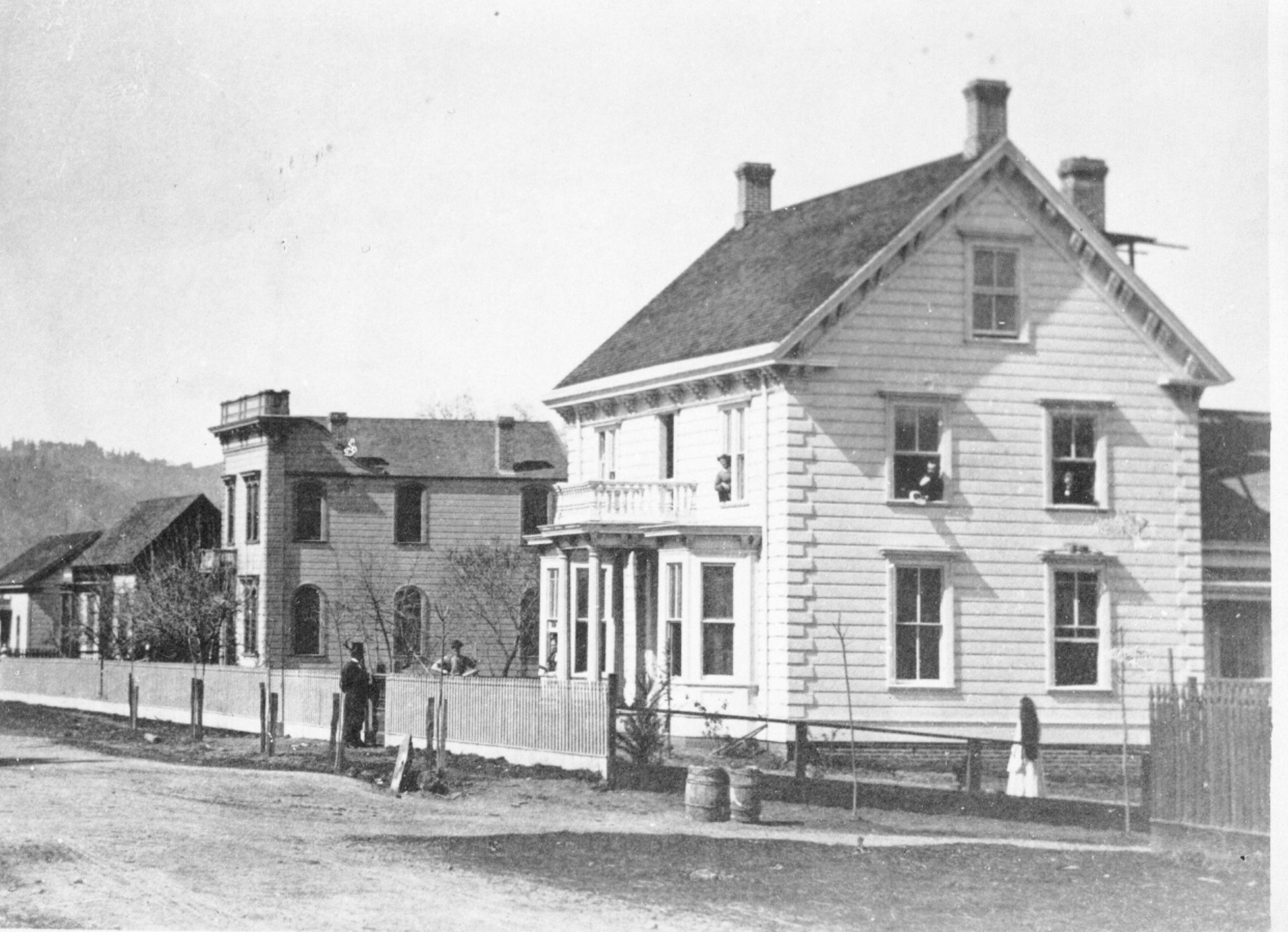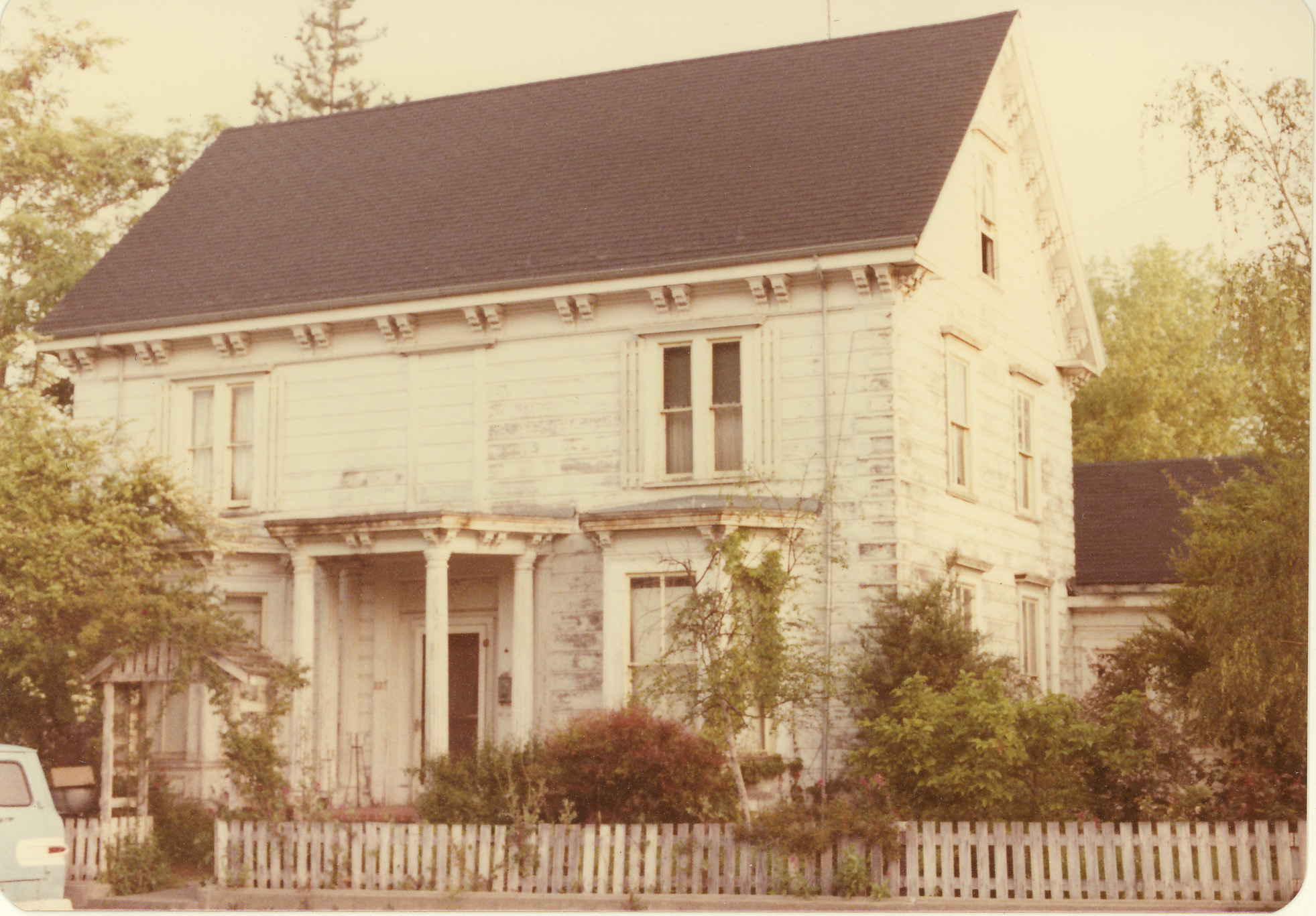 Backstory and Context
A native of Canada, John Marshall moved to Healdsburg in 1858, one year after Healdsburg was founded. He soon became prosperous as a Blacksmith and carriage maker in the new California town. John Marshall married Sarah Pimm in the 1870s. Sarah's father, Jacob Pimm, was a local wagon wright and Marshall soon began working with his father-in-law. Pimm later became a local developer and, with the help of Marshall, built the home in 1871 for $3,500. This was a substantial amount of money for the time.  
The Marshall home is a three-story vernacular Italianate with Greek Revival elements. It has a steeply pitched side-gable roof and eaves decorated with scroll-sawn brackets. The front entryway is framed by a balcony supported by four Doric columns and bay windows on either side. The wood frame house is sided with redwood shiplap and is accented with quoins.  
After the death of John Marshall in 1882, Sarah married Arthur Cochran. The Cochrans lived in the house until 1902, when they sold the residence to Robert R. Provines. The home stayed in the Provines family for almost 50 years. By 2009, the home was in a state of deterioration. The subsequent owners, Mark Goff and Philip Engel, restored the home over the next few years. They adhered to the original design as closely as possible. They installed a new foundation, replaced the roof as well as adding new wiring, plumbing, heating and cooling, interior walls, floors and lighting. They have researched and added period features such as gas chandeliers and an original 1923 gas stove. Wide plank walnut floors were added retaining the beautiful bannister on the two flights of stairs. Reclaimed wood from a decrepit garage was used to construct a charming summer house in the yard. The dining room walls, themselves a work of art, surround a table configured from an original floor joist. The second floor has three ensuite bedrooms including a large master, a linen closet and a laundry room reconfigured from four original bedrooms and a former attic space over the kitchen. Two more bedrooms and a bath are featured on the third floor.  
Sources
Edwin Langhart (Healdsburg) Museum. Historic Resources Inventory, 227 North Street. Healdsburg Cultural Resources Survey Final Report. 1983.
Healdsburg Museum. AAUW Healdsburg Homes Tour. May 7th 2017.
"Healdsburg Improvements." Russian River Flag (Healdsburg) March 28th 1872. 2.
Hoods, Holly. 2016 Preservation Award Winners. The Review, vol. 28, no. 25 - 5. Published February 1st 2016.
Image Sources
Healdsburg Museum

Healdsburg Museum

Healdsburg Museum

Healdsburg Museum