Sugar Ray Robinsons' International Boxing Hall Of Fame Profile
Introduction
In a career that spanned three decades, Sugar Ray Robinson embodied the essence of the sweet science. He was a world welterweight champion and held the middleweight title five times. Robinson combined an athlete's grace and excellent power and was nearly unbeatable in his prime. He is considered by many to be the best fighter in history, pound-for-pound. He earned the nickname "Sugar" Ray when a newspaper reporter described him as "sweet as sugar." Robinson was inducted into the International Boxing & World Boxing Hall Of Fame in 1990. The IBHOF located in Canastota, NY & the WBHOF located in Riverside, CA
Images
Bronze Cast Fist of IBHOF Inductee's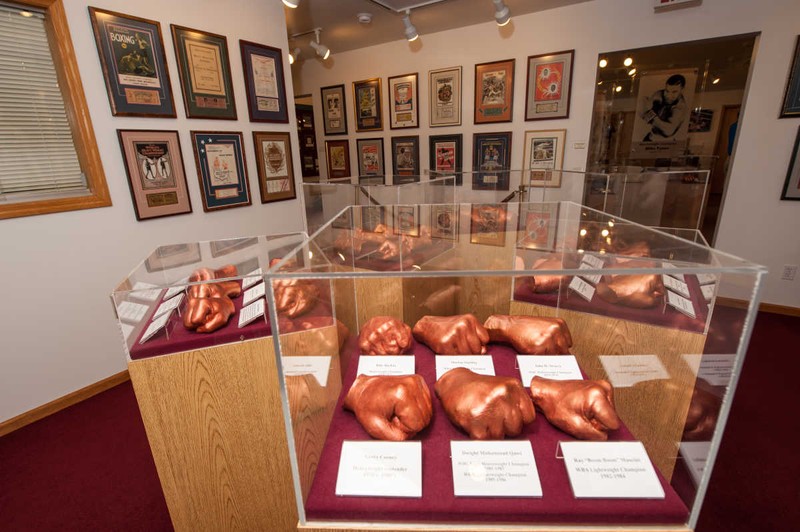 Hand Wraps of IBHOF Inductee's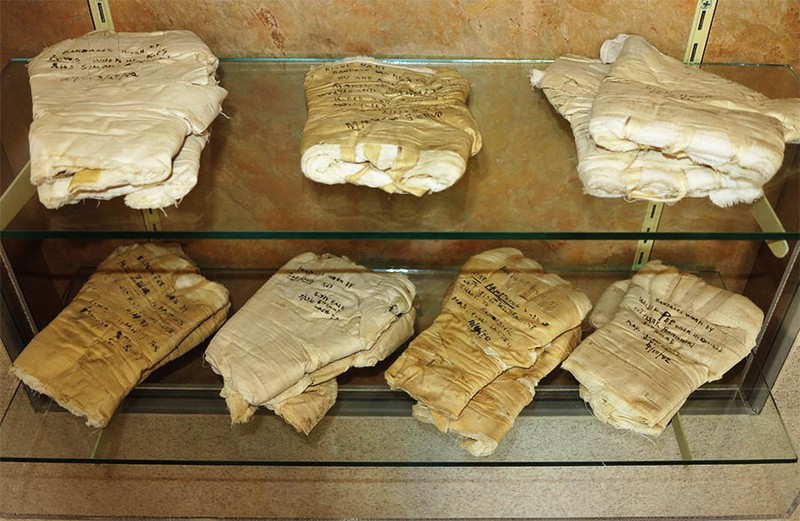 Mouth Piece's of IBHOF Inductee's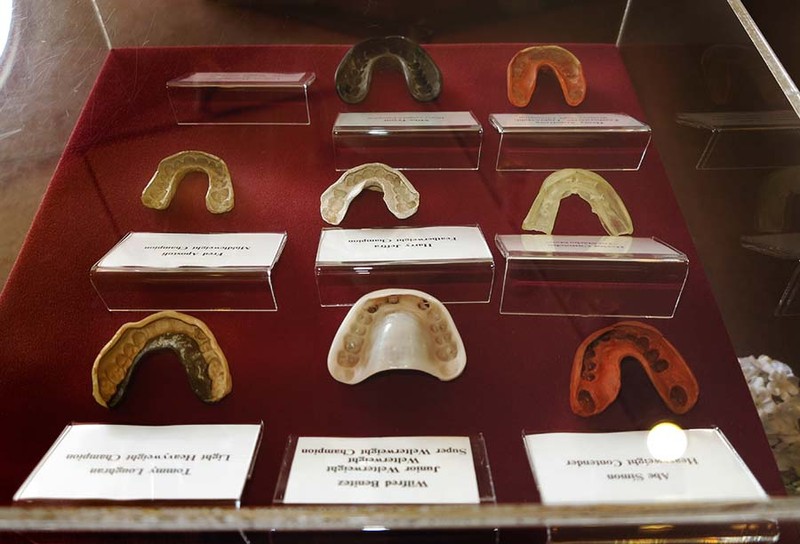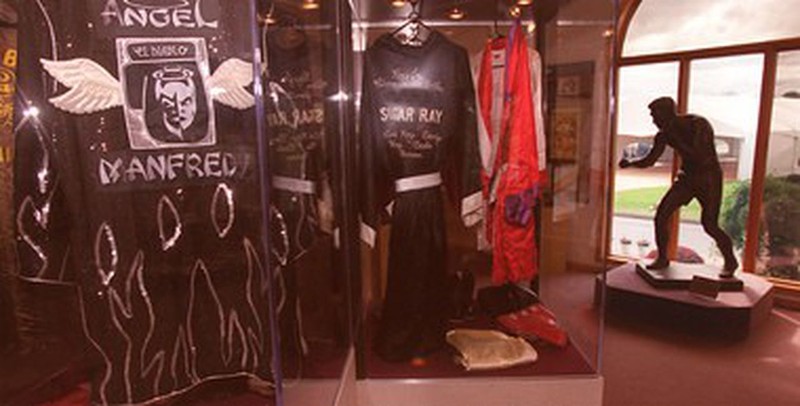 Exhibits of IBHOF Inductee's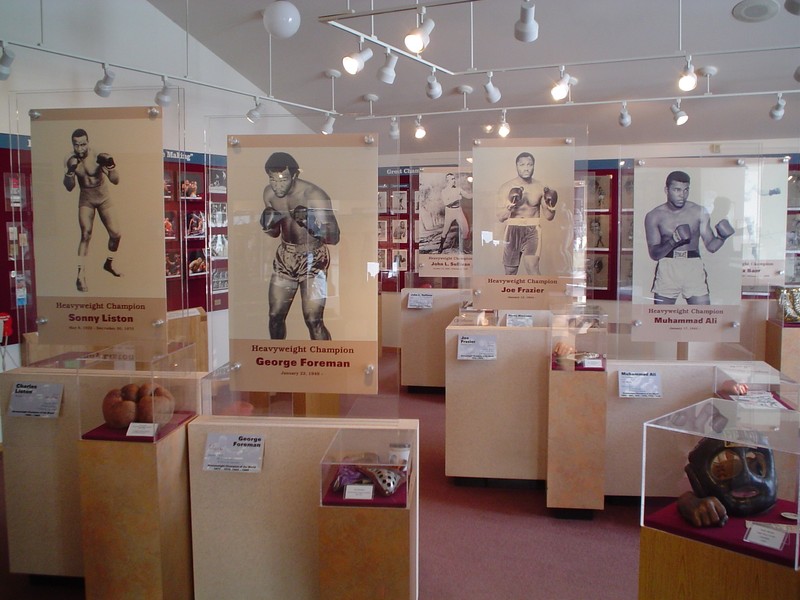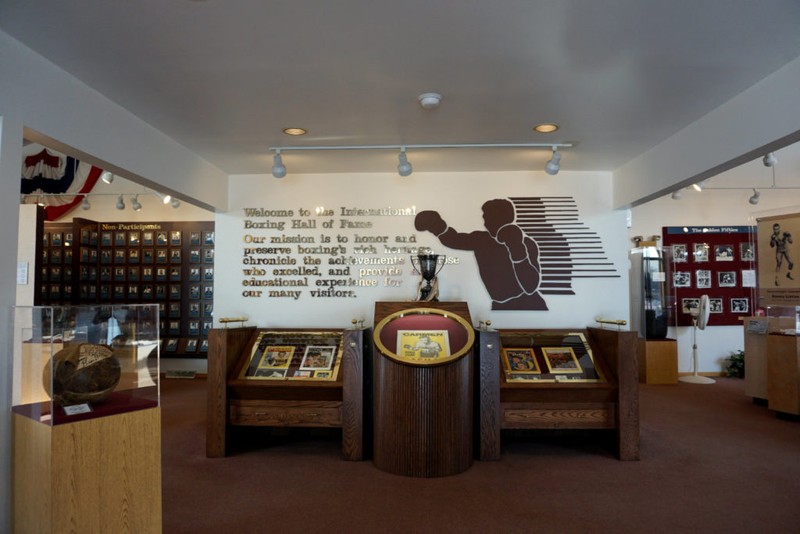 Sugar Ray Robinson HOF profile picture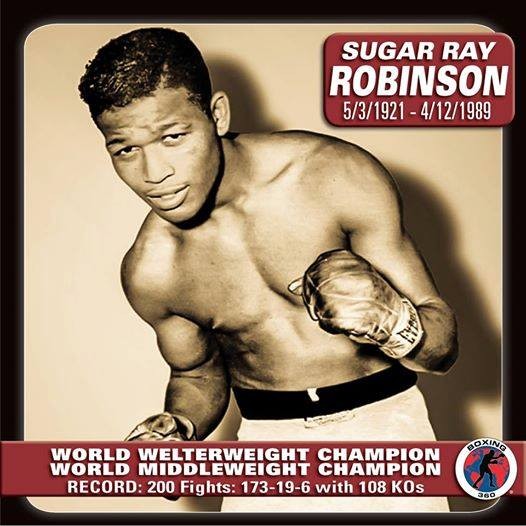 Robinsons' World Boxing HOF Honors Plaque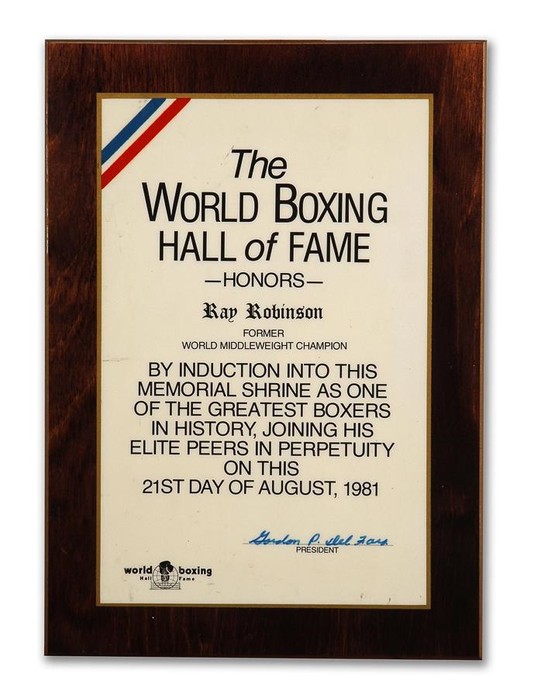 Backstory and Context
Among the fellow Hall of Famers Robinson beat are Henry Armstrong, Kid Gavilan, Carmen Basilio, Jake LaMotta, Rocky Graziano, Gene Fullmer and Fritzie Zivic. Robinson was so efficient for so long that he won his first Fighter of the Year award in 1942 and his second in 1951.
Robinson, whose real name was Walker Smith, turned pro in 1940 and won his first 40 fights before losing to LaMotta. After that defeat, Robinson wouldn't lose for another eight years. In 1942, he decisioned former champion Zivic and future champion Marty Servo. Then in 1946, in his 76th fight, he decisioned Tommy Bell for the vacant welterweight.
During his reign as a welterweight, Robinson defended his crown with wins over Jimmy Doyle, Chuck Taylor, Bernard Docusen, Gavilan, and Charlie Fusari. In 1951, he challenged LaMotta for the middleweight title in a fight that is remebered as the St. Valentine Day Massacre. Robinson overwhelmed LaMotta with a speed and power and finally stopped him in the 13th round. It was the sixth and final time the Hall of Famers met. Robinson won five of those contests.
In 1951, he was upset by British champion Randy Turpin. In the rematch two months later, Robinson knocked Turpin out in the 10th round. He followed with successful defenses against Graziano and Carl "Bobo" Olson before challenging light heavyweight king Joey Maxim.
Robinson and Maxim met at Yankee Stadium in the summer of 1952. The temperature in the ring that night was estimated at 100 degrees. It was the heat, and not Maxim, that overcame Sugar Ray. After the 13th round, he led on all three scorecards but remained on his stool when the bell sounded to begin the 14th.
Robinson retired after the Maxim fight only to return in 1955. He would win and lose the middleweight title three more times in a series of bouts with Olson, Fullmer and Basillio. He finally retired for good in 1965 at the age of 44. Of Robinson's 19 career defeats, 16 occurred after 1955. Five of them came in his final 15 fights. He fought 18 world champions during his career.
Sources
Accessed December 4th 2019. http://www.ibhof.com/pages/about/inductees/modern/robinson.html.
Additional Information