Hilton Hotel (Cactus Hotel) San Angelo Texas
Introduction
Reaching a height of 165 feet, the Cactus Hotel is the tallest buildings in San Angelo and has remained an important landmark since it was built in 1928. Originally called the Hilton Hotel, the fourteen-story building was designed by architect Anton Korn in a combination of Southwestern motifs and classical elements. Listed on the National Register of Historic Places, it resembles a Renaissance palace and features a mission-tile roof.
Images
The Cactus Hotel, originally called the Hilton Hotel, was built in 1928 and has been an important landmark in San Angelo.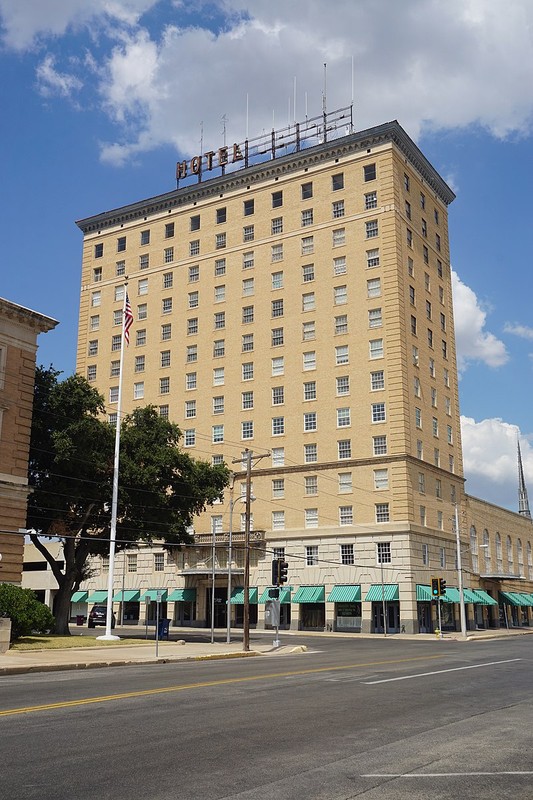 Backstory and Context
The Cactus Hotel was one of the first hotels built by the founder of the Hilton Hotel chain, Conrad Hilton (1887-1979), who was born in San Antonia New Mexico. Growing up, Hilton attended Goss Military Institute in Albuquerque, New Mexico; the Military Institute at Roswell; and St. Michael's College in Santa Fe. Before he reached the age of 18, he already worked as a trader, clerk, and a speculator. To earn more income, his father opened part of the family general store he owned into a hotel in 1907 and this is when Hilton got his first taste of the hotel business. In the coming hears, Hilton attended the New Mexico Mining Institute and and co-founded a mercantile business. He was elected to the New Mexico state legislature and established the New Mexico State Bank the next year. When the United States entered World War I in 1971, Hilton joined the army and served as a lieutenant.
Upon returning from the war, Hilton started his career in the hotel business when bought a small hotel in Cisco, Texas called the Mobley in 1919. By the beginning of the Great Depression a decade later, he had opened eight hotels, including the Cactus Hotel. He used three strategies in his career to build his hotel empire: leasing and remodeling existing hotels; constructing hotels on leased land, mostly in Texas; and buying hotels well below market rate. By the 1950s, he owned 188 hotels. He passed away in 1979 and left the majority of his wealth—around a half billion dollars—to the Conrad Hilton Foundation. 
The Cactus Hotel has been an important landmark not just architecturally economically as well. Over the years it has hosted numerous events, been the site where business deals have been made, and where civic galas took place. Commercial establishments have also been leased in the ground floor. After over three decades of operation as a hotel, the building became a home for the elderly. In 1983, it became he Hotel Cactus. 
Sources
"History." Cactus Hotel. Accessed December 5, 2019. http://www.cactushotel.net/history.
Williams, Kim Allan et al. "Hilton Hotel." National Parks Service - National Register of Historic Places Nomination Form. September 20, 1984. https://catalog.archives.gov/OpaAPI/media/40973597/content/electronic-records/rg-079/NPS_TX/84001999.pdf.
Image Sources
Michael Barera, via Wikimedia Commons

Additional Information