TCO Performance Center
Introduction
The Twin Cities Orthoprdics Center Performance Center also known as TCO Performance Center is the headquarters and practice facility of the Minnesota Vikings. It opened in August 2018 and is located in Eagan, Minnesota which is about 17 miles south of where the Vikings play their home games at US Bank Stadium.
Images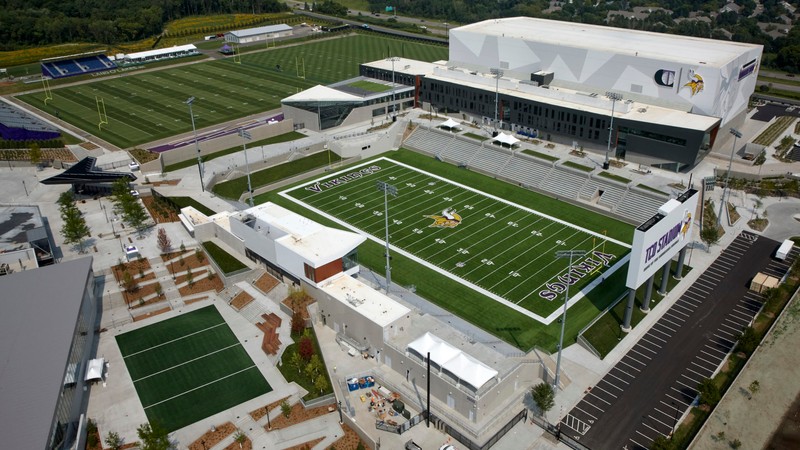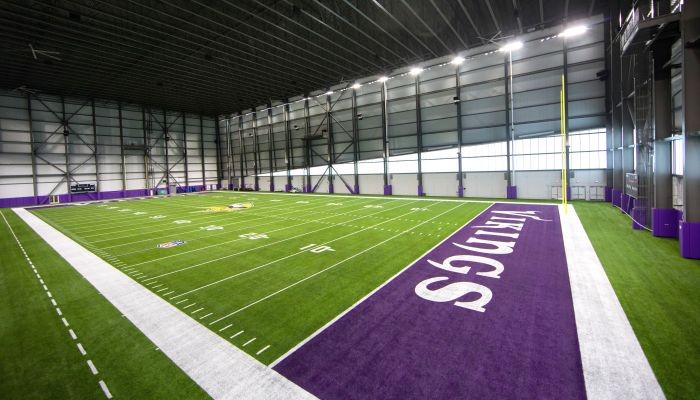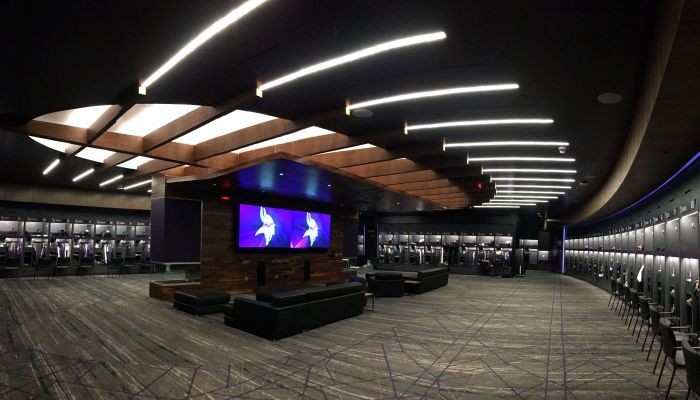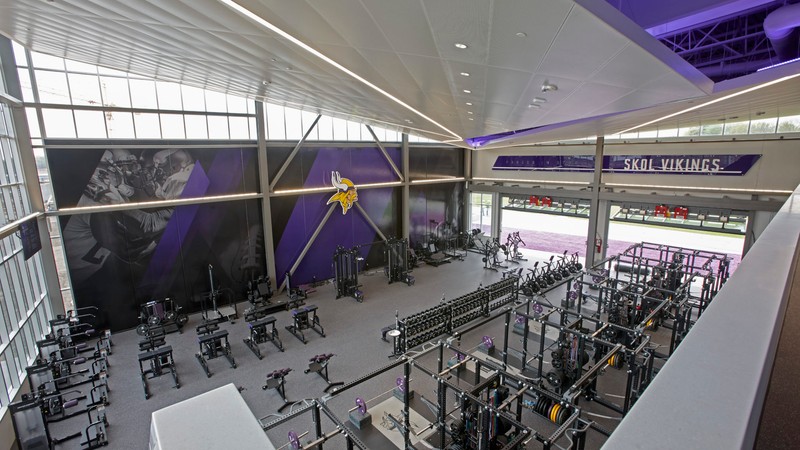 Backstory and Context
The Minnesota Vikings spent 52 years at Minnesota State University Mankato for training camp before they moved into the TCO Performance Center before the 2018/19 season. The new facility sits on 40 acres of land and has 5 outdoor fields and 1 indoor field. It also has about 6000 seats so fans can come and watch the team practice and scrimmage during the preseason and training camp.
Inside the performance center is a huge area for players and management. It has a 6500 square foot locker room with fire places and TVs. It has a 6145 square foot weight room, post-workout and post game recovery rooms, lounge areas, film room, dining facility, media area and more.
Sources
TCO Performance Center and Stadium, crawfordarch.com. Accessed December 4th 2019. https://www.crawfordarch.com/portfolio/tco-performance-center-and-stadium/.
Twin Cities Orthopedic Performance Center, krausanderson.com. Accessed December 4th 2019. https://www.krausanderson.com/construction/portfolio/twin-cities-orthopedics-performance-center-minnesota-vikings-headquarters-and-practice-facility/.
Cooper, Nick. Photo Tour of New Vikings Training Facility, TCO Performance Center, mix108.com. August 7th 2018. Accessed December 4th 2019. https://mix108.com/photo-tour-of-the-new-vikings-training-facility-tco-performance-center/.
Image Sources
https://www.krausanderson.com/construction/portfolio/twin-cities-orthopedics-performance-center-minnesota-vikings-headquarters-and-practice-facility/

https://www.crawfordarch.com/portfolio/tco-performance-center-and-stadium/

https://www.google.com/url?sa=i&source=images&cd=&cad=rja&uact=8&ved=2ahUKEwjo5vae0pvmAhVGQq0KHU85D9sQjRx6BAgBEAQ&url=https%3A%2F%2Fwww.crawfordarch.com%2Fportfolio%2Ftco-performance-center-and-stadium%2F&psig=AOvVaw2M9mbjxC6VOs5svzBiua4H&ust=1575536611483283

https://www.google.com/url?sa=i&source=images&cd=&cad=rja&uact=8&ved=2ahUKEwiku8e30pvmAhUQSa0KHYryBLEQjRx6BAgBEAQ&url=https%3A%2F%2Fwww.krausanderson.com%2Fconstruction%2Fportfolio%2Ftwin-cities-orthopedics-performance-center-minnesota-vikings-headquarters-and-practice-facility%2F&psig=AOvVaw2M9mbjxC6VOs5svzBiua4H&ust=1575536611483283