Tom Green County Courthouse
Introduction
The Tom Green County Courthouse is an excellent and unmistakeable example of Classical Revival architecture. Designed by architect Anton Korn, the two-story building was erected in 1928 and features colonnades with large Corinthian columns on two sides. It was built in the midst of the 1920s, which was a prosperous decade for the city and the entire country. The courthouse was added to the National Register of Historic Places in 1988 for its architecture and the role it has played in the civic life of the county. It is named after Confederate General Tom Green, who was killed in action during the Civil War in 1864.
Images
The Tom Green Courthouse was built in 1928 and is a fine example of Classical Revival architecture.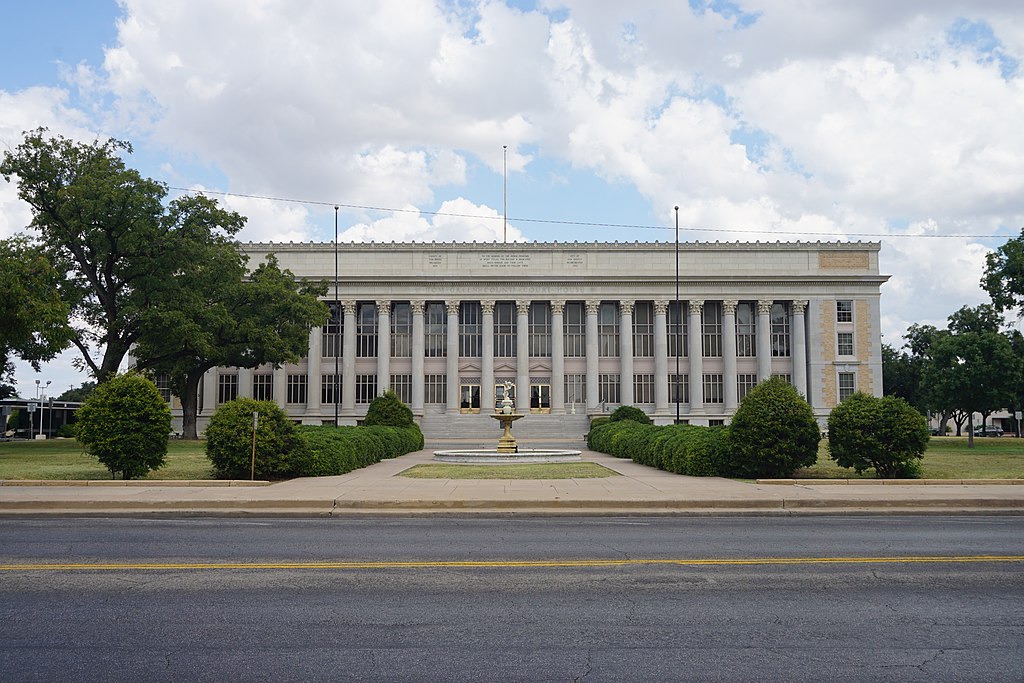 Backstory and Context
The first county courthouse, an adobe-like building, was constructed in the town of Ben Ficklin in 1876. A flood destroyed it in 1882, which prompted the construction of the second courthouse. This one, a Greek Revival structure made of stone, was more substantial. It was two-stories tall and featured a cylindrical tower on the roof. However, in August 1882, a flood destroyed Ben Ficklin and the county seat was moved to San Angelo. There, the third courthouse was built in 1885. It was a three-story structure designed in the Second Empire style. It served as the seat of county government until 1927 when it was demolished as the current courthouse was being built.
Sources
Barr, Alwyn. "Green, Thomas." Handbook of Texas Online. Accessed December 3, 2019. https://tshaonline.org/handbook/online/articles/fgr38.
"Tom Green County Courthouse." National Parks Service - National Register of Historic Places Nomination Form. November 25, 1988. https://atlas.thc.state.tx.us/NR/pdfs/88002555/88002555.pdf.
"Tom Green County Courthouse." Texas Escapes. Accessed December 3, 2019. http://www.texasescapes.com/TexasPanhandleTowns/SanAngeloTexas/Tom-Green-County-Courthouse.htm#1882.
Image Sources
Michael Barera, via Wikimedia Commons: https://en.wikipedia.org/wiki/Tom_Green_County_Courthouse#/media/File:San_Angelo_September_2019_11_(Tom_Green_County_Courthouse).jpg

Additional Information