Metropolitan Stadium
Introduction
Metropolitan Stadium, also known as "the Met" or "Met Stadium", was built in 1956 where it was home to the Minneapolis Millers, a minor league baseball team. Just a few years later in 1961 it became home to both the Minnesota Twins and Vikings. The stadium was used in multiple ways such baseball, football, soccer, and concerts. The site of this stadium is now the current site of Mall of America.
Images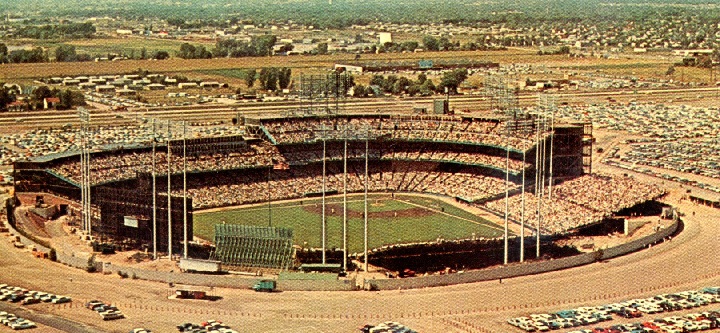 Metropolitan Stadium as Football Field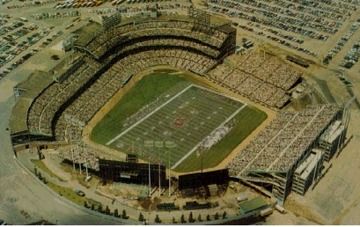 Ariel View of Metropolitan Stadium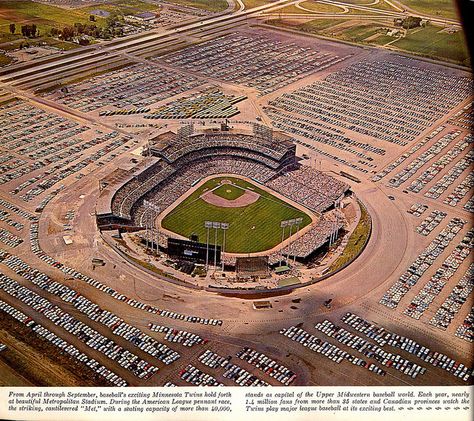 Backstory and Context
The stadium was built for the minor league team, Minneapolis Millers. The very first game here was played on April 24, 1956 between the Millers and Wichita Braves. Many MLB games were played here even though Minnesota didn't have a team. On April 21, 1961 the Minnesota Twins played there first game here against the Washington Senators. This became the home for the Minnesota Twins until 1981. Metropolitan Stadium was the sight of the 1965 World Series and All-Star game.
Not only was this the home of the Twins but it also became home to the Minnesota Vikings in 1961. The Vikings also played here until 1981. The stadium started to fall apart and it wasn't a good "football stadium" which caused the Vikings to move out in 1981.
In 1976 it became home to the Minnesota Kicks of the North American Soccer League. There first game took place on May 9, 1976 where the Kicks beat the San Jose Earthquakes 4-1. They also left the stadium in 1981. For the last 6 six of the stadium's existence it was home to 3 professional sports teams at the same time.
The stadium was not just used for sports. It was used for other things such as concerts. The most notable concert that took place here was The Beatles. The Beatles played in front of 25,000 people in this stadium.
The stadium ended operations in 1981 and was demolished in 1985. This site is now the current site for Mall of America.
Sources
Accessed December 3rd 2019. https://www.stadiumsofprofootball.com/stadiums/metropolitan-stadium/.
Metropolitan Stadium, Accessed December 3rd 2019. https://www.ballparksofbaseball.com/ballparks/metropolitan-stadium/.
Cameron, Linda A. Metropolitan Stadium, Bloomington, MNOpedia. September 21st 2016. Accessed December 3rd 2019. https://www.mnopedia.org/structure/metropolitan-stadium-bloomington.
Live: Metropolitan Stadium, Minnesapolis, The Beatles Bible. Accessed December 3rd 2019. https://www.beatlesbible.com/1965/08/21/live-metropolitan-stadium-minneapolis/.
Image Sources
https://www.ballparksofbaseball.com/ballparks/metropolitan-stadium/

https://www.google.com/url?sa=i&source=images&cd=&cad=rja&uact=8&ved=2ahUKEwjchoa4z5rmAhXLhOAKHb5TBoQQjRx6BAgBEAQ&url=%2Furl%3Fsa%3Di%26source%3Dimages%26cd%3D%26ved%3D2ahUKEwiu-5eiz5rmAhWSd98KHQ1SDu0QjRx6BAgBEAQ%26url%3Dhttps%253A%252F%252Fwww.pinterest.com%252Fpin%252F355573333051640737%252F%26psig%3DAOvVaw14YJt4wZiM7T0MyNiMv_J2%26ust%3D1575501643984713&psig=AOvVaw14YJt4wZiM7T0MyNiMv_J2&ust=1575501643984713

https://www.pinterest.com/pin/213217363581433508

Additional Information