Anfield Stadium
Introduction
Anfield Stadium was built in 1884 as the original home to Everton FC, a football club in the English Premier League. In 1891, Everton left Anfield allegedly over a rent dispute. The newly founded Liverpool FC moved in and Anfield has been their home ever since. Several years later, the stadium underwent some renovations including the construction of a new main stand. In 1906, the stadium built the "Spion Kop", an open air terrace that some said resembled the hill where the Battle of Spion Kop took place. Local folklore says that fans sitting in the Kop can suck the ball into the net if Liverpool was playing towards that end.
Images
Sky view of Anfield Stadium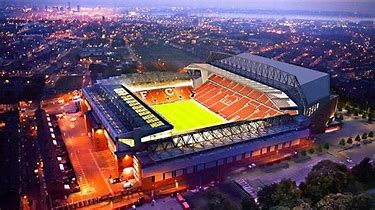 Anfield Stadium during a Liverpool match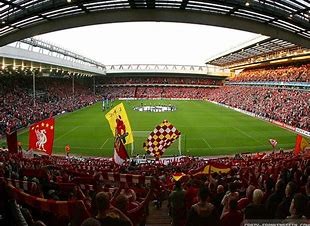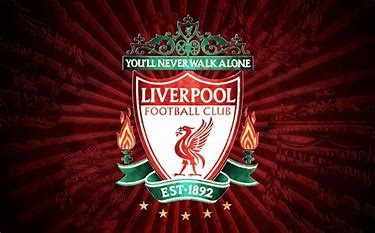 Backstory and Context
After the construction of the Kop, the stadium remained relatively the same until the late 1920s. In 1928, the Kop was expanded and once completed could hold about 30,000 people. In 1958, Anfield set a record attendance of 61,905 people arriving to watch a game between Liverpool and Wolverhampton. Anfield underwent more improvements in 1963 and 1973. The Main Stand was demolished and a new one was built in its place. More construction on the stadium occurred in the 1980s, when the stadium was turned into an all-seater. The last major change to the stadium was in 1998 when a second tier was added on to the Anfield Road Stand.
During the 1966 World Cup, Anfield was not chosen to host any of the matches. However, in 1996 Anfield hosted three group matches and a quarter final for the Euro tournament. Liverpool has had a lot of success at Anfield. They have won 12 major awards playing at Anfield. They have won three football league cups, three FA Cups, a European Super Cup, UEFA Cup, FA Charity Shield, World Soccer Team of the Year, UEFA Champions League, and FA Community Shield. Anfield has also hosted several international games. The first game was in 1889 when England beat Ireland. England has also hosted Wales at Anfield Stadium four times, winning three out of the four matches. England hosted Ireland again in 1926 which resulted in a tie. Finally, Anfield hosted a World Cup match between Wales and Scotland in 1977.
In the 2000s, there was talks that Liverpool might leave Anfield and move to a bigger stadium. The team came so close to moving that the owners had obtained permission for a new 60,000 capacity stadium to be built nearby. However, the plans were continuously delayed due to insufficient funds. In 2012, the owners gave up on a new stadium altogether and instead decided to expand and renovated Anfield. Plans for the newly renovated stadium includes a possible expanded capacity of up to 59,000 seats. Some renovations on the stadium are already underway however, the team is focusing on updating their training grounds before anymore work is done to Anfield.
Sources
Anfield, The Stadium Guide. Accessed December 3rd 2019. https://www.stadiumguide.com/anfield/.
The History of Anfield, Boomtown Bingo. Accessed December 3rd 2019. https://www.boomtownbingo.com/the-history-of-anfield/.
Anfield Stadium, Football Rumors . Accessed December 3rd 2019. http://www.football-rumours.com/anfield_stadium.html.
Stadium renovations continue, but Anfield Road expansion will have to wait, Anfield Watch. Accessed December 4th 2019. https://www.anfieldwatch.co.uk/stadium-renovations-continue-but-anfield-road-expansion-will-have-to-wait/.
Image Sources
https://www.bing.com/images/search?view=detailV2&ccid=GetO3BdF&id=86A0DB738085F01E6A8EC249A643FE1506A0ABFF&thid=OIP.GetO3BdFLA1A8s5SsfVrBAHaEK&mediaurl=https%3a%2f%2fi.ytimg.com%2fvi%2fjIo3tkEzvKU%2fmaxresdefault.jpg&exph=720&expw=1280&q=anfield+stadium+&simid=607990020624287834&selectedIndex=3

https://www.bing.com/images/search?view=detailV2&ccid=JbeR63cO&id=A82AC7012F41AC89E9CEA90E7D127F7185612778&thid=OIP.JbeR63cOi7RJpyy0ikEnygHaFj&mediaurl=https%3a%2f%2ffearlessreds.files.wordpress.com%2f2012%2f05%2fanfield-stadium-liverpool-wallpapers-1024x7681.jpg&exph=768&expw=1024&q=anfield+stadium+&simid=608020098233075758&selectedIndex=1

https://www.bing.com/images/search?view=detailV2&ccid=uZoY6tJ7&id=1CB12E2C4E9F910BDD21E6062C800B5FADDCAD86&thid=OIP.uZoY6tJ7I6oZhm5Rr1560QHaEo&mediaurl=https%3a%2f%2f3.bp.blogspot.com%2f-C2vr7gsm2VU%2fU1eXWF_H8II%2fAAAAAAAANfI%2fM0iD0-A3n-8%2fs1600%2fLiverpool-FC-Logo-Wallpaper-%2b05.jpg&exph=1000&expw=1600&q=liverpool+fc&simid=608014330183485423&selectedIndex=10

Additional Information