Main Area
Introduction
The main floor, once used as a library, now displays artifacts from Langlade County's history. Current exhibits include early logging, Native American beadwork, and 20th century medical equipment. It also contains a research room with extensive archives of local documents. The central main desk is staffed by the curator and volunteers, who can answer questions about the building or artifacts on display, as well as take visitors on tours of the cabin and train. Photographs of the artifacts are allowed and even encouraged!
Images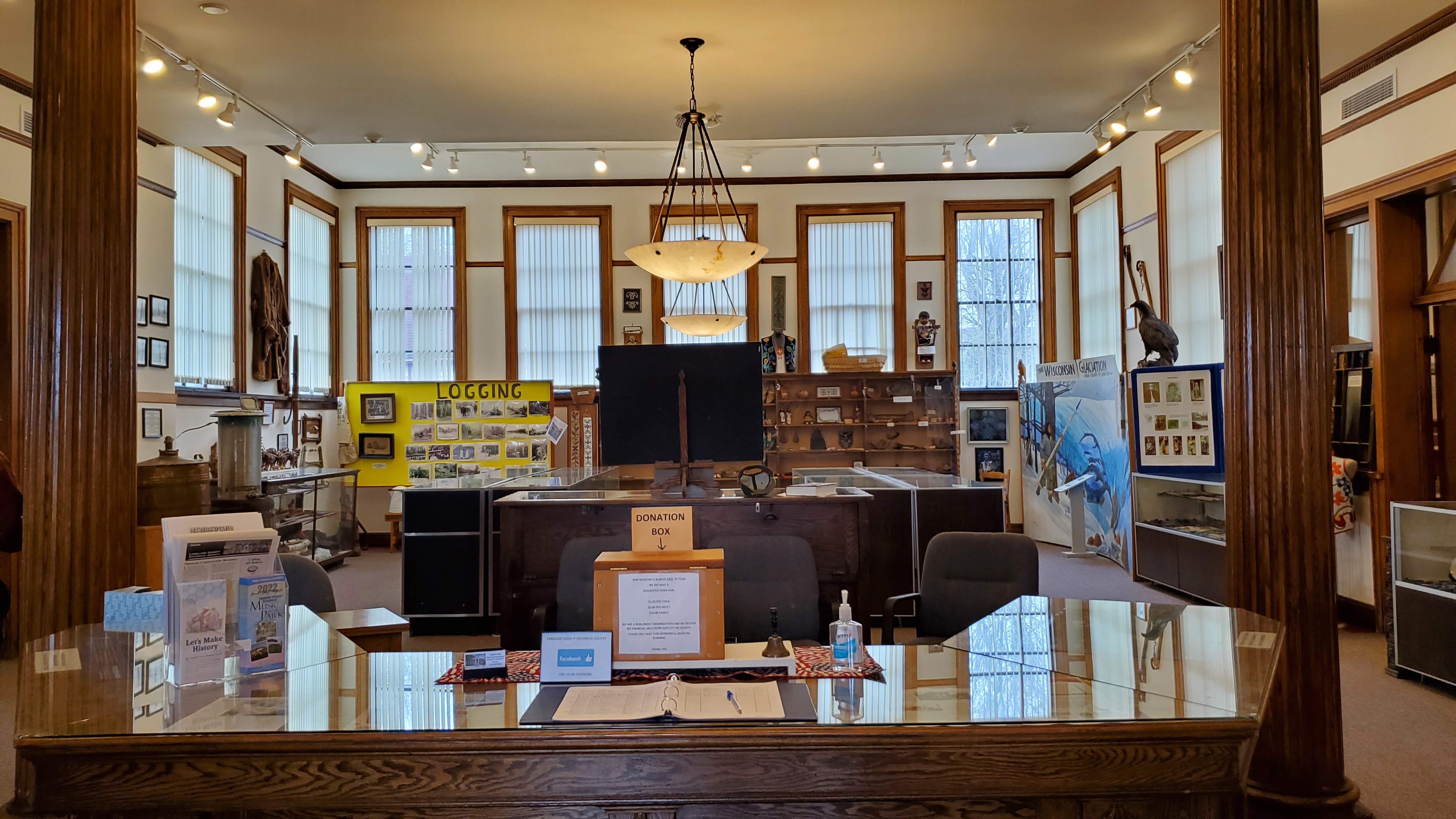 The research room contains photographs, documents, scrapbooks, telephone directories, high school yearbooks and books related to the county and some prominent citizens' history.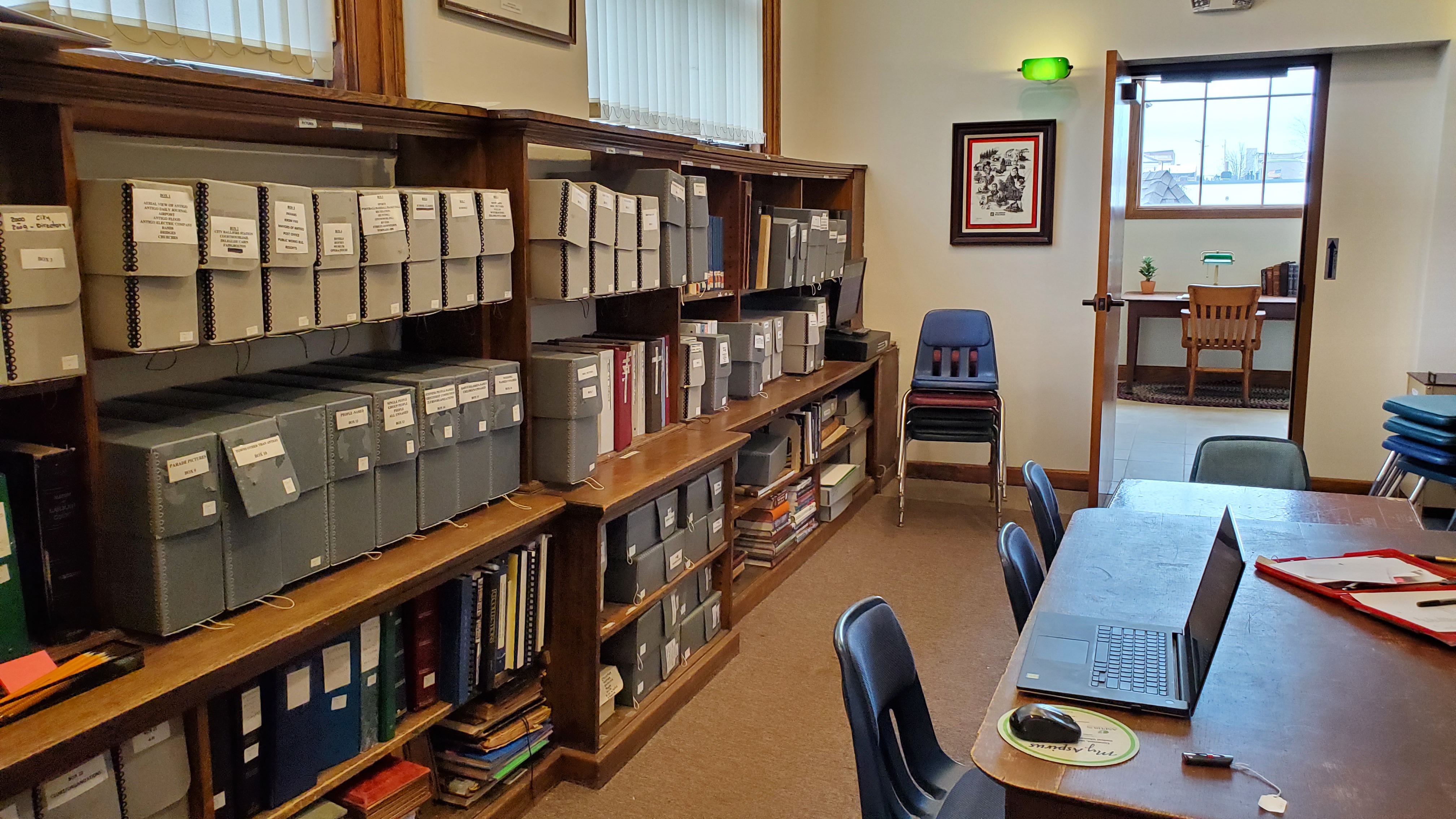 This apparatus, from the Family Shoe Store in Antigo, was typical of those found in shoe stores in the 1940s & 1950s. A child being fitted for shoes stood with feet inserted into the toe slot while a salesman and parent looked through the viewer to check the fit. (The X-Ray source has since been removed from this display.)
Native American use of glass beads in decorations evolved from the use of shells, quills, antler pieces, and other items. Colored glass beads were introduced by Europeans and became popular throughout North America. In the Great Lakes area floral or geometric patterns were used in bandolier bags which were worn, generally by men, on ceremonial occasions.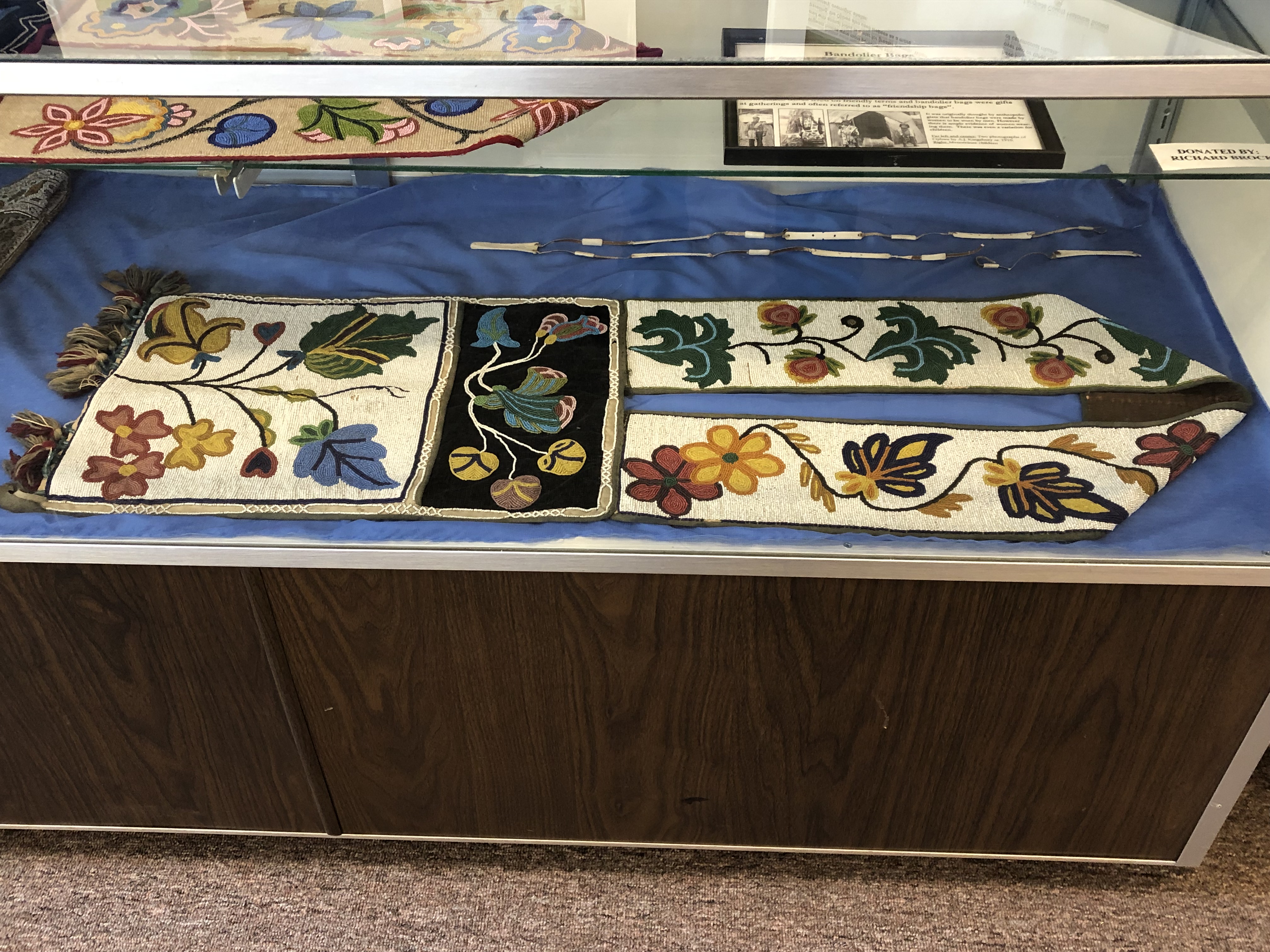 Francis Deleglise, Antigo's founder, was opposed to alcohol and fought hard to keep Antigo dry. Only after his death, in the 1890s did liquor become legally and readily available. Then came Prohibition. During the years of Prohibition (from 1920 to 1933) several moonshine operations existed in rural Langlade County. These few relics are a reminder of what was a thriving but unofficial local industry.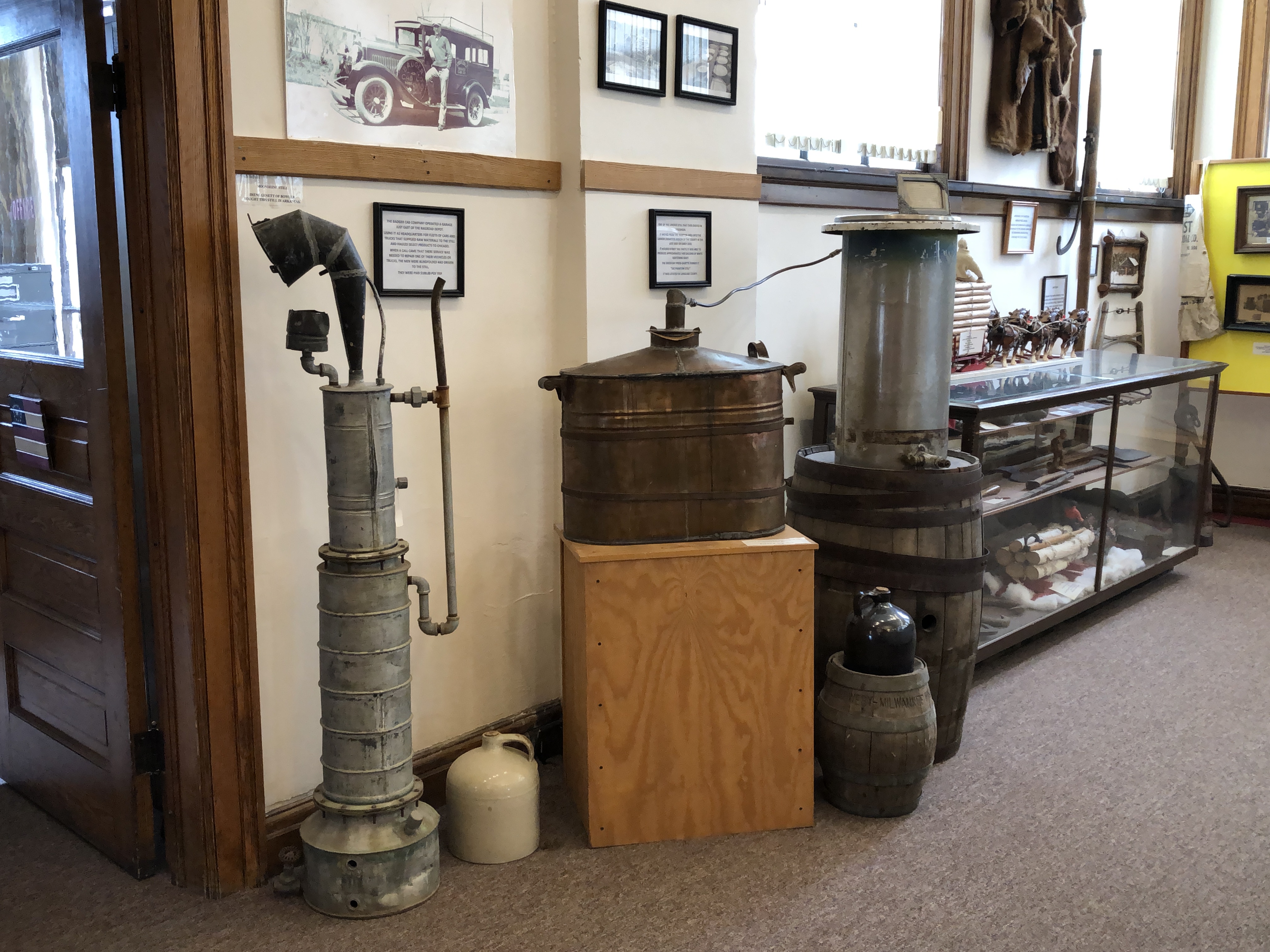 The demand for wood and the growth of the timber industry in the years after the Civil War brought white settlers to northern Wisconsin. This area displays photographs and artifacts describing life in a logging camp.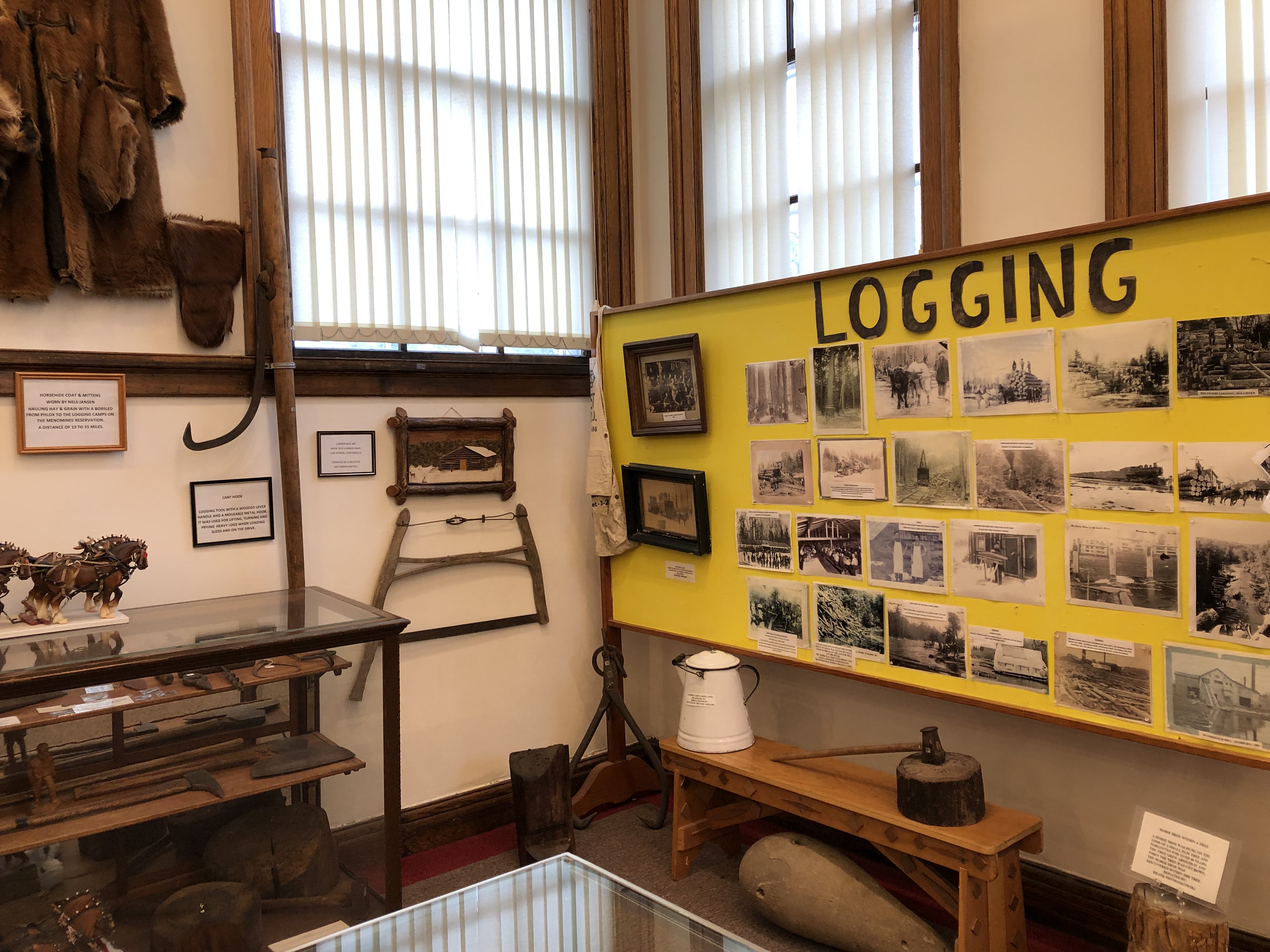 Backstory and Context
Funded by a philanthropic grant from the Carnegie Foundation in 1905, the Langlade County Museum was originally Antigo's public library. The last building designed by prominent Wisconsin architect Alan D. Conover, its historical architecture and artistry have been preserved throughout many renovations over more than a century. The main floor is one of the most prominent examples of these 19th century stylings, with several large wooden pillars and intricate wood trim that has been stained an august russet color by sheer age.
This section of the museum contains many diverse artifacts from throughout Antigo's 19th and 20th centuries. Instruments and decorations emblematic of the old Antigo Opera House adorn the northern wing, along with uniforms and equipment used by various professionals in the early 20th century. An old moonshiner's still is displayed in the vicinity of many photos and tools related to Antigo's old brewing and lumber industries, harkening back to the town's rough-and-tumble Wild North origins.
Numerous artifacts and informative displays about the area's original and still-present inhabitants, the Menominee and Ojibwe tribes, whose land the city called Antigo is built on, can be found along the eastern and southern walls, including beadwork, clothing, and historical context.
Many other miscellaneous objects can be found in the many display cases throughout this central room.
This area also features a reference room with an indexed archive of many local and regional historical documents, including photographs, books, and newspaper articles. Depending on how busy things are, visitors can ask to use the reference room or request assistance in researching specific questions about local history.
Sources
"The Building's History." Langlade County Historical Society. Accessed May 26, 2022. http://www.langladehistory.com/BuildingHistory.html.