Foxcroft Hall, 1808-1809, at Phillips Academy
Introduction
Along with Pearson and Bartlet Halls, Foxcroft Hall was erected for the newly founded Andover Theological Seminary. The building was originally named Phillips Hall in honor of Phoebe Foxcroft Phillips, widow of Academy founder Samuel Phillips Jr., and their son John, who donated funds for its construction. It was built as a four-story, brick structure with a symmetrical facade. Modeled after collegiate architecture at Brown, Yale, and Princeton, it included dormitory rooms for thirty students, classrooms, and a chapel. In 1870 and again in 1912, structural problems in the east wall required extensive rebuilding and loss of much of the historic fabric. In 1929 the fourth floor was removed so that Foxcroft would conform to the architecture of the new buildings on the quadrangle. The original entrances with lunettes, stone lintels, and sills remain.
Images
Andover Theological Seminary, 1860, Foxcroft Hall at right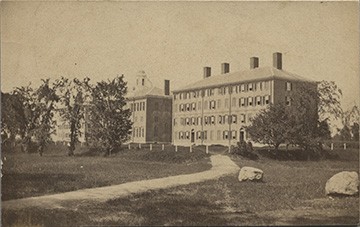 Foxcroft Hall before 1929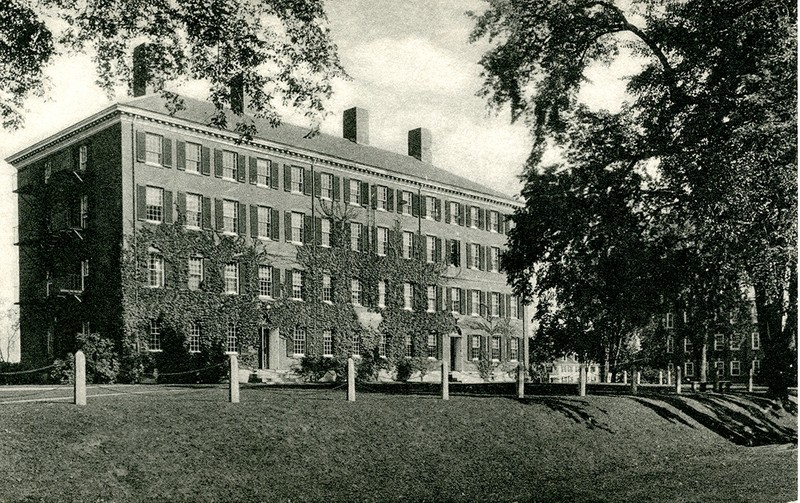 Foxcroft Hall before 1929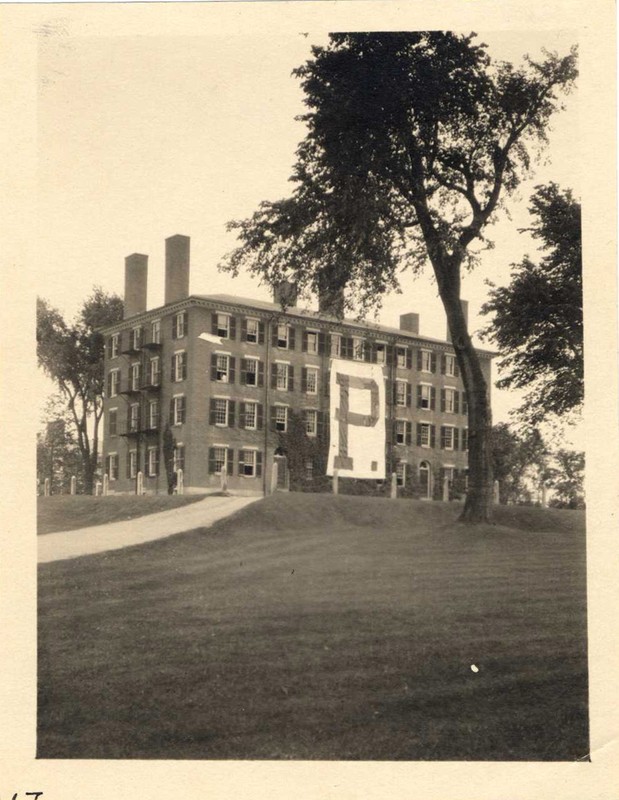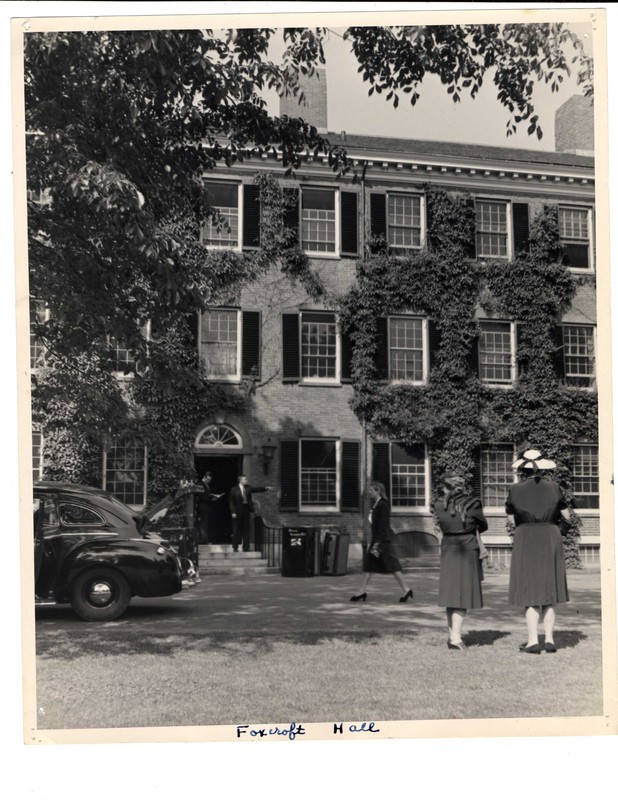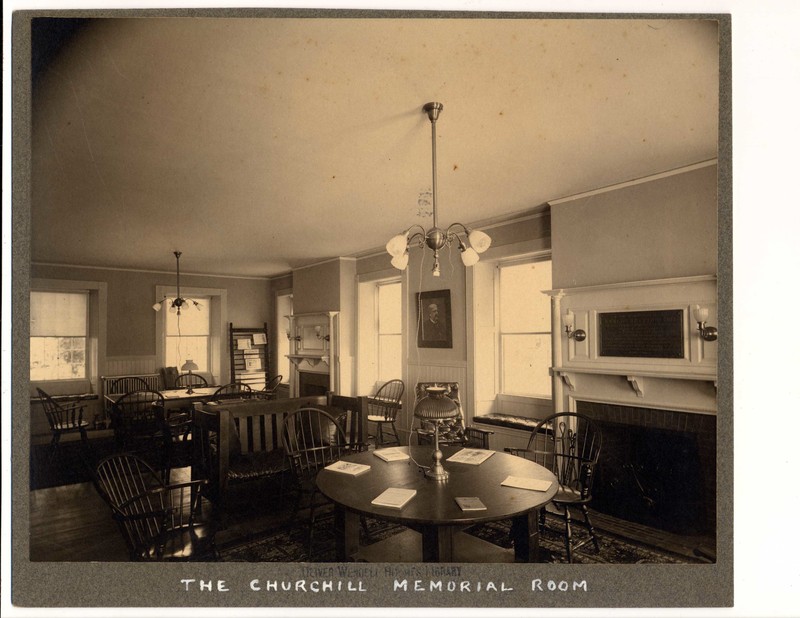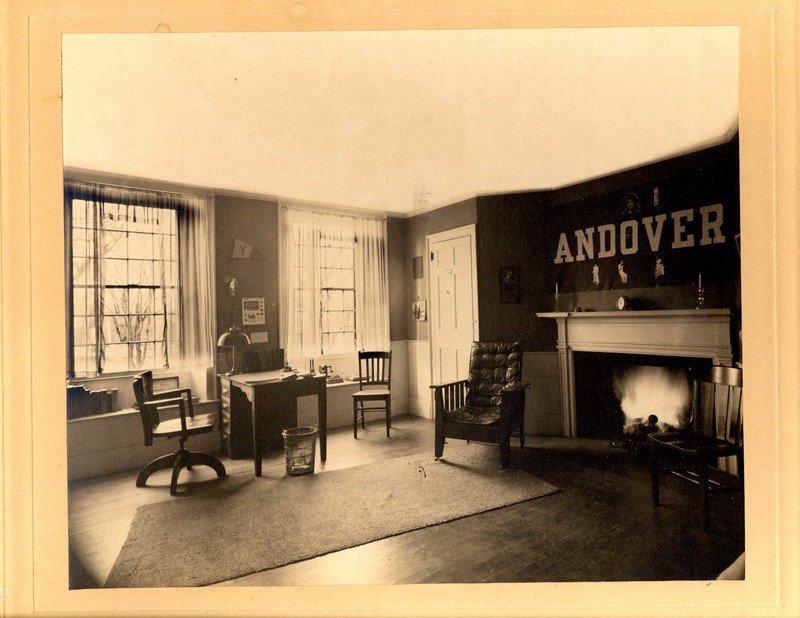 Backstory and Context
When Andover Theological Seminary was founded in 1808, it was separate from Phillips Academy yet shared Academy Hill and the same board of trustees. The seminary was founded with the same purpose as the academy: the preservation of Calvinst theology in the face of lioberalism. The seminary focused on training orthodox ministers. Sizable endowment funds were donated, substantial buildings were planned, and, for much of the nineteenth century, the seminary eclipsed the academy in resources, reputation, and the trustees' attention. Because the seminary's campus was eventually acquired by the academy when the seminary departed from Andover in 1908, the two institutions' physical histories are intertwined.
Between 1808 and 1821 the academy and the seminary erected three substantial brick structures in a straight line east of Main Street. Seminary Row consisted of Phillips Hall (now Foxcroft Hall), built in 1808-1808; Bartlet Chapel (now Pearson Hall), built in 1817-1818; and Bartlet Hall, built in 1820-1821. The model for Seminary Row may have been the Brick Row of five structures recently completed at Yale College, which was linked to the Andover schools at this time for theological reasons as the bonds with liberal Harvard loosened.
Sources
Academy Hill: The Andover Campus, 1778 to the Present. New York: Princeton Architectural Press, 2000.
Allis, Frederick S., Jr. Youth From Every Quarter: A Bicentennial History of Phillips Academy, Andover. Hanover, NH: University Press of New England, 1979.
Domingue, Robert A. Phillips Academy Andover, Massachusetts: An Illustrated History of the Property (including Abbot Academy). Wilmington, Mass.: Hampshire Press, 1990.
Montgomery, Susan J. and Roger G. Reed. Phillips Academy Andover: An Architectural Tour. New York: Princeton University Press, 2000.
Image Sources
Phillips Academy Archives and Special Collections

Additional Information