Ash Grove
Introduction
This mansion, built around 1790, is one of the few remaining 18th-century homes in Virginia built by the Fairfax family. It may have been named after one of the family's homes in England and may have originated as a hunting lodge. The Fairfax family was part of the British peerage, the only nobles to live in the colonies. Bryan, Eighth Lord Fairfax, gave the property his son, Thomas, would who become the ninth Lord Fairfax. The house remained in the Fairfax family until 1851, when James Sherman purchased it. Although a fire damaged the house in 1960, it was restored to structure similar to what it had once been. The Fairfax County Park Authority acquired the 12.3-acre property from the Sherman family in 1997-1998 and dedicated it as a historic park.
Images
Ash Grove, pictured in the Historic American Buildings Survey, ca. 1930s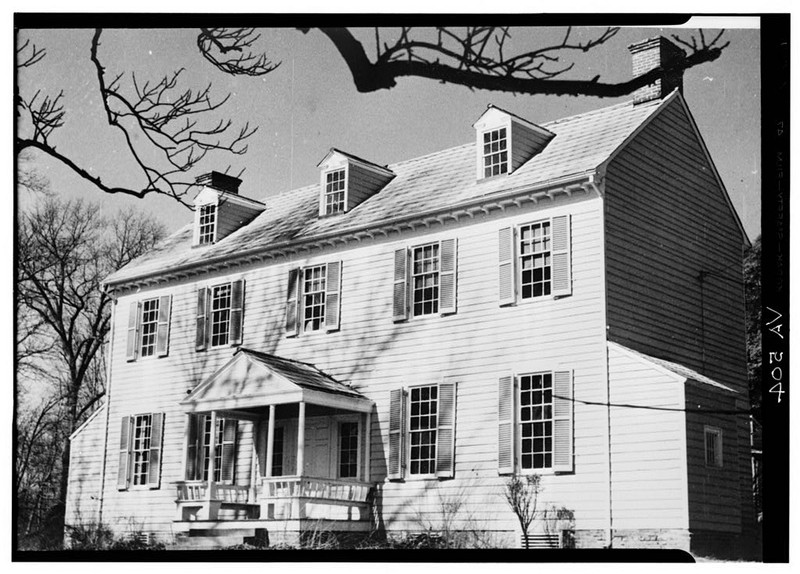 Ash Grove today, by Fairfax County Park Authority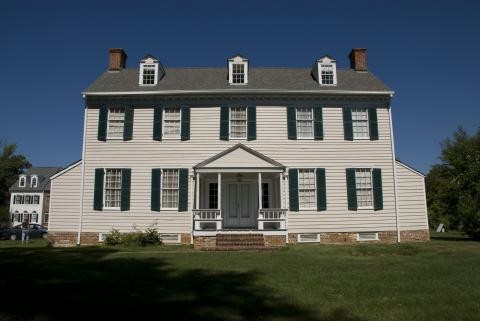 Backstory and Context
The Ash Grove house sits near the densely-wooded Old Courthouse Spring Branch area and many newer residences, but it was once alone on a vast property. Thomas, the sixth Lord Fairfax and the man for whom Fairfax County is named, possibly maintained a hunting lodge on this property. In 1788, Bryan, the eighth lord, gave the property to his son Thomas, who built a house there around 1790. Thomas was the ninth Lord Fairfax but refused to use his title. For his time he was a progressive figure, showing an interest in a variety of sciences and manumitting his slaves.
Thomas's son Henry died in the Mexican-American War in 1847. Henry's widow and cousin, Ann Caroline Herbert Fairfax, sold Ash Grove to James Sherman with the stipulation that she be allowed to use one room of the house. Rhode Island-born New Yorker James Sherman was part of a movement of northerners into the South in the antebellum years, and purchased the property in 1851. His Benjamin Franklin Sherman (1843-1915) son was a Union soldier who escaped after being captured by Confederate soldiers. He operated Ash Grove as a farm.
Fire severely damaged the main house on September 4, 1960. Owners Wilson and Lee Sherman rebuilt the house in the Georgian style, though it is not an exact replica of the original house. The house is 2.5 stories and has 4300 square feet of living space. Some architectural features had been removed from the house for restoration prior to the fire and were therefore saved. Several outbuildings -- such as a brick kitchen and smoke house -- stand on the property, and the Historic American Buildings Survey completed in the 1930s found evidence of another stone foundation on the site. Other outbuildings have existed in the past but are no longer extant.
The original estate was once much larger than it is currently. Parcels of land have been sold off, so the 241 acres purchased by James Sherman in 1851 have dwindled by more than ninety percent. One of the land sales was used to create the Dulles Airport Access Road; this project destroyed the Fairfax family cemetery.
Ash Grove is prone to flooding due to its placement in a 100-year flood plain. Old-growth trees and shrubs flourish on the property, and preservation of the park includes consideration for the plants and wildlife. The house is used for collections storage and as a residence for the Resident Curator Program. It is not currently open to the public, though the Park Authority has discussed using it for events or rentals.
Sources
Ash Grove Historic Site General Management Plan and Conceptual Developmen tPlan, April 2000. Accessed December 1st 2019. https://www.fairfaxcounty.gov/sites/parks/files/assets/documents/plandev/master-plans/ash-grovegmp.pdf.
Fairfax County Park Authority. Ash Grove, Fairfax County Virginia. Accessed December 1st 2019. https://www.fairfaxcounty.gov/parks/resident-curator-program/ash-grove.
Fairfax County Resident Curator Program. Ash Grove Site Summary, 2015. Accessed December 1st 2019. https://www.fairfaxcounty.gov/parks/sites/parks/files/assets/documents/naturalcultural/rcp/ash-grove-site-summary.pdf.
Fairfax County Virginia. Volunteers Turn Out for Clean-up at Historic Ash Grove, November 13th 2019. Accessed December 1st 2019. https://www.fairfaxcounty.gov/parks/cutlines/2019/ctl028.
Image Sources
https://www.loc.gov/pictures/item/va0441.photos.161470p/resource/

https://www.fairfaxcounty.gov/parks/park-news/2018/z-ir105

Additional Information