Thomas Hart Benton Home and Studio
Introduction
Constructed in 1903, this Kansas City estate was home to Thomas Hart Benton from 1939 until he died in 1975. Benton was one of Missouri's most famous artists and a leading figure in the Regionalism movement of the 1930s. Benton championed the common working-class American in his work. He often used vibrant colors to paint strong-bodied people at work in rural or industrial scenes. Benton is especially well-known for his history murals in Missouri's state capitol building and the Harry S. Truman Library & Museum in Independence. Benton's home and studio opened to the public as a museum in 1983.
Images
Thomas Hart Benton Home and Studio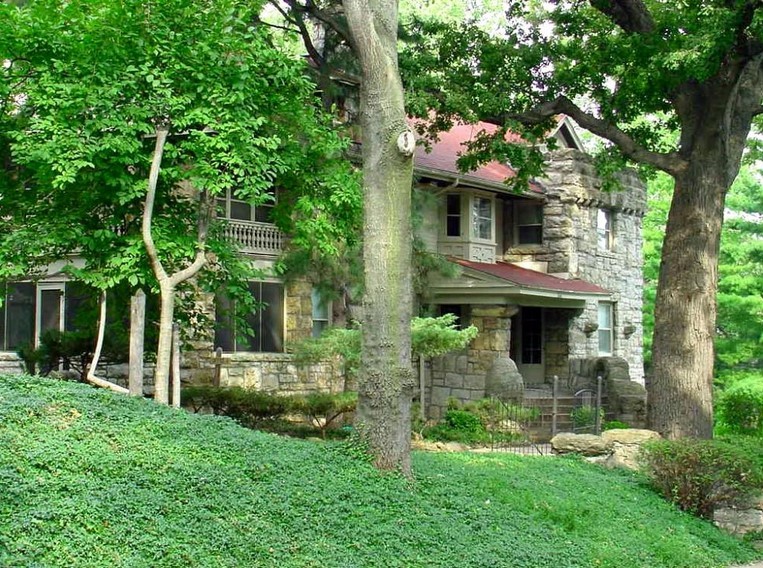 Benton in his home studio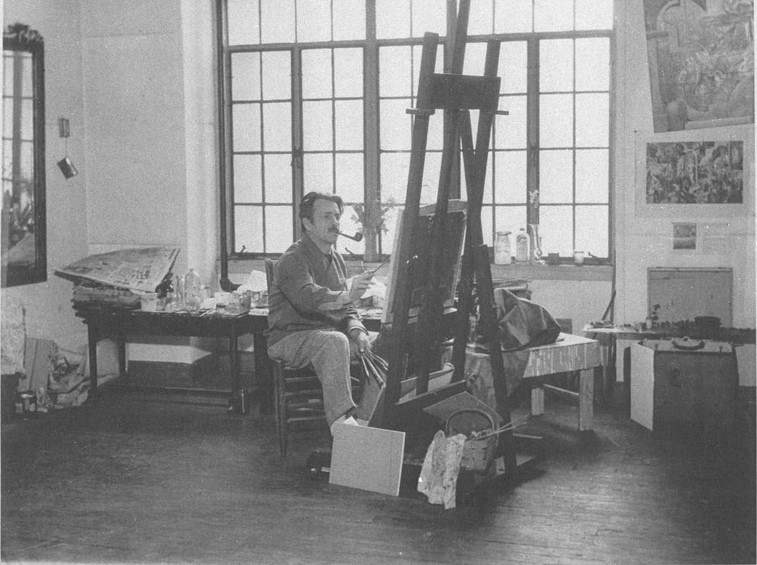 Benton would often go on solo trips to gather inspiration. This photo shows him in the Ozarks, one of his favorite locations.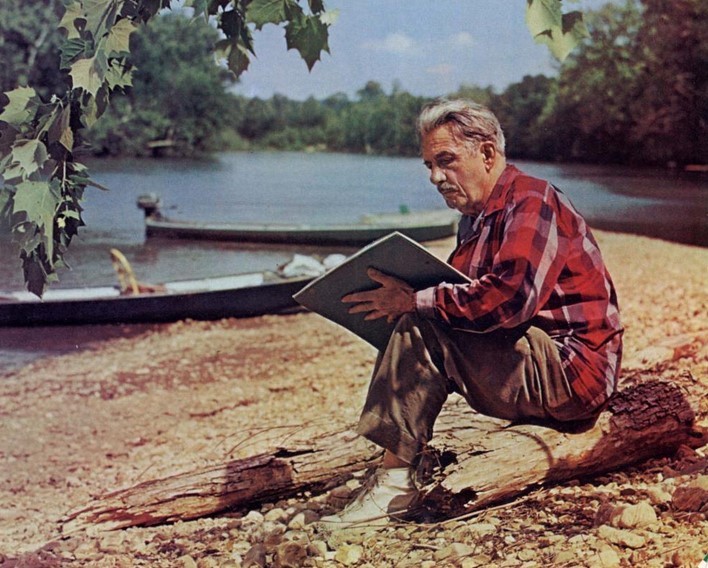 Benton's studio as it appears today for museum visitors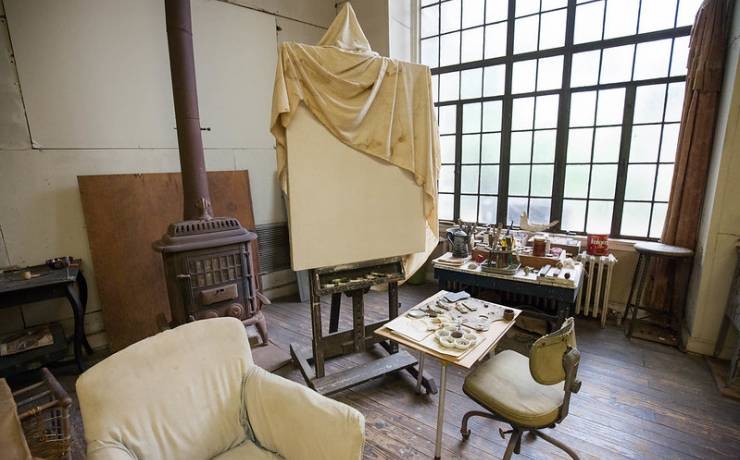 A portion of A Social History of the State of Missouri in the state capitol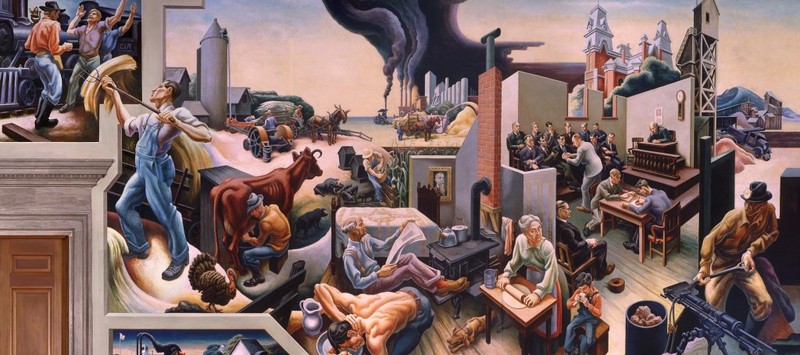 Backstory and Context
Thomas Hart Benton was born in 1889 in Neosho, Missouri to a prominent political family. His great-uncle was Missouri's first senator, and his father was a US Congressman. Benton grew up among the art, architecture, and murals of Washington, DC, and the rural Ozark scenery of his native Missouri. These influences are obvious in most of his artwork. Benton studied at the Corcoran Gallery in Washington, DC, the Art Institute of Chicago, and several academies in Paris. He worked as a Navy draftsman during World War I. After the war, he taught art in New York City, mentoring students such as Jackson Pollock.
In the 1920s, Benton returned to Missouri to care for his ailing father. Here, he developed his characteristic style. Benton saw his native state through new eyes and began drawing and painting everyday scenes. He went on trips around the Midwest and South, painting poor, ordinary Americans doing blue-collar jobs like mining, logging, farming, and picking cotton. The working-class people he used as subject matter always appeared strong and heroic. Benton's artwork became the basis of Regionalism, a popular art movement in the 1930s. He used deep, rich colors in his sweeping landscapes with large-bodied people.
During the Great Depression, Benton's fame spread when he painted several murals. His works in New York and Indiana led to an opportunity at Missouri's state capitol building in Jefferson City. Critics have described A Social History of the State of Missouri as one of Benton's best works. However, it was somewhat polarizing at the time for its depiction of painful Missouri history, including the enslavement and lynching of Black people. The mural was completed in 1936 and is still in the Missouri state capitol building today. He also completed a mural from 1959 to 1962 at the Harry S. Truman Library & Museum in Independence, Missouri. President Truman reportedly said of Benton: "I picked him because he was the best, and this is the finest work by the best."[1] The two men remained friends until Truman died in 1972.
Benton, his wife Rita, and their son moved to Kansas City in 1935. A daughter came along in 1939. They purchased a 1903 home on Belleview Avenue for $6000. The home is Eclectic-style, with a native limestone exterior. At the back of the home is a carriage house, half of which Benton converted into a studio. He added large windows to allow plenty of indirect sunlight for painting. He worked every day in the studio, just taking breaks to eat. Rita managed his business from their home, where she displayed Benton's artwork and welcomed potential buyers to browse. The interior was done in neutral tones and simply furnished. The paintings' bright colors stood out against this background.
Benton died in his studio in 1975, and Rita passed away 11 weeks later. The Missouri Department of Natural Resources opened the home as a museum in 1983. As Missouri's smallest state park, it was largely left untouched and still appears as if the Bentons had just stepped out for the day. Benton's carriage house studio still has coffee cans with paintbrushes, tools, and paint scattered throughout and a blank canvas on an easel. The home contains 13 original pieces of Benton's artwork. Guides lead visitors on hour-long tours through the house and studio, giving insights into Benton's life and art.
Sources
1.      Ivey, Mary Frances. "Thomas Hart Benton." The Kansas City Public Library Website. Accessed December 1, 2019. https://pendergastkc.org/article/biography/thomas-hart-benton.
2.      Trout, Carlynn and Jillian Hartke. "Thomas Hart Benton (1889 - 1975)." The State Historical Society of Missouri Website. Accessed December 1, 2019. https://historicmissourians.shsmo.org/historicmissourians/name/b/benton/.
3.      "Independence and the Opening of the West: Thomas Hart Benton." Harry S. Truman Library & Museum Website. Accessed December 1, 2019. https://www.trumanlibrary.gov/education/lesson-plans/independence-and-opening-west-thomas-hart-benton.
4.      McGovern, Dudley J. "National Register of Historic Places Inventory-Nomination Form: Thomas Hart Benton Home and Studio." Missouri Department of Natural Resources Website. Form prepared March 1, 1980. Accessed December 1, 2019. https://dnr.mo.gov/shpo/nps-nr/80002362.pdf.
5.      Kennedy, Wally. "State park preserves life of Thomas Hart Benton, family." The Joplin Globe Website. June 13, 2010. Accessed December 1, 2019. https://www.joplinglobe.com/news/local_news/state-park-preserves-life-of-thomas-hart-benton-family/article_a29c66cf-b44b-5fe8-8452-c3da826e092d.html.
Image Sources
Missouri State Parks: https://mostateparks.com/park/thomas-hart-benton-home-and-studio-state-historic-site

https://artistshomes.org/site/thomas-hart-benton-home-studio-state-historic-site#prettyPhoto[gallery]/0/

https://artistshomes.org/site/thomas-hart-benton-home-studio-state-historic-site#prettyPhoto[gallery]/0/

Missouri State Parks: https://mostateparks.com/park/thomas-hart-benton-home-and-studio-state-historic-site

The Missouri State Capitol Commission: https://capitol.mo.gov/latest-news-2/

Additional Information