Antwon Rose II Murder
Introduction
Antwon Rose II was an honor student, an active volunteer at after school programs, and enjoyed sports and music. At the young age of seventeen on June 19, 2018 he was murdered in East Pittsburgh, Pennsylvania by Officer Michael Rosfeld. Calls for justice came forward after Officer Rosfeld began to give contradictory statements about the murder. The community came together to fight for justice alongside #BlackLivesMatter. The organization was adamant in fighting for Antwon Rose II due to not only his young age but because he was another victim of police brutality who had a bright future ahead.
Images
Officer Michael Rosfeld (left) and Antwon Rose II (right). Rose was an honor student who was wrongfully shot at despite being unarmed and no stereotypical characteristics of a "thug."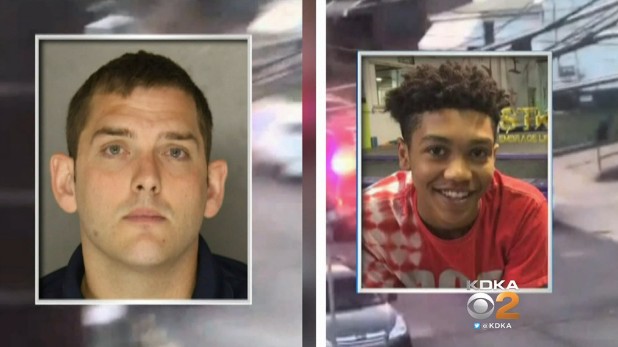 Community members gather around a memorial drawing of Antwon Rose outside of the Allegheny County Police Department awaiting Michael Rosfeld's preliminary hearing. The artist of the memorial drawing is unknown.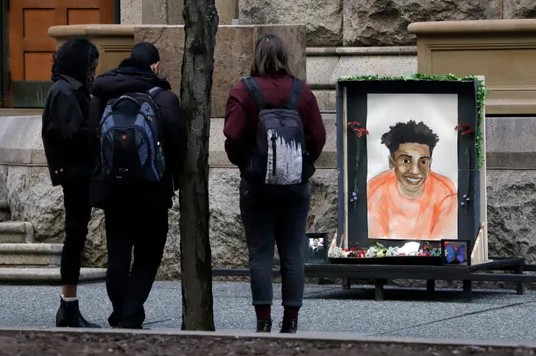 Pittsburgh community gathers together for the first annual Antwon Rose II Celebration of Life.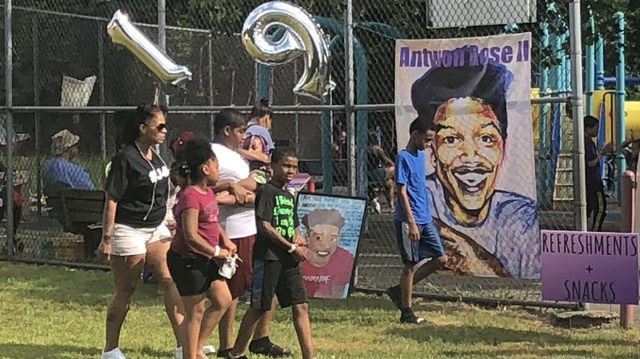 The Antwon Rose II memorial drawing is carried by protesters down Liberty Avenue in Pittsburgh days after Michael Rosfeld was acquitted of all charges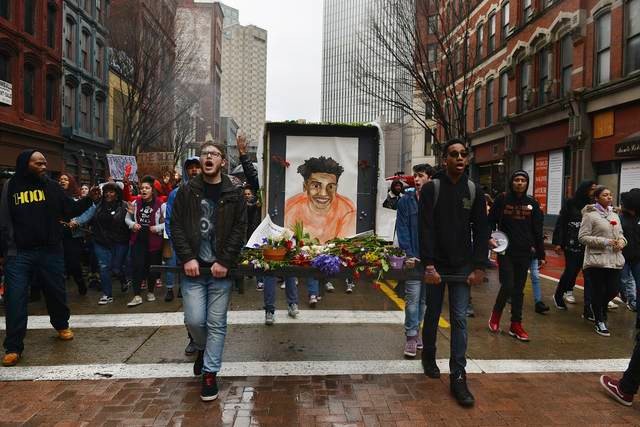 Backstory and Context
Antwon Rose II was a member of the gifted program at his high school where he also excelled in honors courses. Rose played basketball, surfed, skated, and played his saxophone during his free time as well as volunteered at after school programs where he helped elementary school children with their homework. By the age of seventeen, Rose had held three jobs already at: Pittsburgh Gymnastics Club, Joe and Pie, and Dominos. Rose also spent a lot of his time volunteering at the Free Store in Braddock, Pennsylvania.
Officer Michael Rosfeld had previously been employed as a university cop at the University of Pittsburgh. During his time as a university cop, there had been claims that Officer Rosfeld used his power to perform false arrests, assault individuals, as well as falsify records. Officer Rosfeld was released quietly from the university as to avoid any red flags on his record which would could have possibly prevented him from obtaining future employment (Guza 2018). Officer Michael Rosfeld had been sworn into the East Pittsburgh Police Department hours prior to killing Antwon Rose II.
On June 19, 2018 sometime around 8:30pm, a drive-by shooting occurred in North Braddock, Pennsylvania. Approximately 10 minutes later, a silver Chevrolet Cruze was pulled over in East Pittsburgh for a traffic stop and for matching the description of the vehicle used in the earlier drive-by shooting. The vehicle consisted of three people: the driver, Antwon Rose, and Zaijuan Hester. The police officers involved in the stop took note of the bullet holes on the exterior of the car. Based off video footage filmed on bystander's cell phone, Antwon Rose II was sat in the passenger seat, was wearing a white shirt, and attempted to run away from the scene (Bradbury 2018). As he was running, the video shows Officer Rosfeld shooting after Rose three times. William Ross who was the victim of the drive-by shooting came forth and claimed that Rose had been the one to fire the gun at him due to personal disagreements the two had been having. Video surveillance of the drive-by shooting posted by the Pittsburgh Post-Gazette contradicted Ross's statements and showed backseat passenger, Zaijuan Hester who was wearing a dark colored shirt, fire the gun at Ross.
When first questioned, Officer Rosfeld claimed that he believed Rose was armed and shot after him to protect himself. When questioned a second time, Officer Rosfeld stated that Rose was not in fact armed. These discrepancies in statements created a stir in the public and pushed forth a multitude of protests demanding justice for Antwon Rose and his family. Officer Rosfeld was placed on leave while the Allegheny County Police Department launched an investigation. On June 26th, Allegheny County District Attorney Stephen Zappala charged Michael Rosfeld with criminal homicide mainly due to discrepancies in his statements. Rosfeld's trial started on March 19, 2019 and ended March 22, 2019 (Herring 2019). Due to the original video footage of the shooting receiving a vast amount of social media coverage the jury was made up of members from Harrisburg as to insure a fair trial. On the first day of trial, Rosfeld testified in his own defense and stated that he saw a gun being aimed at him but was unsure if it was Rose or Hester, so he shot after the boys in defense. The jury finalized their verdict in less than three hours and found Rosfeld not guilty of first and third degree murder and neither of involuntary manslaughter (Hassan 2019).
The community of East Pittsburgh reacted to Antwon Rose's murder by creating and participating in a multitude of protests. Protests began as early as June 2018 in the days following the shooting. These protests took place outside of the East Pittsburgh Police Department and Parkway East freeway. In July 2018, protests occurred outside of the Allegheny County Police Department during Rosfeld's preliminary hearing. Additional protests occurred around town and surrounding areas of East Pittsburgh. Following the trial of Michael Rosfeld, multiple protests took place due to his acquittal. Additionally, memorials were created in order to honor Antwon Rose II's life. His mother, Michelle Kenney, created the Antwon Rose II Memorial Fund to help those in need in honor of Rose's consistent volunteering. His mother has also created a celebration of life that will occur every year on what would be Rose's birthday in which everyone comes together to honor his memory and donate books to schools and local charities (Guza 2019). Michael Rosfeld was released from the East Pittsburgh Police Department but his current occupation is unknown.
Antwon Rose's wrongful murder at the hands of a police officer is not the first nor is it the last. Trayvon Martin's murder jumpstarted the Black Lives Matter movement in which people began fighting for justice for African-American's wrongful deaths. The renowned case of the murder of Philando Castille showcased a win for Black Lives Matter and the African-American community. The officer who murdered Castille, who was also video recorded, actually faced criminal charges and is serving time for murdering Castille (Horton 2019). These are just two important police brutality cases, but there are dozens more around and dozens more to come. Police brutality will continue to be a prevalent problem in the United States until the consistent awareness around the matter brings the murdering to an end. 
Sources
[1] Horton, Alex . When Police Kill Unarmed Black Males, What Seems Obvious on Video Rarely Leads to Convictions, The Washington Post. March 30th 2019. Accessed December 2nd 2019. www.washingtonpost.com/nation/2019/03/30/when-police-kill-unarmed-Black-males-wh at-seems-obvious-video-rarely-leads-convictions/.
[2] Guza, Megan. "Antwon Rose's Parents Sue Pitt for Not Disciplining, Divulging Record of Officer Michael Rosfeld." TCA Regional News December 11th 2018.
[3] Herring, An-Li. Trial To Begin For White Police Officer Who Shot Unarmed Black Teen, NPR. March 18th 2019. Accessed December 2nd 2019. www.npr.org/2019/03/18/704394949/trial-to-begin-for-white-police-officer-who-shot-unarmed-Black-teen.
[4] Hassan, Adeel. Antwon Rose Shooting: White Police Officer Acquitted in Death of Black Teenager, The New York Times. March 23rd 2019. Accessed December 2nd 2019. www.nytimes.com/2019/03/22/us/antwon-rose-shooting.html.
[5] Bradbury, Shelly. Woodland Hills student shot and killed by police in East Pittsburgh was not armed, Pittsburgh Post-Gazette. June 20th 2018. Accessed December 2nd 2019. https://www.post-gazette.com/news/crime-courts/2018/06/19/North-Braddock-East-Pittsburgh-officer-involved-shooting/stories/201806190176.
[6] Guza, Megan. The death of Antwon Rose: 1 year later, Trib Live. June 19th 2019. Accessed December 2nd 2019. https://triblive.com/local/pittsburgh-allegheny/the-death-of-antwon-rose-1-year-later/.
Image Sources
Allegheny County Jail/STK, Embrace Life/Facebook

Gene J. Puskar/AP

https://www.wpxi.com/news/top-stories/family-friends-celebrate-antwon-rose-s-life-on-what-would-have-been-his-19th-birthday/966511309

https://triblive.com/wp-content/uploads/2019/06/1306921_web1_ptr-rally12-032619.jpg

Additional Information