Joesph Naper Staute
Introduction
This statue of Joseph Naper was dedicated by the city of Naperville on Friday, August 23, 2013, in recognition of his role in establishing the community from his arrival in this area in 1831 to his death in 1862. Recognized as the founder of the community, Joesph Naper helped establish the community's infrastructure. Naper also occupied a variety of local, county, and state political offices, and he was an influential supporter of Abraham Lincoln. The statue is located downtown at a location that was once part of the Naper Homestead.
Images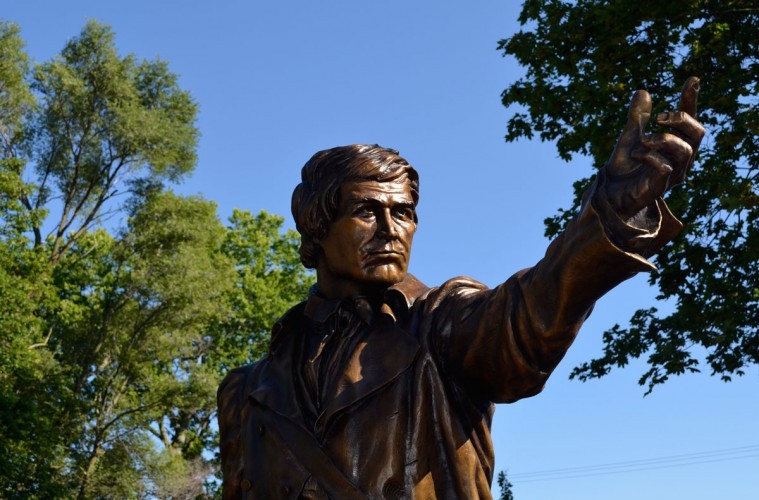 Backstory and Context
The 1,500-pound statue presents Joesph Naper when he was 33 years old as a surveyor and community founder. At the dedication ceremony, the mayor of Naperville stated that Joseph Naper's "vision, dedication, and belief in working hard to transform a little piece of prairie into a booming settlement set the pace for our vibrant community today." 
Joseph Naper was born in Ohio and established a shipbuilding business. Using one of the ships he created, Naper traveled to Chicago and then west along the DuPage River to a mill operated by Bailey Hobson. Naper made this area his home and is credited with founding the community owing to his efforts to build a city infrastructure along with his roles as an elected official, including a stint in the state legislature in 1836 where he served alongside Abraham Lincoln.
Sources
Jenco, Melissa. Naperville dedicates statue of founder, Chicago Tribune. August 23rd 2013. Accessed November 29th 2019. Naperville dedicates statue of founder.
JOSEPH NAPER SCULPTURE WAS DEDICATED AUG. 23 AT THE NAPER HOMESTEAD, Positively Naperville. August 24th 2013. Accessed November 29th 2019. https://www.positivelynaperville.com/2013/08/24/joseph-naper-sculpture-was-dedicated-aug-23-at-the-naper-homestead/25979.
Image Sources
https://www.positivelynaperville.com/2013/08/24/joseph-naper-sculpture-was-dedicated-aug-23-at-the-naper-homestead/25979