Knute Rockne High School
Introduction
Pictured here was Northwest Division High School. This is where Knute Rockne went to school growing up. He is one of their most notorious and favorable alumni. This high school is no longer named Northwest Division High School anymore and has changed its name to Tuley High School in 1908, and in 1974 it changed its name to Roberto Clemente Community Academy.
Images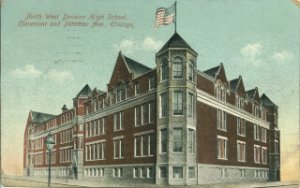 Backstory and Context
Before its final naming of Roberto Clemente Community Academy, Northwest Division High School was home to Knute Rockne, the honorable head coach of the Notre Dame football team. Attending Northwest Division High School until 1905, he had an immense love for football since watching the University of Chicago football team but that was not the only sport he was involved in. Rockne also participated in boxing and track in high school. Being an undersized athlete at 110 lbs, he particularly enjoyed track because you didn't need to have the size to be good at track and held a record in pole vault. In this sport he would learn about competition which he would use in his coaching days.
Rockne was kicked out of school when he and his track teammates skipped school to practice. The news would get out and they would split the team up and disperse them to different schools. The school that Rockne was sent to did not have a track team and his father pulled him out of school and made him get a job. This would force him to leave behind the opportunity to graduate from high school and receive a high school diploma.
Sources
(n.d.). Retrieved from http://www.illinoishsglorydays.com/id729.html.
Robinson, R. (2002). Rockne of notre dame : The making of a football legend. Retrieved from
https://ebookcentral.proquest.com
Spring, C. (2011, March 24). Former Tuley High School. Retrieved from
https://www.flickr.com/photos/chiski/5554600446.