Knute Rockne Statue
Introduction
Knute Rockne's legacy began in the small village of Voss in Norway, on March 4th, 1888. At the time, Voss had a population of less than 10,000 and had scenic views of glaciers, mountains, hills, and waterfalls. Voss quickly became a rapidly fast growing area as more people moved to this area.
Images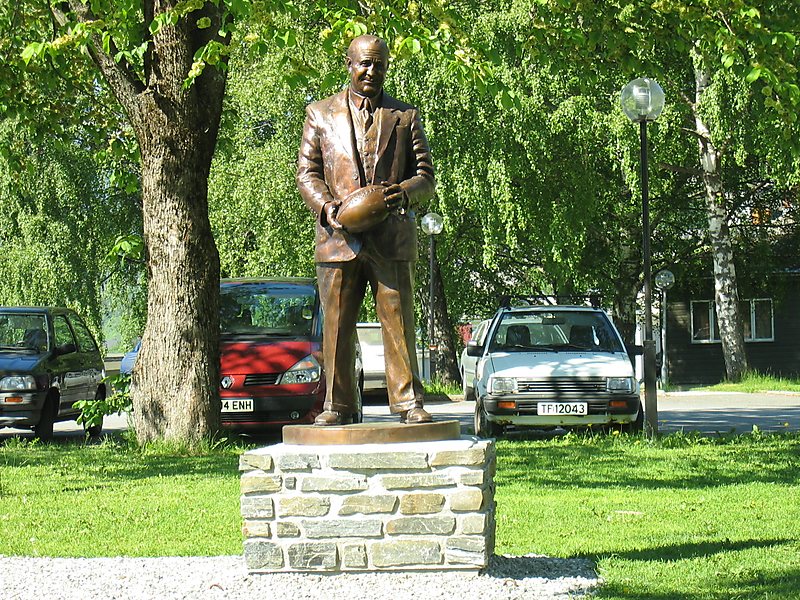 The man on the left is Jerry McKenna, the creator of the Knute Rockne sculpture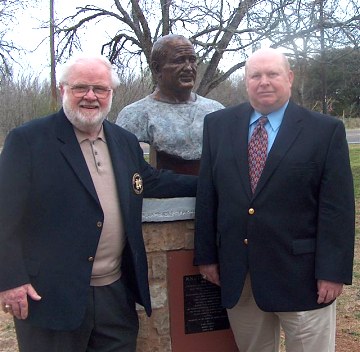 Backstory and Context
Knute Rockne was born here in Voss, Norway on March 4th 1888. He is the second child of five and was the only boy among his siblings. Voss was a small village with a scenic area with its beautiful hills, mountains, and waterfalls with a population of around 10,000 in 1888. Knute Rockne did not have the chance to enjoy the scenic views that Voss had to offer for long because his family moved to the United States in 1893 when Knute was five years old. His family lineage was farmers but his father aspired to become a carriage maker.Using his woodworking skills to his advantage he was able to build carryalls, a two-wheeled vehicle. This bought him a ticket to move to the United States.
The population of Voss, Norway hasn't grown that much higher from the 10,000 in 1888, in 2004 it was reported that their population estimated around 14,168. Home of Norway's most famous tour, Voss has an extreme sports festival every year come June.
A 1964 Notre Dame graduate, Jerry McKenna, sculpted a statue in Voss, Norway to honor his legacy. There was a ceremony held before the unveiling on March 31, 2006. McKenna sculpted Rockne out of molten bronze. In order to honor Rockne, the molten bronze had three elements that gave it more meaning. He used steel parts from a carriage that Rockne's father made in 1888, a gold leaf from the golden dome at Notre Dame, and debris from the plane crash that killed Rockne. These elements all represent stages of his life.
Sources
Knute Rockne Legacy Lives On Across The World. (2019, May 18). Retrieved from
https://und.com/knute-rockne-legacy-lives-on-across-the-world/.
 (n.d.). Knute Rockne in Vossavangen, Norway. Retrieved from
https://travel.sygic.com/en/poi/knute-rockne-poi:18303465.
Robinson, R. (2002). Rockne of notre dame : The making of a football legend. Retrieved from
https://ebookcentral.proquest.com