White Buffalo Girl Grave Site
Introduction
This is a burial site belonging to a child from the Ponca tribe, and was made during the journey on the Ponca Trail of Tears after their forced relocation by the US Army. After the eighteen-month-old girl's death on May 23, 1877, her parents Black Elk (not to be confused with the famous Oglala Lakota holy man with the same name) and Moon Hawk made a request to the nearby settlement known as Neligh, found in Northeast Nebraska, that they may respect and care for her grave site as though it was one of their own—A request that was accepted and is still being honored to this day.
Images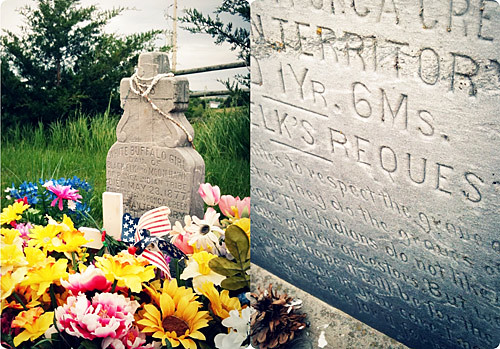 Backstory and Context
The removal of Native American peoples from their homelands is one of America's darkest parts of its history. Even the Ponca, a friendly tribe to white people, was not spared this treatment. From the years 1858 to 1866, several treaties were negotiated to keep peace between the Native peoples and their white neighbors. However, conflicts between the US Army and the Sioux would ruin these peaceful relations. In one of these conflicts, the third and most widely known Sioux war, the US made efforts to resolve the conflict peacefully, usually at the expense of the Ponca, who was constantly harassed by the bigger and more powerful Sioux, going so far as to run them off from lands they were legally given by the US in a treaty. The Ponca received no help from the US, as the army feared beginning another conflict.
In an effort to further appease the Sioux the US government eventually handed them all Ponca land. Sometime in January, 1877 Indian Inspector Edward C. Kemble visited and spoke to the Ponca during a church service. He informed them their lands were being ceded to the Sioux, and that they would be moved to a new home in the Indian Territory, a place now known as present-day Oklahoma.
Kemble, Standing Bear, and other Ponca chiefs all went to select the place that would be the Ponca's new home. After seeing what the US government had proposed to be their new home, a hot and humid place with poor soil, Standing Bear and the other Ponca chiefs refused to bring their people to the Indian Territory willingly. After the chiefs return on a 500 mile journey back home at the Niobrara River, Kemble immediately ordered their arrest and efforts to begin relocating the Ponca to Indian Territory would begin in Spring.
Standing Bear and the other chiefs were eventually released, before relocation efforts were underway. Then one night US soldiers formed around the Ponca villages, and when dawn came they began dragging people out of their cabin. Standing Bear and his brother Big Snake were once again thrown in jail for ten days after refusing the removal order a second time, and were released when the forced migration began.
On May 21, 1877 the Ponca were herded south, and forced to travel under harsh conditions. They were immediately greeted by bad weather, and pneumonia then spread among the tribe. Nine people died during the journey to Indian Territory, two of the them being Standing Bear's children, and another being White Buffalo Girl on May 23, 1877. Unable to stay and properly grieve the eighteen-month old girl's death–which would have included a burial and a burning ceremony of whatever possessions belonged to her–Black Elk and Moon Hawk asked the people of Neligh to care for the child's grave as if she was one of their own.
After around fifty days of walking the Ponca were all in Indian Territory. Sickness was still spreading among the Ponca and the death toll rose, conditions only worsened as the government failed to send food aid since they could not properly prepare for the winter. Within two years of the forced relocation to the Indian Territory a third of all Ponca were dead.
Sources
Meleen, Michele. "Native American Death Rituals." LoveToKnow. LoveToKnow Corp. Accessed December 11, 2019. https://dying.lovetoknow.com/native-american-death-rituals.
Coppock, Mike. 2003. "Ponca Chief Standing Bear Went to Court to Fight the Decision to Send Him Back to Indian Territory." Wild West 15 (6): 24. http://search.ebscohost.com.leo.lib.unomaha.edu/login.aspx?direct=true&db=a9h&AN=9138191&site=ehost-live&scope=site.
White Buffalo Girl, history.nebraska.gov. Accessed November 27th 2019. https://history.nebraska.gov/publications/white-buffalo-girl.
Additional Information