Adam Craig House
Introduction
Possibly the second-oldest home in Richmond, this historic home was constructed for the family of Adam Craig in the 1780s. At that time, Craig was a clerk in the local courts. Craig left the property - the house and lot where his family resides in Richmond - to his widow upon his death in 1808. One of Adam Craig's daughters has ties to the famous poet, Edgar Allen Poe, whose home is nearby. The Adam Craig House was saved from demolition and restored in the 1930s by a group of local citizens spearheaded by Mary Wingfield Scott, a local architectural historian. The group became a chapter of APVA and rented out the house. The house is privately owned.
Images
Street grids -old & new- downtown Richmond 1867, Michler & Mickie map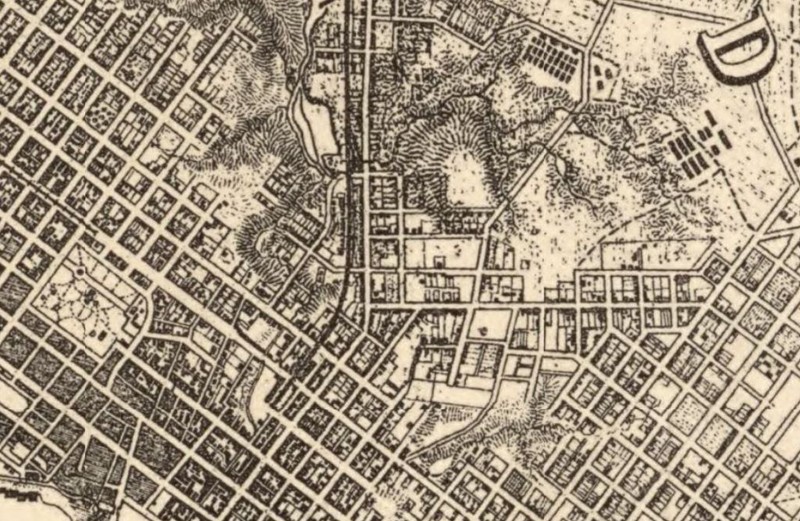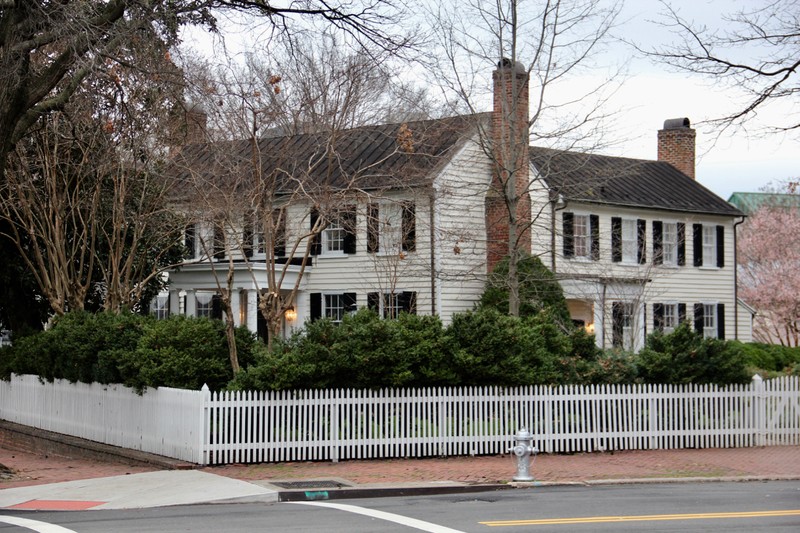 Backstory and Context
The Adam Craig House was probably built by its namesake around 1784 to 1787. It may be the second oldest surviving building in Richmond and the oldest frame structure. The house lot covers a quarter of a city block in the Shockoe Bottom neighborhood. The house is a 2-1/2 story, 5-bay wood frame building with a symmetrical front facade. The front portico with stately white columns is a later addition, as is a large, frame addition to the rear of the main block. Another notable feature of this historical gem is a two-story brick kitchen that replaced a frame cookhouse in 1815. The architect is unknown.
The house stands at an angle instead of parallel to E. Grace or N. 19th Streets. This portion of the town followed an earlier street grid (from 1737) than what was plotted for the rest of downtown Richmond as seen today on this block (see the 1867 map attached).
Adam Craig was born in 1760. He worked as a clerk in several local courts in Richmond and neighboring Henrico County after moving from Williamsburg (the former colonial capital) to Richmond (the later colonial capital) in 1782. Craig married Mary "Polly" Mallory, the daughter of William Mallory, in 1787. Adam Craig lived until 1808. In his will written in March 1808, Craig left his house "now occupied by" his family and lot in Richmond with its household goods to his wife, Mary, for her lifetime. He left substantial real estate holdings elsewhere in Virginia and Kentucky to other family members including a son, William M. One son, James, was a minor so not yet age 21 in 1808.
One of the couple's daughters is said to have inspired Edgar Allen Poe to write the poem "To Helen." The nearby Poe Museum, a stone structure, is the oldest building in Richmond. Another daughter, Ann Craig, perished in a horrible fire that destroyed a packed theater in Richmond in 1811, killing the Governor and scores of others. Two of the Craig daughters married two brothers of the Claiborne family of Virginia. One daughter married Robert Stanard, Esquire, later a Judge of the Virginia Supreme Court of Appeals.
The Adam Craig House was used as a local art center in the late 1930's/ early 1940's for its predominantly African-American community. It had been saved from decay and planned demolition in the mid-1930's by a group of Richmond citizens spearheaded by architectural historian Mary Wingfield Scott who bought the property. The group raised funds, renovated the house, and added gardens. The Craig House was then rented out to tenants. Scott (1895-1893) wrote two books about local antebellum housing in Richmond and was an advocate for adaptive reuse. Her citizens group formed the William Byrd branch of Association for the Preservation of Virginia Antiquities (APVA). By 1947, the group owned three historic houses in Richmond.
A local developer, Chalres Macfarlane, bought the Adam Craig House in 1998. The house has continued to be maintained as a private residence and is not open to the public. The mature yard trees, white picket fence, and brick sidewalks add to the home's charm.
Sources
Architecture Richmond. Adam Craig House, Architecture Richmond (blog). August 3rd 2017. Accessed November 26th 2019. https://architecturerichmond.com/inventory/adam-craig-house/.
Johnston, Andrew. "The Late John Robinson, Esq.." The Daily Dispatch (Richmond) October 17th 1879. 4-4.
Peninger, Kay. Mary Wingfield Scott: A Rebel with a Rubble Cause. Edition M.A. Thesis in History. Richmond, VA. Virginia Commonwealth University, 2011.
Scott, Mary Wingfield. Winkie. Urbanna, Virginia. Unpublished collection of articles by and about Scott, electronic, rosegill.com, no date.
Tisdale, Sara Dabney. "For Sale: Adam Craig House." Style Weekly (Richmond) August 25th 2010. Online ed, News & Features sec.
Whitley, Edythe Rucker. Overton County, Tennessee Genealogical Records. Baltimore, MD. Genealogical Publishing Company, Inc., 1979.
Image Sources
Library of Congress American Memory Map Collection, loc.gov

Adam Craig House, Architecture Richmond

Additional Information