Bacon House
Introduction
This historic home is significant for its architecture and association with its builder, Warren Bacon, who erected it in 1916, and his wife Myrta. The house is a fine and one of the few examples of the Colonial Revival style in Lubbock. Notable architectural features include the two-story porticos with Tuscan columns. Warren was a successful businessman, real estate developer, and civic leaders. Myrta was born to a prominent Quaker family who settled in what was the first Anglo settlement in the county. Today, the house is now the Sam Byron Hulsey Episcopal Center of the Episcopal Diocese of Northwest Texas.
Images
The Bacon House, built in 1916, is now the Sam Byron Hulsey Episcopal Center of the Episcopal Diocese of Northwest Texas.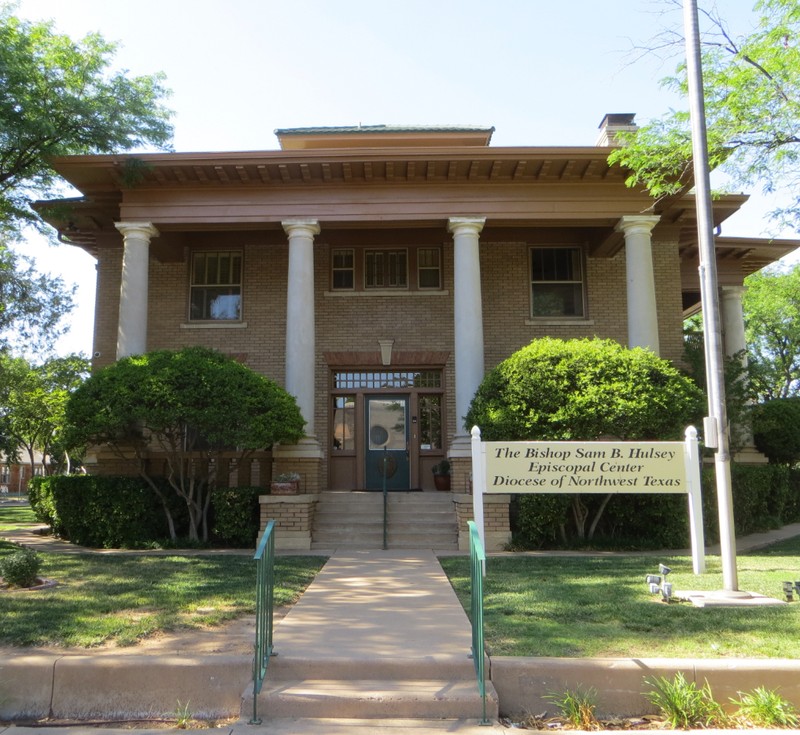 Backstory and Context
Warren Bacon was born in Missouri and arrived in Texas in 1893. He found work as a shepherd in Lubbock County and eventually acquired his own herd of sheep. He also started to buy land and over time acquired more land, including ranches. In addition, he dug one of the first wells in the county, demonstrating that irrigation could in fact work. Warren also invested in other other activities. He became president of a lumber company, vice president of a wholesale grocery, and played a role in organizing the Citizen's National Bank of Lubbock and served on its board of directors. Warren was also a civic leader. He was a member of the first Board of City Development in 1926 and the first City Planning Commission in 1931. During the Great Depression, thanks to efforts of Warren and other business leaders, no banks failed in Lubbock. Warren died of a heart attack in 1938 at the age of 66.
Myrta was born in 1878 in the Quaker colony located in Estacado. Her father was George M. Hunt, who first arrived in Estacado in 1884. George started to manage a hotel in what was first location of Lubbock (called "Old Lubbock") in 1891. The town was moved to its present location in 1890. Warren and Myrta got married in 1900. Before she passed away in 1967, she was believed to be the oldest surviving original resident of Lubbock. After she died, the house was leased to the Phi Kappa Psi fraternity of the nearby Texas Tech University. The Episcopal Diocese of Northwest Texas bought it in 1981 and has remained here ever since.
Sources
Abbe, Sally Still. "Bacon, Warren and Myrta, House." National Park Service - National Register of Historic Places Nomination Form. July 15, 1982. https://catalog.archives.gov/OpaAPI/media/40972866/content/electronic-records/rg-079/NPS_TX/82004512.pdf.
Image Sources
The Historical Marker Database

Additional Information