Route 40 Incident @ Double T Diner
Introduction
Route 40, the Pulaski Highway, was the main road between Philadelphia and Baltimore in the 1960s and public accommodations along this route were generally segregated. This became the focus of "Freedom Riders," groups of African American and white civil rights activists of 1961 who joined in a series of "Freedom Rides"-- nonviolent political protests against segregation/segregated bus terminals through trips through the South. Freedom Riders peacefully yet boldly communicated their message by attempting to use strictly white-designated restrooms and lunch counters at local bus stations in several Southern U.S. states. Though they sought nothing but equality and peace, these individuals suffered great adversity, namely arrest by police officers and brutal violence from racist whites along their routes. However, Freedom Riders were ultimately successful as news of their movement caught headlines and gained international attention, leading to the long-awaited enforcement of the end to segregation in interstate transit terminals. This time, regulations prohibiting segregation in interstate transit terminals were issued. *This site's specific location is one of many crucial stops along the Freedom Rider's journey. Though the groups traveled throughout many Southern U.S. states, their encounter here not many years ago still holds a significant impact today.*
Images
Present-day, active Double T Diner along Route 40 in Catonsville, MD.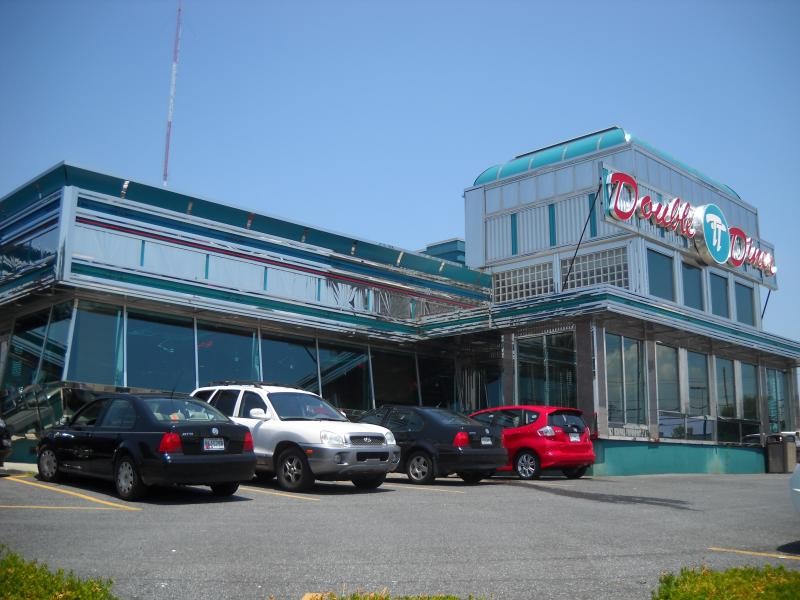 Core Route 40 Campaign Brochure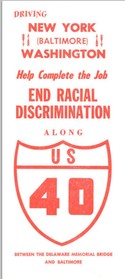 A bus of "Freedom Riders" civil rights activists in Alabama after a mob attacked them (1961).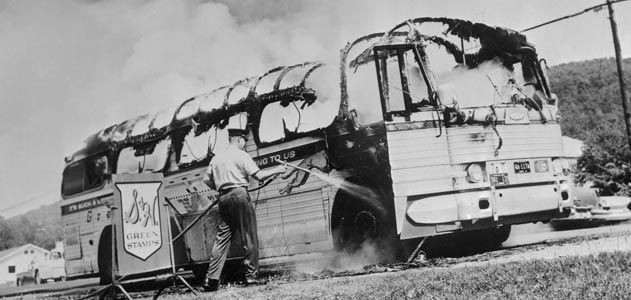 Map Tracing Freedom Rider's Path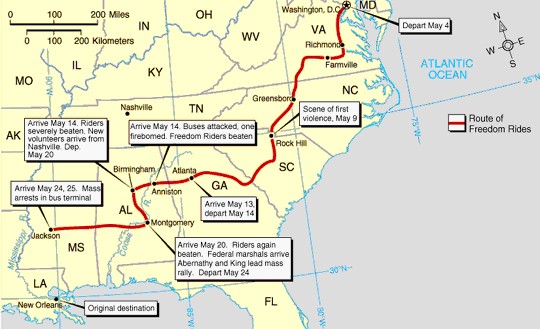 Inside View of Greyhound Bus Post House in Havre de Grace, MD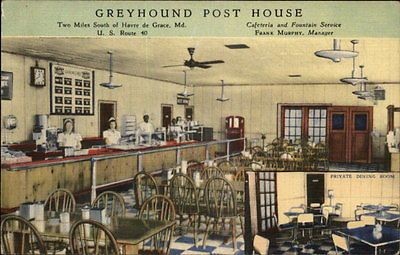 Outside View of Greyhound Bus Post House in Havre de Grace, MD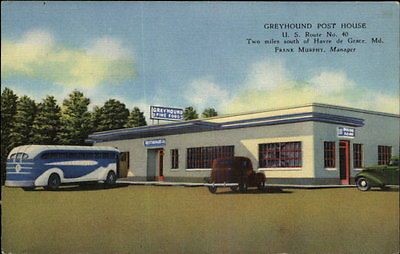 List of Restaurants Still Segregated Along Route 40 (1961)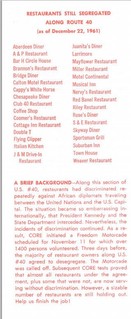 List of Desegregated Restaurants Along Route 40 (1961)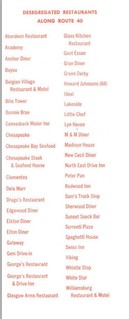 Core and Freedom Riders on Route 40 Tactics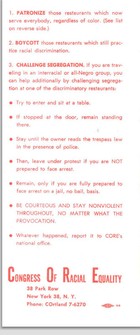 A photo of cars driving along Route 40 featured in Life Magazine titled, "Four Lanes to Trouble" (December 8, 1963).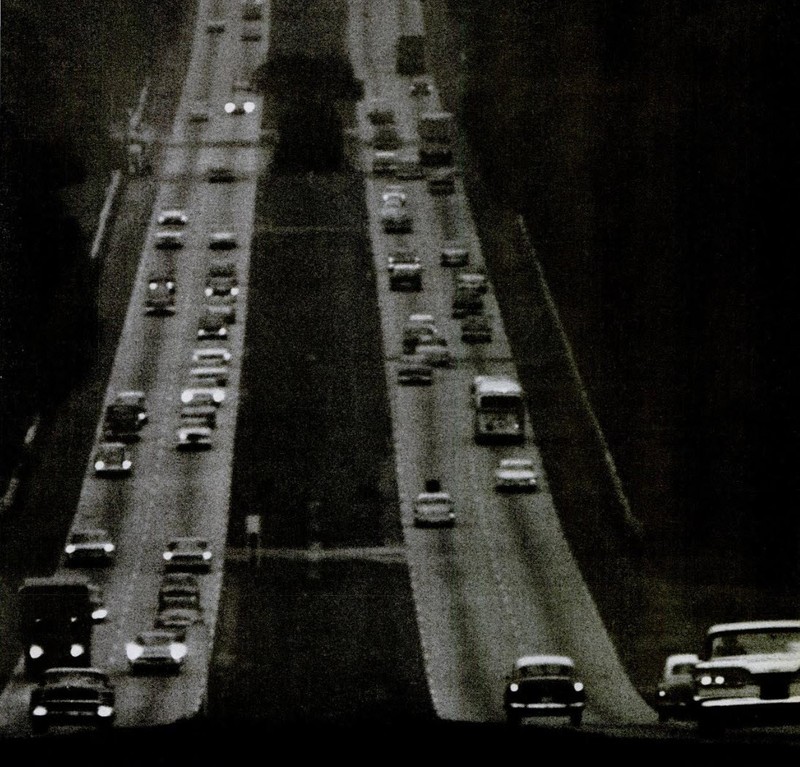 Backstory and Context
Imagine: Early 1960's, living in a society divided by race. Though the law deemed segregation unconstitutional years prior, everywhere you turn is ridden with deep segregation. You can't escape it--restaurants, public transportation, public parks, theaters, etc...practically everything separated on the basis of something so superficial as color.
Sadly, despite the laws passed to legally end segregation, this was the life many Americans faced in the early 1960's. Many African-Americans and whites were fed up and knew something needed to change. Through the power of unity, what started out as a few American's fighting for justice led to an international movement known as the "Freedom Riders" who changed the world in which we live today. If it were not for their unity, devotion to pursue truth and justice, and selfless compassion, we may have still been segregating buses by skin color today.
Freedom riders were groups of individuals, Black and white alike, who protested against segregation-- especially on the basis of bus transportation and restaurants. They were civil rights activists who rode interstate buses into the southern United States (segregated) to peacefully fight against the nation's failure to enforce Morgan v. Virginia's (1960) court case ruling in which deemed segregated buses to be unconstitutional.
Freedom Riders' respectable ambitions were not met with support from the southern American states, however. Many disagreeing mobs of whites harassed them, verbally, and physically abused the freedom riders--some so severely to the point of death. Others, however, were sent to jail for peaceful protests such as standing outside of a (segregated) restaurant. Such is the case of Sedares and three other men and a woman, all Freedom Riders, who never got inside the Double T Diner in Catonsville, Maryland in the early 1960's. The group "stood on the top steps of the door and listened to the restaurant's founder read the Trespass Act...and when they refused to leave, the founder 'swore out warrants for their arrests.'" As a consequence, each individual spent at least that night in jail.
Though Freedom Riders impacted the entire nation as they travelled throughout the Southern U.S., they particularly had an influence on Harford County, Maryland, when President Kennedy "made a personal appeal to end discrimination." The Baltimore Sun stated, "In a telegram to a luncheon meeting of Harford and Cecil County community leaders, the president called for voluntary cooperation for an immediate end to segregation." Federal leaders pleaded for aid from about 200 influential civilians of both counties in "stamping out" occurrences of discrimination based on race, specifically in averse to African diplomats. As time passed, several places obeyed this appeal by serving diplomats, but conflict reignited when a reporter from the Baltimore Afro-American dressed as a diplomat while stopping at several businesses along Route 40. He was treated kindly and respected as the diplomat, but when his true identity as a reporter was revealed, he was denied service. Such a response got the attention of many Americans and greatly upset them, as they believed it was simply unfair. To make matters worse, four African-Americans were sent to jail shortly after merely for refusing to leave a bar--the Bar H Chuck House--in which they were legally supposed to be guaranteed the right to be served in on Sept. 5, 1961. Later, In December 1961, about 700 freedom riders rode along the road in northeastern Maryland, stopping at 40 segregated restaurants and sending a clear message. Their goal was to "hit" all segregated restaurants along Route 40 between Baltimore and Delaware and resulted in two arrests. At the time, unfortunately, governor Tawes still did not seem to care or respond to the people, as he failed to enforce President Kennedy's appeal to end desegregation. So, Freedom Riders returned to the area several more times to achieve change and a few were arrested for trespassing a diner.
Finally, in March 1963, the Freedom Riders achieved great change as Governor Tawes of Maryland responded by signing a law which would officially make Maryland the first southern state to ban discrimination in restaurants and hotels. This would later be put into action after the 1964 election and was a great victory for the Freedom Riders and all those living in Maryland, including Harford County residents.
Sources
Admin. "Freedom Riders on Route 40 -."  Window on Cecil County's Past , 30 May 2019, https://cecilcountyhistory.com/integration-in-cecil-county-the-freedom-riders-on-route-40/.
History.com Editors. "Freedom Riders."  History.com , A&E Television Networks, 2 Feb. 2010, https://www.history.com/topics/Black-history/freedom-rides.
Interview: John Lewis And Jim Zwerg Discuss The 40th Anniversary Of The Freedom Riders. Washington, D.C.: NPR, 2001. ProQuest. Web. 25 Nov. 2019.
Johnson, Bob. "Freedom Riders Retrace Route through South: Sunrise Edition]." Milwaukee Journal Sentinel, May 13 2001, p. 05A. ProQuest. Web. 25 Nov. 2019 .
Wenger, Yvonne, and Baltimore Sun. "Fight for Civil Rights Played out along U.S. 40 in Maryland."  Baltimoresun.com , 10 Aug. 2014, https://www.baltimoresun.com/maryland/bs-md-40-freedom-ride-20140809-story.html.
Image Sources
https://www.pinterest.com/pin/133348838940702920/?lp=true

https://www.pinterest.com/pin/133348838940798486/?lp=true

https://cecilcountyhistory.com/integration-in-cecil-county-the-freedom-riders-on-route-40/

https://cecilcountyhistory.com/integration-in-cecil-county-the-freedom-riders-on-route-40/

https://cecilcountyhistory.com/integration-in-cecil-county-the-freedom-riders-on-route-40/

https://books.google.com/books?id=jlMEAAAAMBAJ&pg=PA32&source=gbs_toc_r&cad=2#v=onepage&q&f=false

Additional Information