Camp David
Introduction
Camp David is located in the wooded area of Catoctin Mountain Park and is the recreational home of the President of the United States. It is about 62 miles away from Washington, D.C., so it is close enough in case the president needs to go back to the White House, but far enough away from the city. The camp was originally for federal government agents and their families. President Dwight D Eisenhower turned it into a retreat for the presidents in 1942.
Images
David Eisenhower (age 12), grandson of President Eisenhower, poses with sign, named after him, 1960.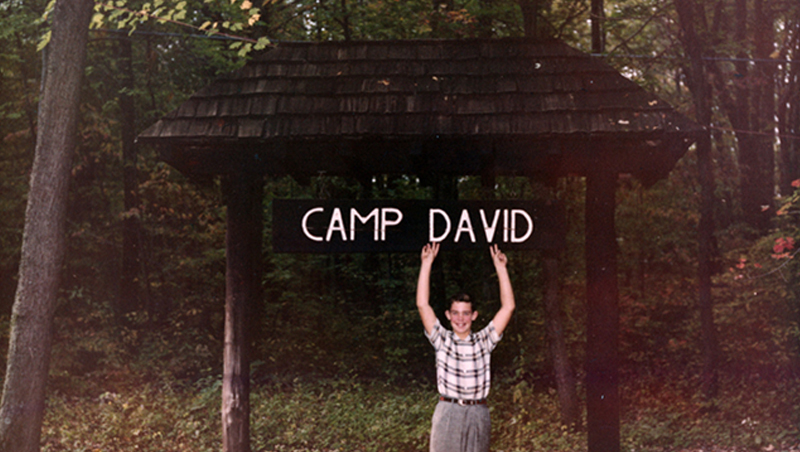 1981, President Ronald Reagan and Vice President George Bush horseback riding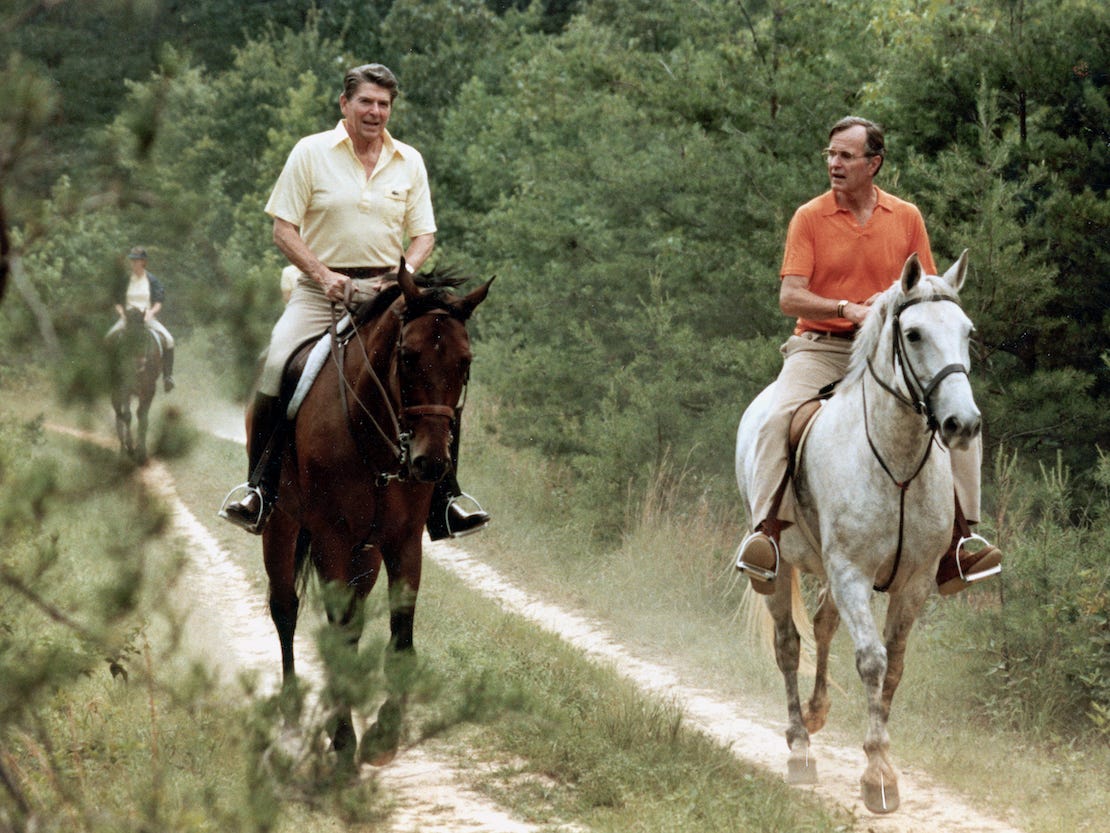 President Obama playing at the pool with his daughter, 2011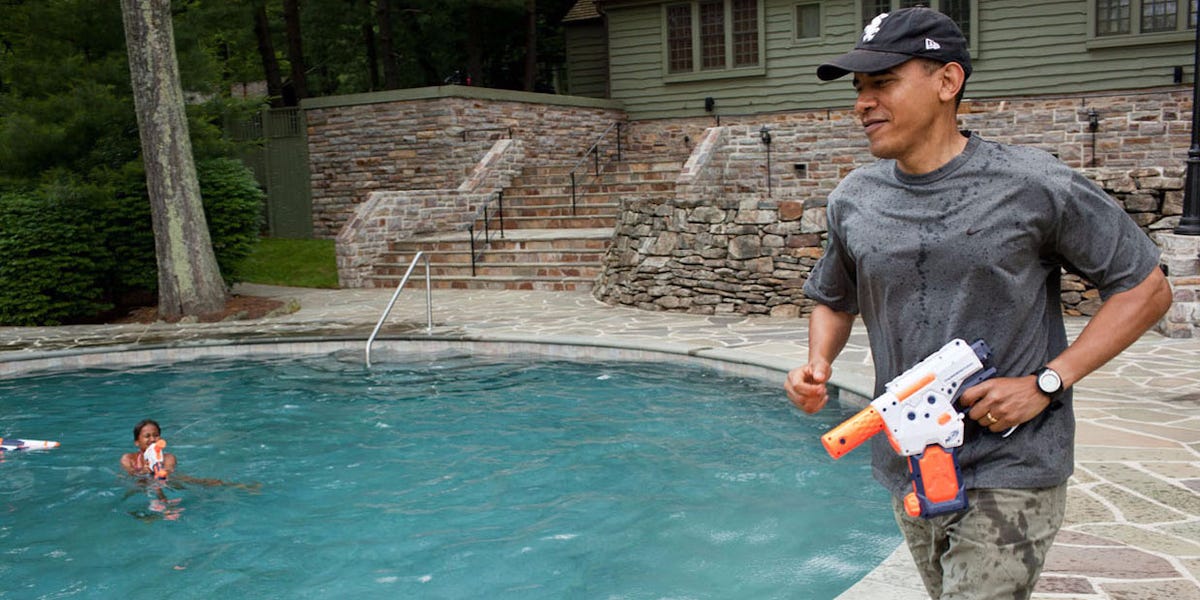 U.S. President George W. Bush and South Korean President Lee Myung Bak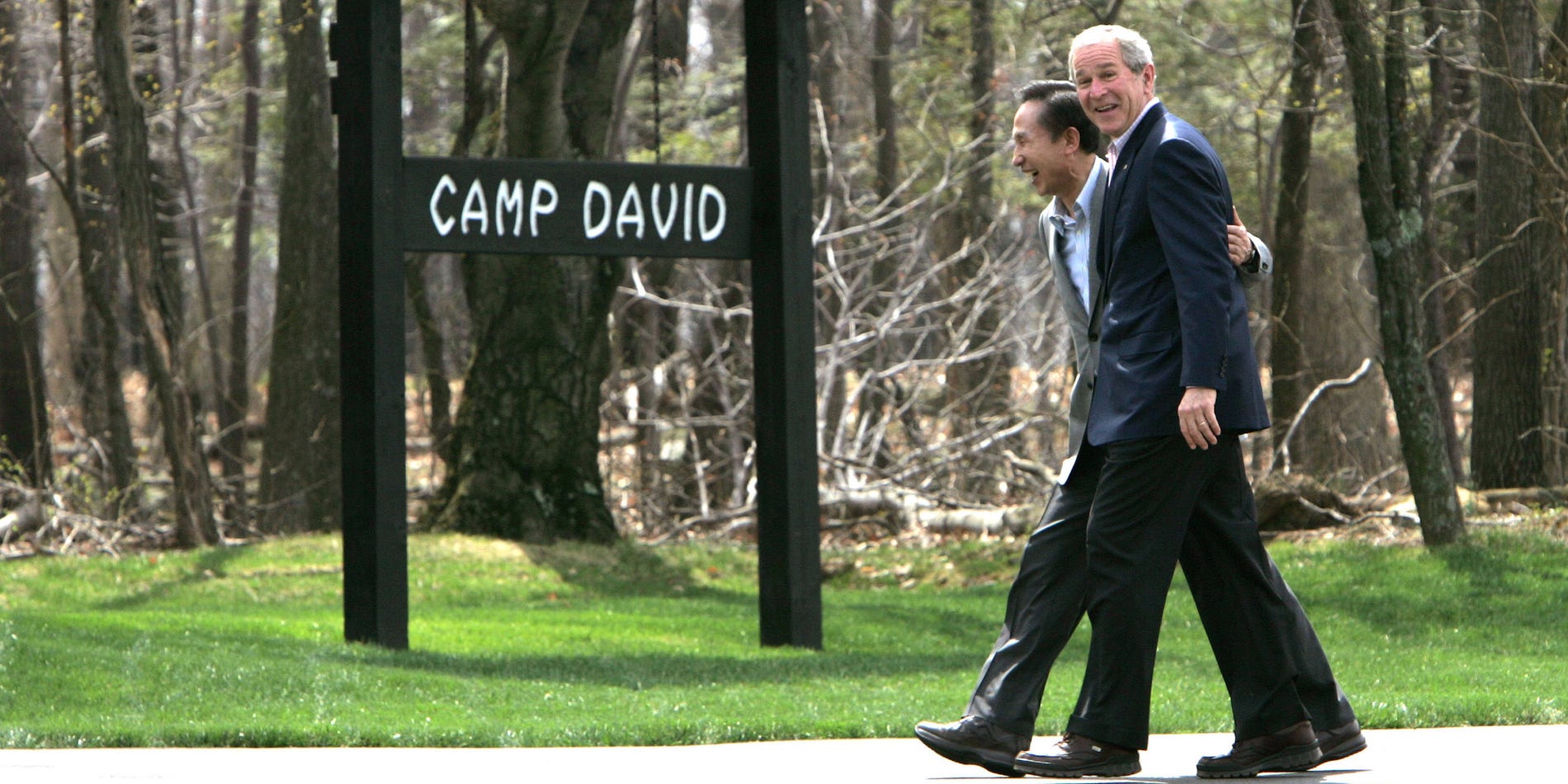 1961, Aspen Lodge at Camp David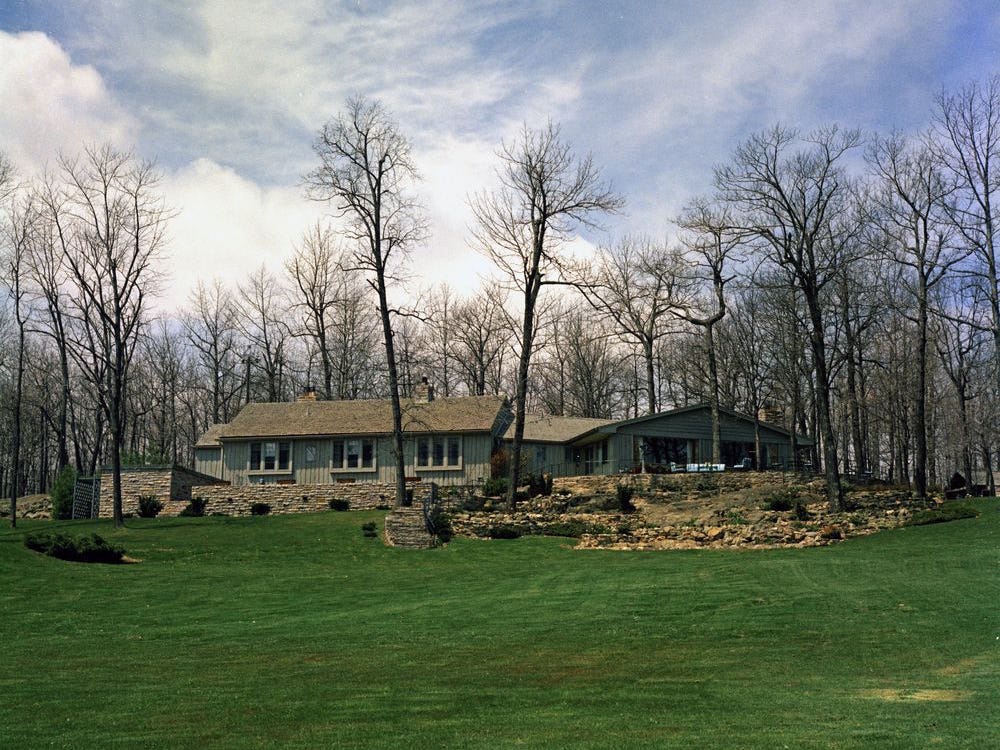 Backstory and Context
Camp David is the recreational home for the President of the United States, also known as Aspen Lodge. Originally, it was names Shangri-La, which was originally a fictional Himalayan paradise from the novel "Last Horizon." President Dwight D. Eisenhower took over as president and he renamed the camp to be "Camp David." He names it after his father and his grandson, who had the same name. It offers solitude, tranquility, and a place to host some foreign leaders. When it comes to solitude and tranquility, the camp was located about an hour and a half from the White House. They were able to enjoy the country area and be away from their busy life in the city.
Since it is in the middle of Catoctin Mountain Park, the presidents and their families are able to enjoy the freedom and country without the pressure of work. Horseback riding is a common activity for the presidents to do. In fact, in the past, President Ronald Reagan and Vice President George Bush have a picture of them horseback riding there from 1981. Camp David even has a heated swimming pool for the white house family to enjoy. There is also a hot tub and a single golf hole with multiple tees. 
Around the camp, there are about a dozen guest cabins, which are connected by paths. There is a main cabin, Laurel Lodge, where the meals are served, and meetings are held. In the lodge are three conference rooms for the meetings and a presidential office. 
For other activities, Hickory Lodge is the place to go for entertainment. It has everything from a fun night of bowling to a relaxing night watching movies. Along with those, there is a restaurant and a bar to enjoy a drink, a game room for the children, a library, and a gift shop. The way of transportation for the guests are golf carts. Some say that is the most fun part of the camp. 
Around the camp, there are tennis courts, horseshoe pits, a skeet range, and nearby fishing. For indoors, there is a fitness center, a pool table, and a basketball court. There is even the Evergreen Chapel for those who wish to worship. In the winter, guests can go cross-skiing, sledding, snowmobiling, and ice skating. Overall, Camp David has a large variety of indoor and outdoor activities for all times of the year to keep all of their guests occupied. 
When the president and the families were not there, the White House Staff and the Cabinet members were able to use the treat, especially when John F. Kennedy was president. 
Even though Laurel Lodge hosts the main meetings, Holly cabin is used for the smaller meetings and recreation. For example, President Carter liked to use the cozy rooms in Holly, rather than Laurel. He used that for the 1978 Camp David peace negotiations. 
Camp David held the G8 Summit in 2012 by President Obama. He figured he would have his counterparts go to Camp David to talk about the wide range of issues to be discussed. He liked the idea that it was laid back and people would enjoy being in a more casual backdrop, since G8 is a more informal setting. The G8 Leaders were staying in the Birch, Dogwood, Maple, Rosebud, Red Oak, Hawthorn, and Southern Pine cabins. As a parting gift, President Obama gave all of the leaders a Black leather Camp David jacket. Even the spouses of the G8 leaders were welcomed by First Lady Michelle Obama into the White House for a tour and a luncheon. Since the meeting was held at a laid-back place, it wasn't all work. The European leaders were able to take a break to watch the overtime shootout of the Chelsea vs. Bayern Munich Champions League Final.
In 1943, there was the first meeting, in which Prime Minister Winston Churchill had attended from the invitation by Franklin D. Roosevelt. President Eisenhower held his first cabinet meeting there in 1955. He met there with a soviet statesman, Nikita Khrushchev for 2 days for discussion in 1959. President Johnson had met with advisors and hosted prime ministers from Australia and Canada. President Nixon used to be a frequent visitor to Camp David. He was the one who wanted a swimming pool and requested other improvements to Aspen Lodge. President Ford had hosted the Indonesian President, Suharto, at the camp as well. At first, President Carter wanted to close Camp David to save money, but after he actually went to visit, he made the decision to keep it. 1978 was the year that he held the landmark Camp David Accords with Carter. Similar to Carter, President Clinton had used the camp as a location for talks between Palestine and Israel in 2001.
 Over time, multiple prime ministers were welcomed at the camp by a variety of the presidents. Some of the other prime ministers are Danish Anders Fogh Rasmussen and Russian Dmitry Medvedev.
President Ronald Reagan had visited the camp more than any other president. He hosted the British Prime Minister, Margaret Thatcher in 1984. In 1992, George H W. Bush's daughter, Dorothy Bush Koch, had her wedding there, which was the first ever wedding held at the camp. 
Even the current president, Donald Trump, enjoys Camp David. In fact, President Trump visited the camp five times within his first year in office. He referred to it as "a very special place." For the G7 meeting in 2020, he had planned to host it at a golf course, Trump National Doral, in Miami, but is thinking about hosting it at the camp. He had already brought senior Republicans to Camp David for a leadership retreat around the tie of the 2018 midterm elections to woo them. 
Camp David is a private area and does not show up on maps due to privacy and security. Concerns, however, it can be seen by satellite images. In 2011, there was a security issue where a two-seat passenger plane was flying near Camp David. At that time, President Obama was there for a holiday weekend with his family. The aircraft was about 6 miles from the retreat and the F-15 escorted it to land elsewhere. Luckily, authorities said it was an accident and law enforcement did not need to get involved.
Sources
Brimelow , Ben . Take a tour of Camp David, where presidents host world leaders and escape Washington, Business Insider. February 12th 2018. Accessed November 25th 2019. https://www.businessinsider.com/camp-david-photos-tour-president-2018-2.
Fighter Intercepts Plane Near Camp David, NBC Washington. July 2nd 2011. Accessed November 25th 2019. https://www.nbcwashington.com/news/local/DC-Fighter-Intercepts-Plane-Near-Camp-David-124918704.html.
The Grounds of Camp David, The White House. Accessed November 25th 2019. https://www.whitehouse.gov/about-the-white-house/camp-david/.
Image Sources
https://www.businessinsider.com/camp-david-photos-tour-president-2018-2

https://www.businessinsider.com/camp-david-photos-tour-president-2018-2

https://www.businessinsider.com/camp-david-photos-tour-president-2018-2

https://www.businessinsider.com/camp-david-photos-tour-president-2018-2

https://www.businessinsider.com/camp-david-photos-tour-president-2018-2