Mary Ann Shadd Cary Historical Marker
Introduction
This historical marker was dedicated in 2011 to honor Mary Ann Shadd Cary. Born as a free person in Wilmington, Delaware in 1823 to African American parents who were dedicated to abolitionism, Mary Ann Shadd became an activist, writer, teacher, lawyer, and a highly influential figure in the context of the abolition of slavery movement alongside the women rights movement. In 1859, the United States Congress passed the Fugitive Slave Act which outlined the legality to force freedom seekers to return to slavery and furthermore, the punishment that would find anyone who helped them. As a result, the family's participation in the Underground Railroad ended and they moved to Windsor, Ontario. It was there where she started an interracial school and lectured about the importance of freedom, until later when she started The Provincial Freeman, a newspaper where she published her many articles about the abolition of slavery and women's rights. With this, she became the first Black female newspaper editor in North American history. In 1861 the Civil War broke out in the United States, and in 1863 Shadd-Cary returned to America to recruit soldiers for the Union Army.
Images
Mary Ann Shadd Cary, (October 9, 1823 in Wilmington, Delaware - June 5, 1893 in Washington, D.C.), was an activist, writer, teacher, and a lawyer who dedicated her life to the cause of abolition of slavery and women's rights. After moving to Ontario, Canada, she opened an interracial school, until later when she became an editor in the newspaper Provincial Freeman.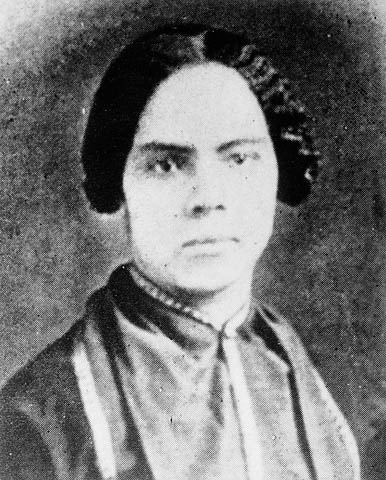 Provincial Freeman was a newspaper that published weekly articles written by African Americans living in the Province of Canada West. The first number ever published by the paper was issued on March 24, 1854 in Windsor, Ontario. The purpose of the paper was to help inspire African Americans in United States to move to the more progressive Canada, and to guide the already living Black persons in Canada to a better lifestyle. The paper was ultimately shut down due to lack of funding on August 22, 1857.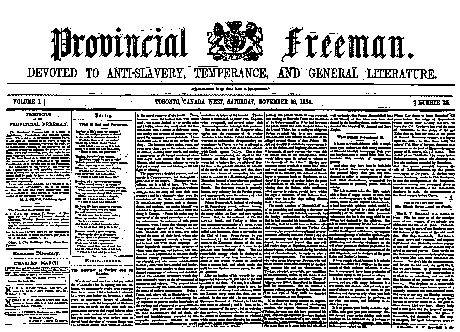 In this letter to writer and abolitionist William Lloyd Garrison, Mary Ann Shadd discusses the poverty and needs of the arrived African American fugitives in Canada. She asks Garrison and his newspaper, the Liberator's help in spreading the message and gaining the publics interest in the topic to help the fugitives who were desperate or clothes and money.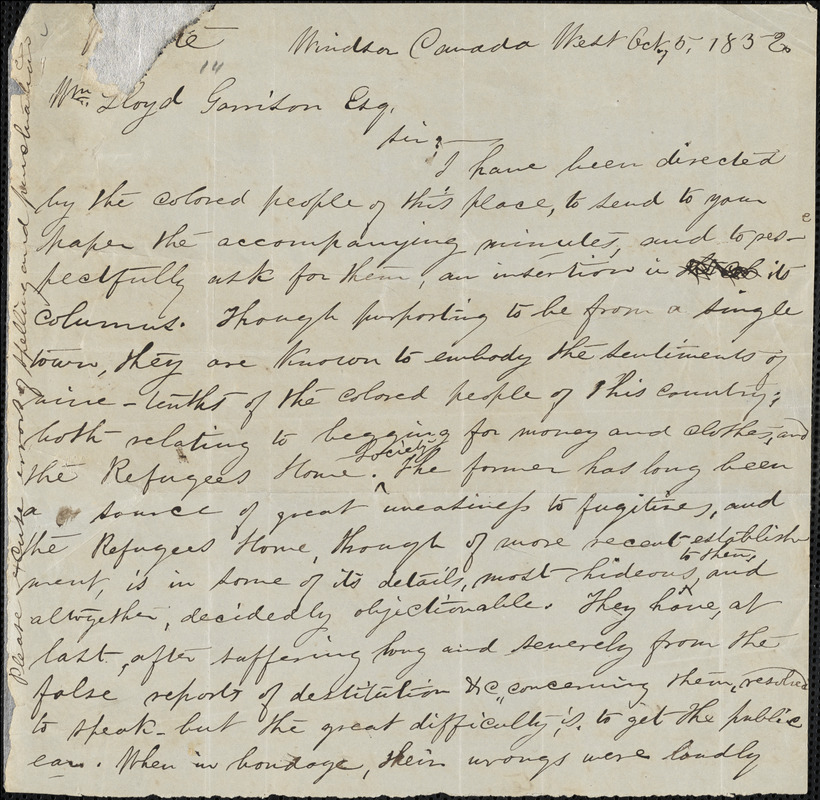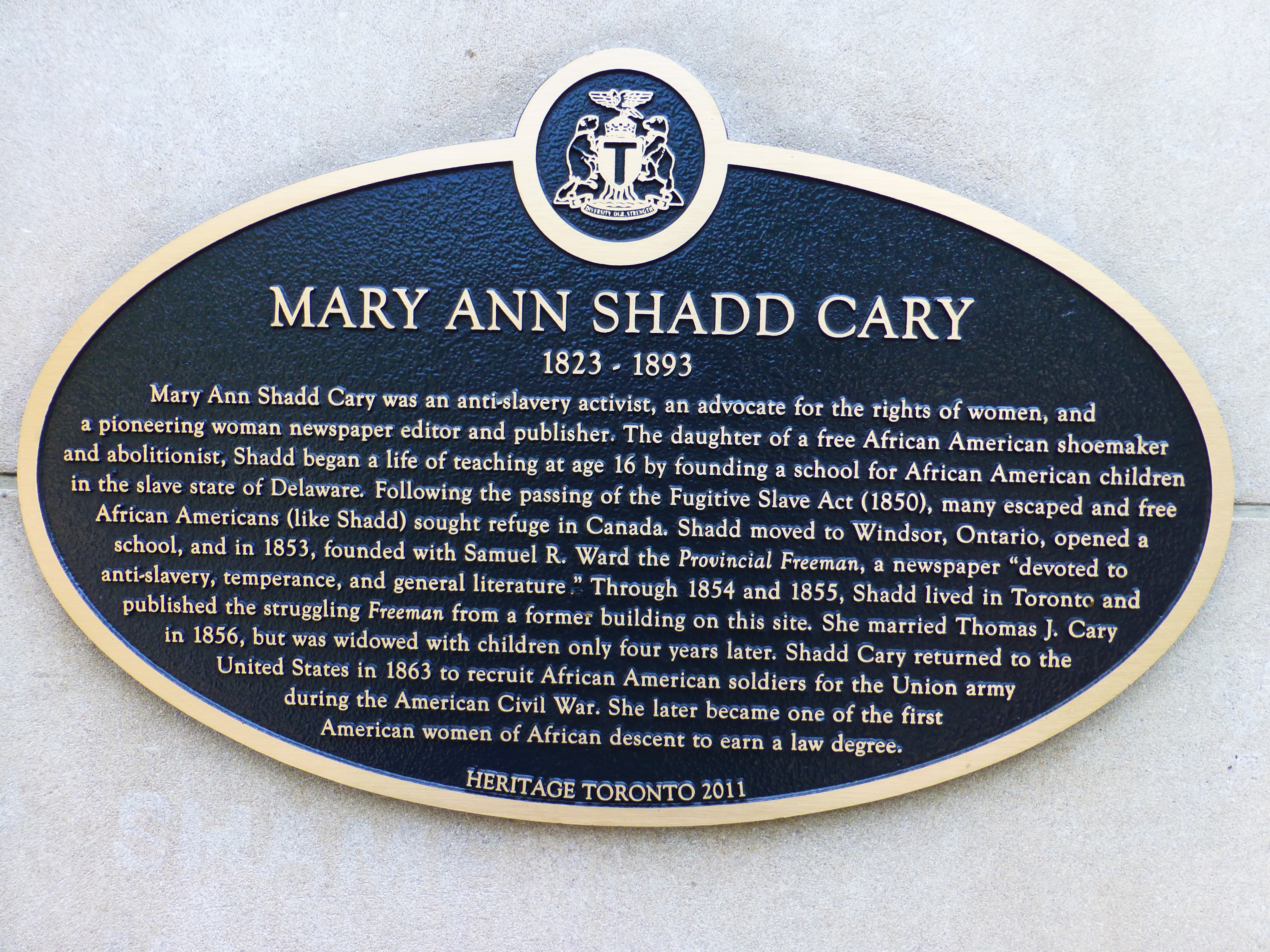 Backstory and Context
Canada West became a place for many African Americans, slaves and free peoples alike, for a better life and more opportunities. 30,000 to 40,000 freedom-seekers arrived to Canada through the Underground Railroad, and an estimated 35,000 Black persons were living in Canada West by 1850. Some seized this opportunity to simply escape enslavement, whereas for others it was an opportunity to take action and voice their advocacy for abolitionism. Mary Ann Shadd was one of those people who was an otherwise progressive activist, who sparked up controversy with her groundbreaking ideals. During her time in Windsor, Ontario, Shadd continued her activism from the United States by establishing a racially integrated school for Black refugees in Windsor, and equally important she helped found the newspaper Provincial Freeman, and became the first Black North American female editor and publisher. Her fearless activism and ahead-of-its time bold approaches were heavily criticized by other abolitionists and advocates of slavery alike.[3]
Mary Ann Shadd, who was originally from Wilmington, Delaware, moved to Canada after the Fugitive Slave Act. "Passed on September 18, 1850 by Congress, the act required that slaves be returned to their owners, even if they were in a free state. The act also made the federal government responsible for finding, returning, and trying escaped slaves."[2] The act also promised legal prosecution to those helping or harbouring escapees, which threatened the family greatly as Shadd's parents were heavily involved in the Underground Railroad. In Canada West, now known as Ontario, Shadd found a new kind of freedom and a greater system to use to show her support for the movement. It was here that her activism for racial equality integrated with her advocacy for gender equality. 
Her first published work was originally written to Frederick Douglas, who was an African-American abolitionist statesman as a response to his question on improving life for Black people in America. In her letter, Shadd implies, if not boldly suggests tireless effort and action instead of what she deemed was verbal complaint and discussion among abolitionists.[3] It is important to understand the message she is sending not only in the context of racism, but also on the traditionally understood roles of femininity and masculinity. Despite the undeniable women's efforts for the cause, such words would nevertheless spark up conversations on the roles of women in the male dominated movement. The responsibilities of women, even within the movement, were to conservatively remain to supporting her husband, educating her children and setting a good example for her family. These ideals were of course a result of the era's oppressive limitations put on women. Many rival newspapers would use this to discredit the Provincial Freedom. This would further be a challenge for Mary Ann Shadd as the publications of the Provincial Freedom took off and Shadd unveiled her progressive approaches on topics such as interracial schools who many abolitionist did not support, instead favouring segregation.[3] The public disagreements with other writers sparked such attention that this would ultimately cause her to lose funding for her school from American Missionary Association, which was consequently shut down. 
It became a running theme in the Mary Ann Shadd's writing the meaning of true independence which the her articles argued was through self-reliance.[5] Through her publications, which she did not take official credit for, she proved herself to be an unconventional voice in the movement because she expressed a need for wider definition for freedom which not only included breaking chains, but also the right for African American men and women to decide the duration of their own lives, for example though voting.[1] Despite negative critics from both African American men and women for her voice, Shadd did not seem to have minded the feedback and continued to defy traditional roles for women with her strong and unorthodox opinions, alongside showing support for abolitionism and African American fugitives in Canada.
From championing a complete and true integration of society though her school and educating, and supporting African American men and women beginning new lives in Canada West, to breaking gender roles, Mary Ann Shadd Cary pushed the antislavery movement forward in multi layered ways by opening up room for women's voices in the movement, paving the way for a place for the future generations.
Sources
[1.] Bristow, Peggy. "We're Rooted Here and They Can't Pull Us Up": Essays in African Canadian Women's History . Toronto , Ontario. University of Toronto Press, 1994.
[2.] Fugitive Slave Act, American Battlefield Trust. Accessed November 20th 2019. https://www.battlefields.org/learn/primary-sources/fugitive-slave-act.
[3.] Rhodes, Jane. Mary Ann Shadd Cary: The Black Press and Protest in the Nineteenth Century. Bloomington: Indiana University Press, 1999.
[4. ]Murray, Alexander L. "The Provincial Freeman: A New Source for the History of the Negro in Canada and the United States." The Journal of Negro History 44, no. 2 (1959): 123-35. https://www.journals.uchicago.edu/doi/10.2307/2716034
[5.] Provincial Freeman, Accessible Archives . Accessed November 20th 2019. https://www.accessible-archives.com/collections/african-american-newspapers/provincial-freeman/.
Additional Information