Mary Bibb
Introduction
Born in 1820, Mary Bibb was an African American abolitionist and schoolteacher who used her freedom to advocate for those who were not as fortunate, and inspire change in her community and beyond. Although Bibb was born and raised in Rhode Island as a free woman, her husband Henry Bibb was a fugitive slave whose life was put at risk when the Fugitive Slave Act of 1850 was implemented, prompting them to move to Windsor, Ontario. They both helped African American fugitives who came to Canada via the Underground Railroad find housing and proper means of income. Bibb also worked with her husband Henry to publish the first African American abolitionist newspaper, "Voice of the Fugitive" in Windsor in 1851. Bibb was known for her involvement in women's rights activism and demands for social equality, and opened her own schools to provide higher education to Black men and women.
Images
This is just one of the hundreds of pages published throughout the time that Voice of the Fugitive was active between 1851-1852, before their building was mysteriously burnt down. Although they tried to get it reestablished, their attempt was unsuccessful.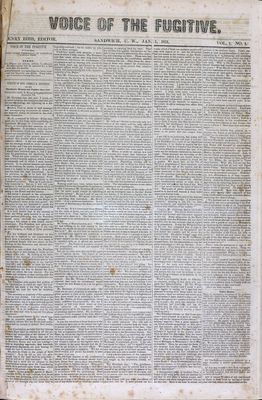 A scene on Bedford Street, Sandwich, in 1866. Even though Mary did not remain in Windsor, Ontario for the rest of her life, this picture gives us an idea of what the town could have looked like during their time there.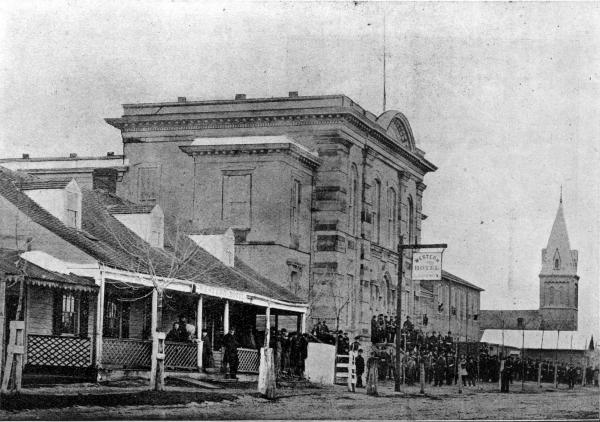 An entry written by Mary Bibb in Voice of the Fugitive newspaper. In her post, she describes the ongoing struggles of running and maintaining a school for African Americans in Canada, including the lack of funding. She also makes a reference to the Fugitive Slave Act, suggesting that the US owes them money for their education, since they were the ones who forced them out.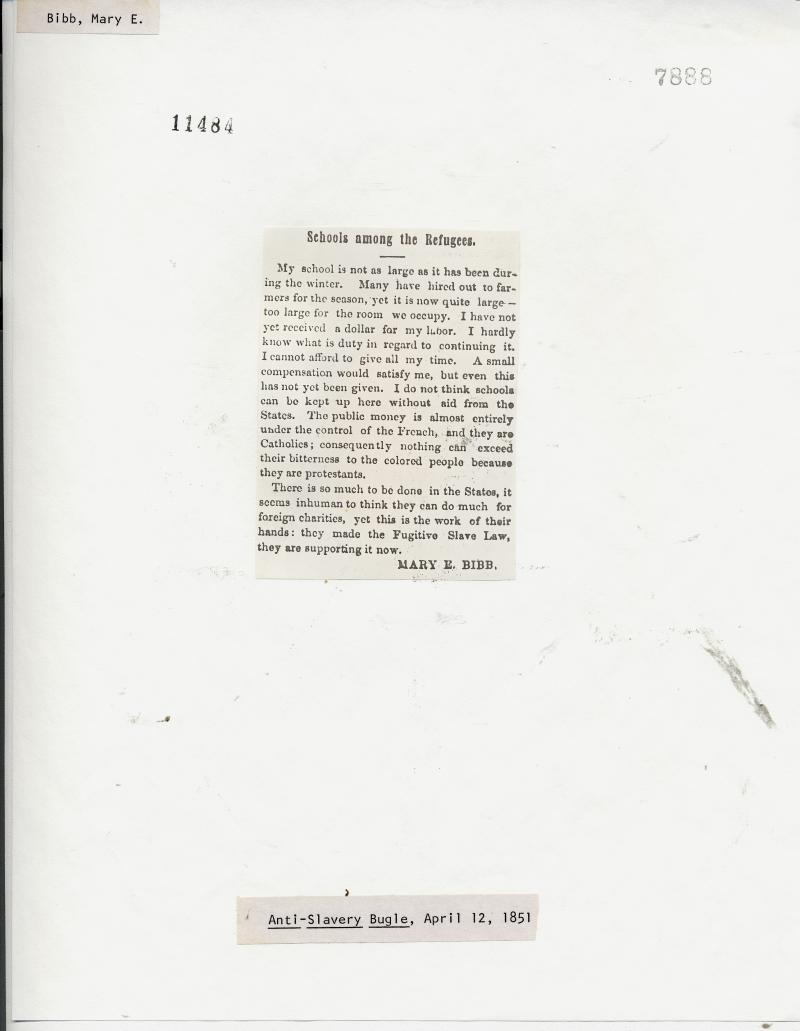 Backstory and Context
More than 150 years after emancipation in the United States, few historians pay attention to the roles that women played in achieving this incredible feat. Additionally, very few of these published articles document the significant connection between Southwestern Ontario and the northern region of America in regard to anti-slavery activism. Although Mary Bibb was born a free woman, this does not mean that she lived her life exempt of racial struggles and gender discrimination. She was raised in Rhode Island, where she studied to become a schoolteacher and traveled throughout different states to teach (Harriet Tubman Institute). During this time, she would frequently attend antislavery and women's rights conventions to meet with people who shared her vision for a change in society; where Black women could be respected and given the same opportunities in terms of education, property rights, income and more. It was at a convention in New York in 1847 where she would meet her husband, Henry Bibb, who happened to be a fugitive slave (Bibb). 
Together, Mary and Henry Bibb promptly moved to Sandwich, Ontario (later renamed Windsor) after a revision to the Fugitive Slave Act was implemented in 1850. If you would like to learn more about the Fugitive Slave Act and the implications it had on thousands of African Americans and their families, click here. Regardless of their difficult past, many former slaves who travelled to Canada felt that they were finally given a chance to establish a new identity in the land of their freedom (Cooper2, 134). Mary Bibb believed that one of the best ways to resist oppression was through education, which is what motivated her to open up her own school for the Black population in her growing community since many were not allowed to attend white public schools in the area. Providing education to African American children and adults helped to end stereotypes and assumptions that African Americans were not as intelligent as the white population, and give the students a greater chance of receiving meaningful employment to support their families. Bibb was a strong advocate of desegregation, and spoke strongly about integrating Black and white churches and schools. 
Despite the opportunities that the "Promised Land" seemed to imply, there were still many obstacles that African Americans faced during their time in Canada (Reid-Maroney, 2). Firstly, Mary Bibb suffered from ongoing financial issues related to the lack of funding from the government in Black communities. Bibb was aware of the severe poverty that many Black families were enduring, so she only charged students six cents per week for classes (Cooper1, 150). However, many families still struggled to meet this request, which was reflected in the limited amount of school supplies she could provide. Moreover, racism was an ongoing setback that knew no boundaries in both economic and social spheres. To combat this, Mary and Henry established their own newspaper, Voice of the Fugitive, on January 1st, 1851 to proudly share their opinions and stories amongst the city of Sandwich and beyond the border as well. Specifically, the newspaper addressed topics such as antislavery, agriculture and temperance (Harriet Tubman Institute). Though it is not surprising that Henry continues to be described as the main author of the paper, Mary was recently recognized as one of the first female African American journalists in Canada. It is more than likely that Mary did most of the editorial work, considering that Henry would not have received an advanced education since he was born into slavery and did not escape until adulthood.
Regardless of the numerous barriers that the Bibbs had to overcome, they never stopped helping out in any way that they could. With the assistance of a few local businessmen, they established the Refugee Home Society which helped to obtain land and allocate it to former African Americans slaves (Harriet Tubman Institute). The Bibbs' house was frequently used as a temporary asylum for refugees who escaped via the Underground Railroad, until they were placed into their own residences (Cooper1, 156). In 1850, the Bibbs helped to organize the North American Coloured Convention in Toronto, Ontario, to unite African Americans and provide a safe place to discuss emigration (Parks Canada). On August 1st, 1854, Henry Bibb passed away at the age of 39, but Mary knew that this was not the end of her fight for equality; she continued to open new schools to educate as many African Americans as possible with the goal to both strengthen and improve her community.
Overall, one of the many lessons learned during the research process of this assignment is that many historical documents seem to intentionally exclude women and give sole credit to men, when credit to women is warranted. For example, the articles that were used above all cited both Henry and Mary Bibb as active members in the Colonization Society in Canada, where they protested for the government to grant land to freed slaves so they could establish themselves and their future families. In some of the books I examined, however, only Henry is mentioned, and further excludes Mary's role in the development of the newspaper they wrote together. Some people may question why it is essential to have several Clio entries dedicated to women, but it is necessary; so many important, influential women have been omitted from history, and only now are we in the process of writing them back into the record. Mary Bibb was a selfless, strong woman who continually succeeded in the face of adversity and racism, and her story, along with hundreds of others, deserve to be honourably recognized. 
Sources
Bibb, Henry. The Narrative of the Life and Adventures of Henry Bibb, an American Slave, An American Slave (published by the Author, 45 Spruce Street, New York, NY).
Canada, Parks. "The Government of Canada Commemorates the National Historic Significance of Mary and Henry Bibb." Canada.ca. Government of Canada, October 8, 2005. https://www.canada.ca/en/news/archive/2005/10/government-canada-commemorates-national-historic-significance-mary-henry-bibb.html. 
Cooper, Afua P. (1) "4. Black Women and Work in Nineteenth- Century Canada West: Black Woman Teacher Mary Bibb." Were Rooted Here and They Can't Pull Us Up, 1994, 143–70. https://doi.org/10.3138/9781442683273-007.
Cooper, Afua. (2) "The Fluid Frontier: Blacks and the Detroit River Region. A Focus on Henry Bibb." Canadian Review of American Studies 30, no. 2 (2000): 127–48. https://doi.org/10.3138/cras-s030-02-02.
Harriet Tubman Institute. "Henry and Mary Bibb Report." Harriet Tubman Institute. http://breakingthechains.tubmaninstitute.ca/sites/breakingthechains.tubmaninstitute.ca/files/Henry and Mary Bibb Report.pdf. 
Reid-Maroney, Nina, Boulou Ebanda de B'béri, and Wanda Thomas Bernard. Women in the "Promised Land": Essays in African Canadian History. Toronto, Ontario: Women's Press, 2018.
Image Sources
"Voice of the Fugitive." Search: Ontario Community News. Accessed November 15, 2019. http://news.ourontario.ca/abolition/97848/data.

"Southwestern Ontario Digital Archive." Scene On Bedford Street, Sandwich, During The Fenian Troubles On The Essex Frontier | Southwestern Ontario Digital Archive. Accessed November 21, 2019. http://swoda.uwindsor.ca/node/3452.

Black History The Truth Going Forward. "Voice of the Fugitive (1851 – 1852)." Black History The Truth Going Forward, February 14, 2016. https://blackhistorythetruthgoingforward.wordpress.com/2016/02/13/fugitive/.

Additional Information