LEAP Academy University Charter School in Camden, NJ
Introduction
Since they began in 1997, the LEAP Academy has been supporting and facilitating the growth of young minds in Camden NJ, where 30% of the population was Latino at the time. As the number of Latinos has grown to 47% in 2010, the LEAP Academy continues its important mission to ready its kids for college and life. In a city like Camden where there has been little economic opportunity and high unemployment which then creates a situation for crime to grow, the LEAP Academy plays a vital role by equipping its kids with all they need to succeed, as shown by 100% of its students graduating, which then creates economic opportunity, lowers unemployment which then prevents the growth of crime.
Images
LEAP Academy graduates holding flags of the various instituations they were accepted to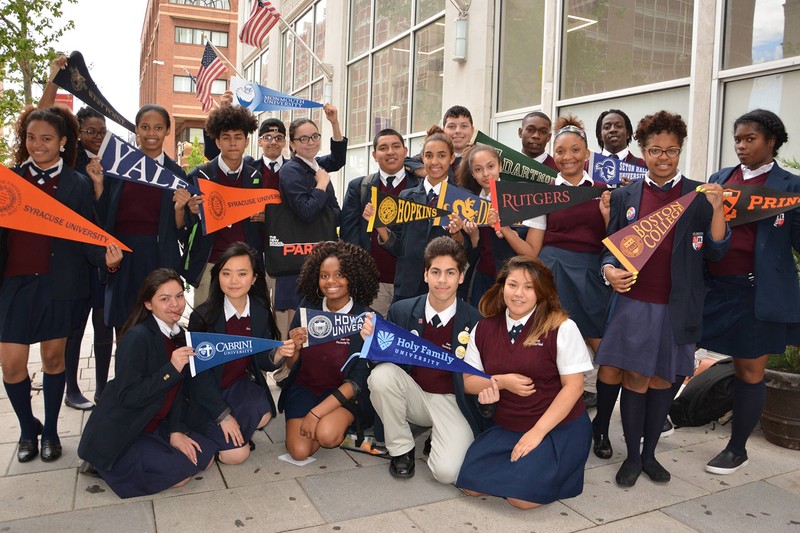 A LEAP Intermediate classroom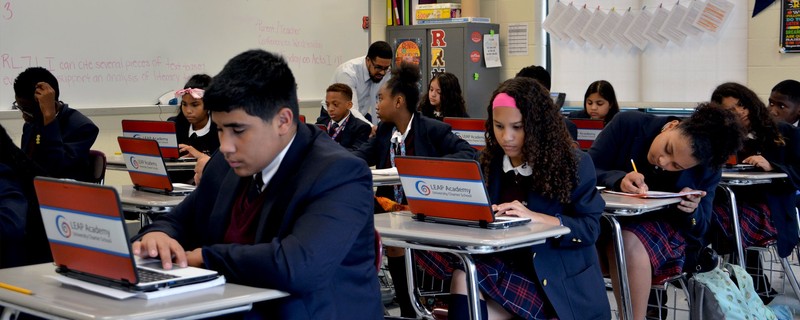 Students standing outside the the LEAP Highschool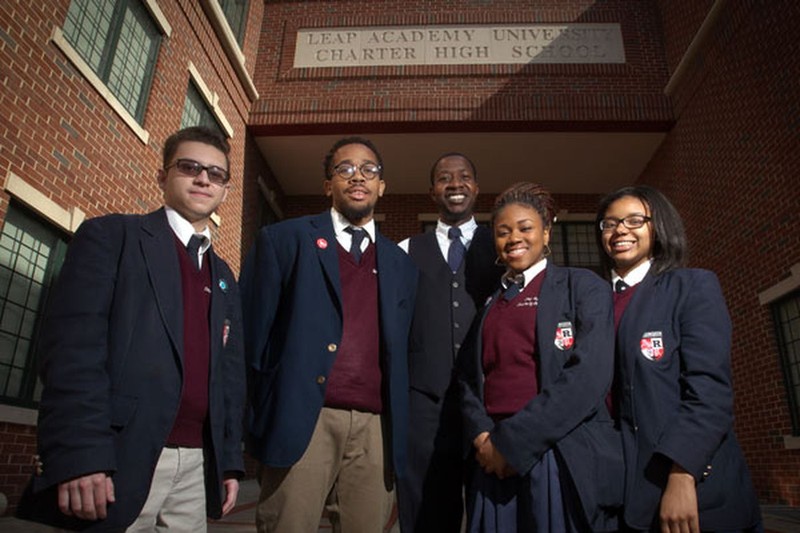 Backstory and Context
The LEAP Academy University Charter School was open by Dr. Gloria Bonilla-Santiago in September 1997 and since then has grown to educate 1,560 students. They have accomplished a 100% graduation and college placement rate. Dr. Santiago has expertise in early childhood development, urban education policy, and charter schools all of which come into play as she guides the LEAP Academy. She has worked for the betterment of poor families, minorities and communities throughout her career and even has won many awards for her work such as the Cabrini Ivy Young Willis & Martha Willis Dale Award for her contributions in the field of Public Affairs and Community Development. Her acumen has allowed her to accrue over 100 million dollars in fundraising.
The LEAP Academy is located in Camden NJ, a city which homes many disadvantaged minority families to have an institution such as the LEAP Academy that not only educated children and prepares them for college, but does it at no cost to the families that live in Camden. If we analyze the demographics of the families that live in the city we see that 47% of its population is Latino which is also the most common group living in poverty in Camden, NJ. These are families that may not be able to afford to send their kids to college so having this institution which gives these children access to a high quality education opens them up to the possibility of gaining much needed scholarships. These scholarships and even just the education will make a huge difference in the opportunities available.
It is important to enable the vertical mobility of disadvantaged groups for a multitude of reasons. First of all by giving the children that grow up in the city access to education and opportunity, crime overall will decrease as they now have other options to survive. Many might not have much of a choice otherwise without an institution such as LEAP in the city. It is proven that education has a direct impact on crime rates. Crime rates go down as education quality increases. This is consistent with the declining crime rate in Camden. Increasing the quality of art supplies in the area for people who would otherwise be forced to attend a school that may not even have enough funding to give every student access to these modernized tools.
Another important factor is the reality that many bright minds which could help shape the future could be trapped due to circumstances beyond their control. Usually families in cities similar to Camden do not have access to high quality education, such as what is offered by LEAP, with there maybe only being schools lacking the funding to properly prepare its students for the future.They may not have enough computers or laptops. Having the option to take AP exams for free as your school pays for them is a huge advantage in of itself. There are much needed resources that only students who have attended well-funded schools will have.
Sources
Data Access and Dissemination Systems (DADS). "American FactFinder - Results." American FactFinder - Results. U.S. Census Bureau, October 5, 2010. https://factfinder.census.gov/faces/tableservices/jsf/pages/productview.xhtml?src=CF.
"Gloria Bonilla-Santiago, Ph.D." 2018. Gloria Bonilla-Santiago, Ph.D | Rutgers University. May 29, 2018. https://bonilla-santiago.camden.rutgers.edu/.
Hidalgo, Cesar. n.d. "Camden, NJ." Data USA. Deloitte and Datawheel. Accessed October 7, 2019. https://embed.datausa.io/profile/geo/camden-nj/#.
"Our History." n.d. LEAP Academy University School. Accessed October 7, 2019. https://www.leapacademycharter.org/about/our-history/.
HJALMARSSON, Randi, and Lance LOCHNER. "The Impact on Education on Crime: International Evidence." The Impact on Education on Crime: International Evidence, February 2012. https://www.economics.handels.gu.se/digitalAssets/1439/1439011_49-55_research_lochner.pdf.
Image Sources
https://www.leapacademycharter.org/

https://www.leapacademycharter.org/schools/intermediate/

https://www.inquirer.com/philly/news/20150426_Camden_charter_school_piles_on_college_applications.html