Balbo Monument
Introduction
While fascism is not talked about much today, many people do not realize that a fascist monument still stands in Chicago. The Balbo Monument is a statue that commemorates the flight of 24 planes from Rome Italy to Chicago Illinois led by Italo Balbo in 1934. Italo Balbo is significant because he was the lead aviator on this flight. Balbo played a big role in the rise of Italian dictator Benito Mussolini. Because of his role with Mussolini, this monument is often seen as a representation of fascism, and has been highly controversial. This site is currently open to the public. It can be seen while walking on the Lakefront Trail, which runs East of Soldier Field.
Images
This is a photo of the Balbo Monument in Chicago, IL. You can also see part of Soldier Field in the background.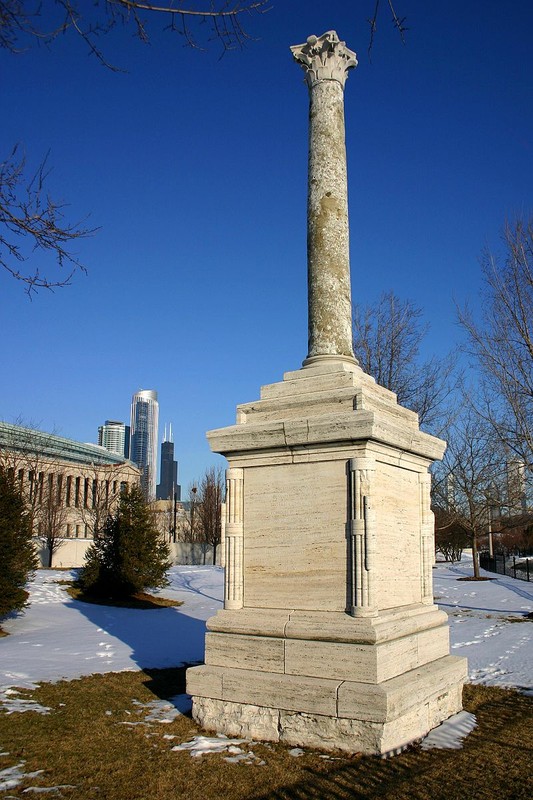 A group of protesters gathered in front of the Balbo Monument in August 2018. They held signs in protest of the White Supremacy.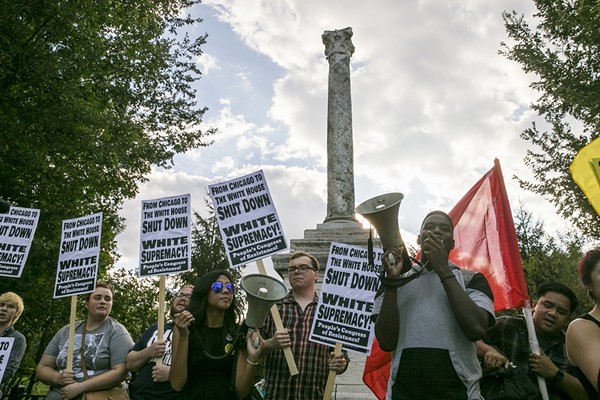 This is a photo of Italo Balbo.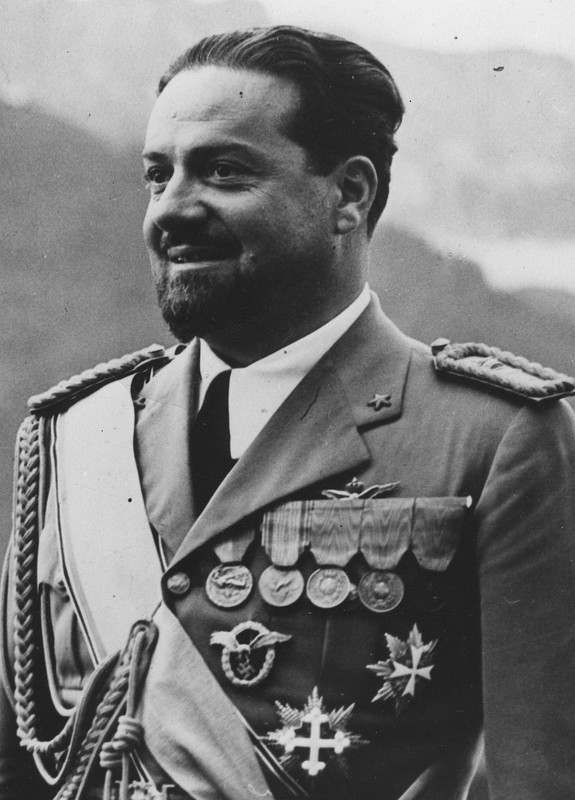 Backstory and Context
The Balbo Monument is located in Chicago, IL in between Soldier Field and Burnham Harbor. This statue was a gift to the city of Chicago by Dictator Benito Mussolini, who Balbo worked very closely with. In 1934 at the time of this flight, many people in the United States supported the idea of fascism. That is a big reason why this statue could be built. Many years later, the statue gained a much different meaning. Many groups in Chicago have made efforts to remove the statue through protests. They feel that the statue represents fascism and should not stand in Chicago. 
The flight from Italy to Chicago was important because it was a result of many new technological advancements in the aeronautical industry. Italo Balbo was the leader of the flight which left Italy on June 30th and arrived in Chicago on July 15th. The crew made multiple stops along the way to refuel. These stops included Amsterdam, Londonderry, Reykjavik, Newfoundland, Nova Scotia, and Montreal. When they arrived, the crew was welcomed by a large group of people waiting for them at Soldier Field in Chicago. The mayor then named the day "Italo Balbo Day" in honor of the leader of the flight. The city went on to name a street after Balbo and then put up a statue in his honor.
Back in 1934, the people of Chicago had a very different opinion about Italo Balbo and fascism. People in the United States had not realized the horror of the Nazi's at this time and many people supported fascism. After Balbo's flight from Rome to Chicago, he was celebrated in Chicago and even idolized by many. The city even had a parade down Michigan Ave to commemorate Balbo. When Benito Mussolini gifted the statue to the city, the people of Chicago welcomed and accepted the gift. The statue was introduced at the 1934 World's Fair. While Balbo and his statue had many supporters at the time, people's ideas about him and other fascist leaders in Italy began to change. This led to many protests and efforts to get the statue removed. People believed that Chicago should not represent fascism or the actions of Mussolini and Balbo. Over the last one hundred years, many people, including Ald. Edward Burke and Ald. Gilbert Villegas, have led to push to get the statue removed. They proposed the removal of the statue at a City Council meeting in September 2018. Other groups have protested in front of the statue in an effort for the city to remove the monument. In August 2017, protesters held up signs saying, "No Hate, No KKK, No Fascist USA" with pictures of Balbo, Mussolini and Hitler. Many Chicagoans are very passionate about this and want the statue removed immediately. They also want Balbo Drive, which is a street located near Grant Park, to be renamed.
Many people in Chicago today would tell you that the Balbo Monument should not have even been put up in the first place. Chicago and the United States do not represent fascism. A monument gifted by a fascist leader representing another fascist leader should not stand in Chicago. While the efforts to get the monument removed have gone on for many years, the monument still stands today. Even though removing the monument from Chicago may help make a difference, it would not help to forget the many bad things that resulted from fascism. These things will always be remembered whether the statue stands or not. 
Sources
Borrelli, Christopher. "Future of Balbo Monument, a Gift from Mussolini, Uncertain." Chicago Tribune, August 18, 2017.
Esposito, Stefano. "Italo Balbo, a Complex and Controversial Figure, from Italy to Grant Park." Chicago Sun-Times. Chicago Sun-Times, June 26, 2018.
Iaconis, Rosario A. The Historic Flight of a Flawed Aviator, Long Island Press. August 19th 2018. Accessed December 18th 2019.
Lyttelton, A. (2009). The Seizure of Power: Fascism in Italy, 1919-1929. New York: Routledge.
Matthews, David. "'No Excuse' For Fascist Balbo Monument In Chicago, Activists Say." DNAinfo Chicago. DNAinfo Chicago, August 24, 2017.
Image Sources
J.Crocker

Ashlee Rezin/Sun-Times

www.audiovis.nac.gov.pl

Additional Information