Rio Theatre
Introduction
The Rio Theatre opened as Overland Theatre in 1946, one of many Dickinson Theatres around the Midwest. Robert Boller, of the well-known Boller Brothers firm, designed the theatre. The Moderne-style building is striking for its retro neon lighting, glass blocks, and pastel-colored tiles. In 2000, the theatre reopened as the Rio Theatre, an independent movie house. The building was added to the National Register of Historic Places in 2005.
Images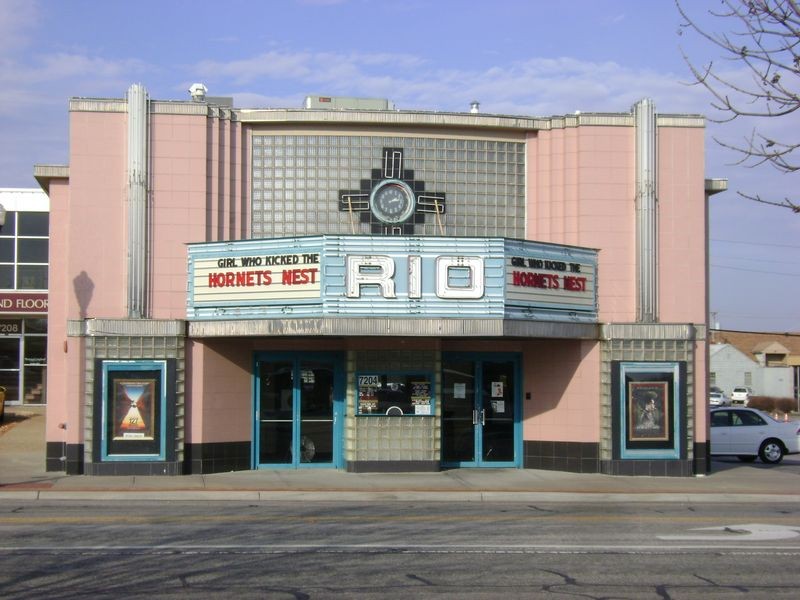 Overland Theatre (date unknown)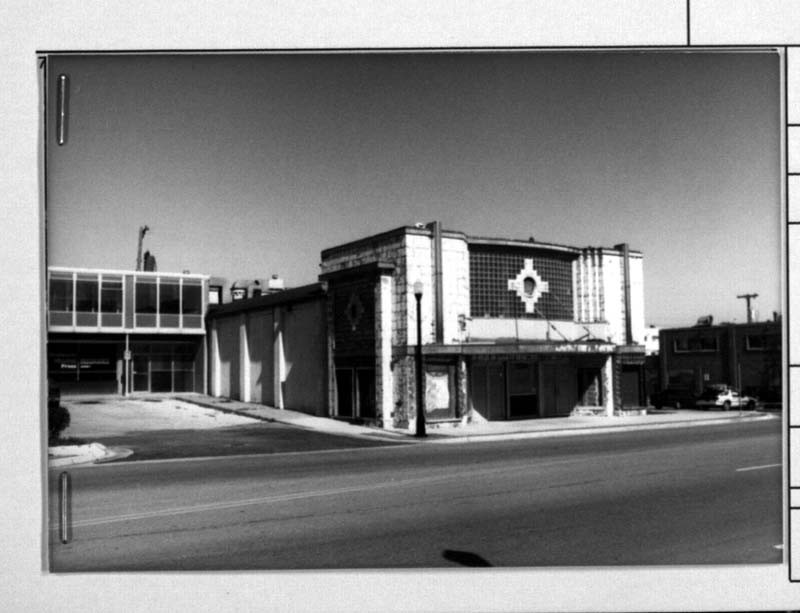 Richard Boller, architect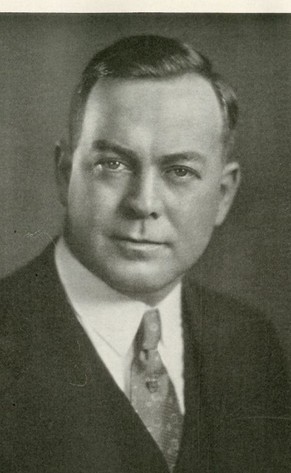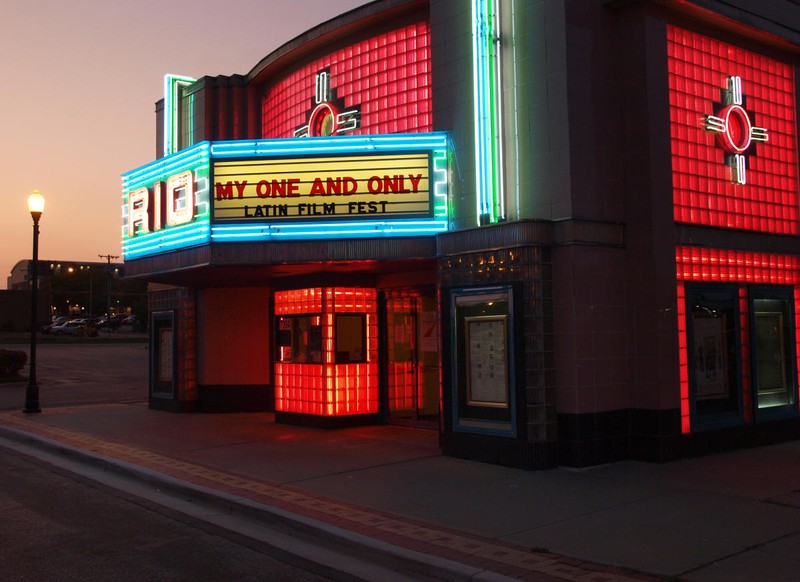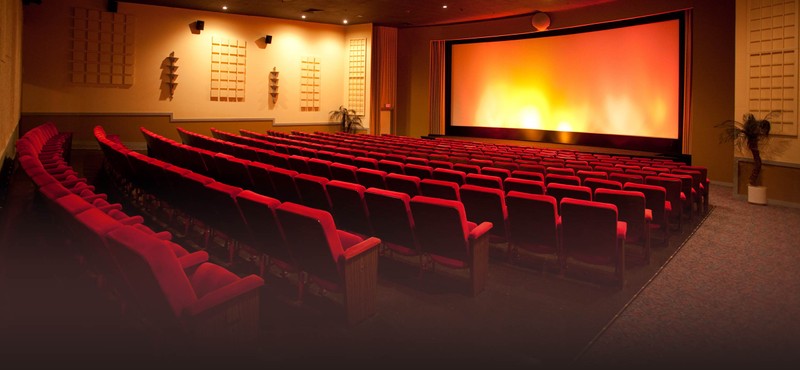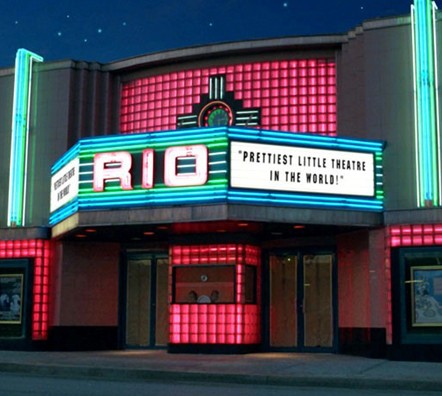 Backstory and Context
Glen Dickinson opened his first movie theatre in Manhatten, Kansas in 1920. It would become the first in a chain of Dickinson movie palaces and drive-ins operated throughout the Midwest. Within a decade, there were 26 Dickinson movie theatres, and Dickinson decided to move the company headquarters to Lawrence, Kansas. Later, the headquarters would again move, this time to Overland Park. [1] At its peak, the Dickinson Theatres operated 400 screens across seven states, and the company was worth millions.
Dickinson Theatres chose Robert Boller to design the Overland Theatre. The renowned local Boller Brothers architectural firm, owned by Carl and Robert Boller, had specialized in grand movie palaces during the 1920s. However, the firm fell on hard times with the Great Depression and dissolved. Carl Boller retired, but Robert Boller continued to find work on smaller projects on his own. Then, movie theatre construction was halted completely by the war department between 1942 and 1944. [2] Overland Park had had two previous movie theatres, but neither survived the Great Depression. [3] By the time the Overland Theatre opened on Christmas Day 1946, the town had been without a movie theatre for a decade, and the community must have been eager for an entertainment venue.
Overland Theatre was an example of Modern-style architecture. The building is made of cement blocks with a porcelain tile exterior. The main façade has features constructed out of corrugated aluminum and glass blocks, and many of the elements light up with neon tube lighting. An eye-like design in the center of the building has a Spanish or southwest influence, typical of many of the Boller Brothers' designs. Below the marquee are two double doors with a glass ticket booth in the center. The Overland Theatre originally had about 600 seats. The first movie to be shown at the theatre was "The Hurricane", and an adult ticket cost 50 cents. [4]
Over the years, the name of the theatre changed to Kimo South and then Park Cinema. From 1977 to 1987, the theatre was the home of a performance art group for kids called Theatre for Young America. In 1999, after 80 years and three generations as a family-run business, Dickinson Theatres filed for bankruptcy. [5] Overland Theatre was purchased by the Fine Arts Group, which set to work renovating the building. It reopened as Rio Theatre on June 30, 2000. [6] It is 2000 square feet, with 281 seats and one screen. The theatre focuses on showing independent and foreign films. It was added to the National Register of Historic Places in 2005.
Sources
1.      "About Dickinson Theatres." Dickinson Theatres Official Website. 2014. Accessed November 18, 2019. https://web.archive.org/web/20141006035237/www.dtmovies.com/about.
2.      Kansas Historical Society. "Carl and Robert Boller." Kansapedia Online. July 2016. Accessed November 18, 2019. https://www.kshs.org/kansapedia/carl-and-robert-boller/19726.
3.      Ottesen, Kristen and Elizabeth Rosin. "National Register of Historic Places Registration Form: Overland Theater." Kansas State Historical Society Website. Form prepared June 2004. Accessed November 18, 2019. https://khri.kansasgis.org/index.cfm?in=091-4285-00011.
4.      "Rio Theatre." Downtown Overland Park Official Website. 2014. Accessed November 18, 2019. https://downtownop.org/business-directory/rio-theatre-the-new/.
5.      Stafford, Diane. "Overland Park's Dickinson movie theater chain changes hands." Kansas City Star. October 9, 2014. Accessed November 18, 2019. https://www.kansascity.com/news/business/article2637419.
6.      Lozano, Denise. "Her name is Rio." The Pitch Online Magazine. June 29, 2000. Accessed November 18, 2019.  https://www.thepitchkc.com/her-name-is-rio/.
Image Sources
KSHS/Amanda Loughlin: https://khri.kansasgis.org/index.cfm?in=091-4285-00011

KSHS: https://khri.kansasgis.org/index.cfm?in=091-4285-00011

https://historicmissourians.shsmo.org/historicmissourians/name/b/boller/

https://www.visitoverlandpark.com/listing/rio-theatre-overland-park/1411/

Fine Arts Group: https://fineartsgroup.com/information/rent-a-theatre/

https://downtownop.org/business-directory/rio-theatre-the-new/

Additional Information