J. Marvin Jones Federal Building
Introduction
The J. Marvin Jones Federal Building was built in 1939 as a United States Post Office and Courthouse. It is historically significant for its architecture and association with "New Deal" federal works programs of the 1930s, which provided employment during the Great Depression. Though not as large as the buildings around it, it holds a prominent place in downtown Amarillo and provides a physical space for the federal government in the city. In terms of architecture, the building was designed by Wyatt C. Hedrick in the Moderne style. It is also known for its large murals located in the former lobby painted by artist Julius Woeltz in 1940. The murals depict the history, cultures, industries, and agricultural life of the Texas Panhandle.
Images
Designed in the Moderne style, the J. Marvin Jones Federal Building was built in 1939.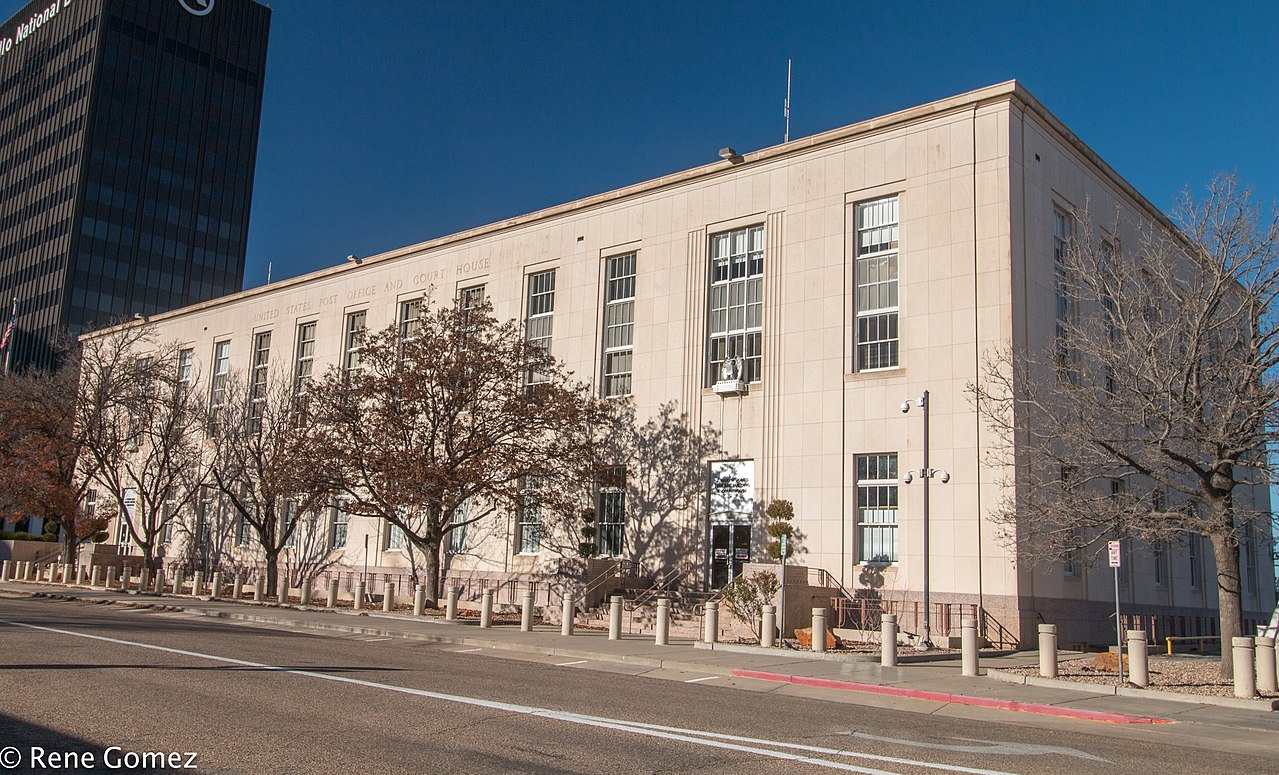 Backstory and Context
By the time the federal building was constructed, Amarillo was a thriving community. The city was established in 1887 and grew quickly thanks to the cattle industry. Then, after oil and natural gas were discovered in the 1920s, the population grew even more. As the city grew, so did the volume of mail and the need for an increase in mail service. When the first post office opened in 1887, it offered fourth-class service; when a post office building was erected in 1908, it offered first-class service. The federal government built the first federal post office building, a three-story structure, in 1914 at 620 Taylor Street.
The rapid growth of the city in the 1920s prompted the federal government to make plans to erect a new structure—the current building—in the mid-1930s and it was built in 1939. The public response to the new building wasn't totally positive, as people said it looked like a "shoebox" with windows. As a result, a cornice was added along the upper edge of the building. Post office operations continued until 1977 when they were moved to another building.
Sources
Clow, Victoria Green. "Amarillo U.S. Post Office and Courthouse." National Park Service - National Register of Historic Places Nomination Form. https://atlas.thc.state.tx.us/NR/pdfs/00001175/00001175.pdf.
"J. Marvin Jones Federal Building and U.S. Courthouse, Amarillo, TX." U.S. General Services Administration. Accessed November 19, 2019. https://www.gsa.gov/historic-buildings/j-marvin-jones-federal-building-and-us-courthouse-amarillo-tx.
Image Sources
Rene Gomez, via Wikimedia Commons

Additional Information