Arthur Hammerstein House
Introduction
In 1924, Broadway producer Arthur Hammerstein built an expansive home for his bride, actress Dorothy Dalton. He named the home Wildflower, after his longest-running play. Over the years, the home was nearly destroyed by arson, then sat abandoned and empty for a number of years. The home is listed on the National Register of Historic Places, but despite its landmark status, narrowly avoided demolition some years ago.
Images
Wildflower, the former home of Arthur Hammerstein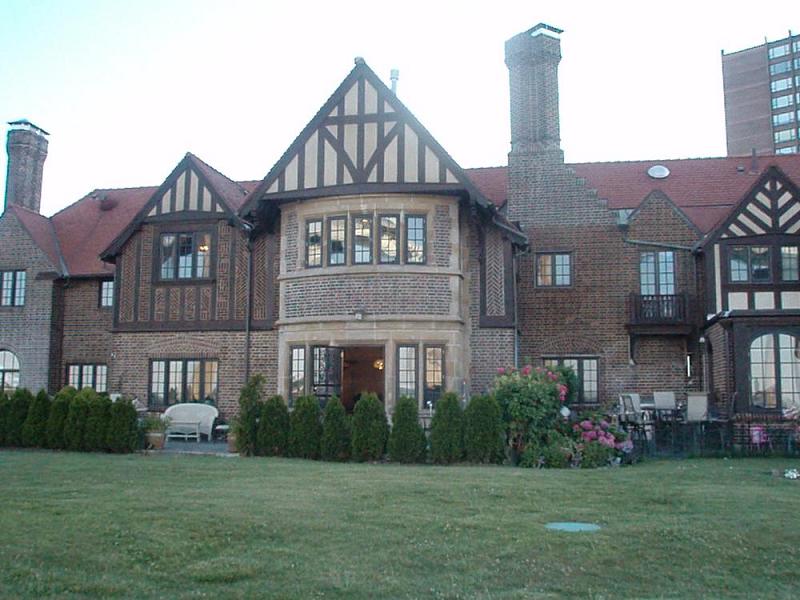 Arthur Hammerstein and Dorothy Dalton
Backstory and Context
Born into a famed theater family, Arthur Hammerstein at first charted his own course, working as a contractor before following in the footsteps of his famous relations. His father, Oscar Hammerstein, made a name for himself as a designer and builder of Broadway theaters and his brother, Oscar II, was a Broadway lyricist who partnered with Richard Rodgers on hits like "Oklahoma!" and "South Pacific."
Arthur eventually abandoned his work as a contractor and produced his first show in 1910. Over the years, he would produce a total of 26 shows, some of which were collaborations with his brother Oscar. In 1923, the brothers collaborated on Wildflower, which would become Arthur's longest-running show. At the time, he was living in an apartment on West 54th. The success of Wildflower, as well as his recent marriage to silent film star Dorothy Dalton, convinced Hammerstein to pursue a larger home.
Hammerstein purchased a plot on Cryder's Point in the Beechhurst-Whitestone neighborhood of Queens. At that time, the neighborhood was becoming a popular residential area for those in the theater industry. A sort of "Beverly Hills of the East," the north shore of Queens counted among its residents Buster Keaton, Mary Pickford, and W.C. Fields, to name a few.
Hammerstein hired James Baum, an acclaimed New York architect, to design his home. Baum had already made a name for himself by designing several buildings at Syracuse University as well as Syracuse Memorial Hospital. By the time he designed Wildflower, he was increasingly seen as a designer of fine residential properties.
The two-story home was built in the neo-Tudor style, a relatively novel style for the place and time. It was built close to the shoreline and originally featured extensively landscaped grounds. A tile "AH" was included in the home's entrance.The home was enlarged during the time that Hammerstein and Dalton lived there.
Hammerstein's time in the home was short. In 1930, he had to sell the property to fund his theater operations. The Throgs Neck Bridge was built in 1961 and the Queens end of the bridge touches down just beyond the property's boundary, diminishing the estate's once sweeping views of Long Island Sound. In 1995, a suspicious fire gutted much of the home. A few years earlier, developers purchased the property with the intention of turning it into condominiums but the plan was stopped by neighbors who opposed the development.
More recently, developers built condominiums around the former estate. The buildings, built in a half-timbered style to mimic the mansion, are now known as Wildflower Estates. The home itself was added to the National Register of Historic Places in 1982.
Sources
Gray, Christopher. Streetscapes: Hammerstein's Wildflower; A Queens Memorial to a Musical May Get Company , New York Times . December 4th 1988. Accessed November 24th 2019. https://www.nytimes.com/1988/12/04/realestate/streetscapes-hammerstein-s-wildflower-queens-memorial-musical-may-get-company.html.
Suspicious Fire Destroys Hammerstein Mansion, Orlando Sentinel . March 14th 1995. Accessed November 24th 2019. https://www.orlandosentinel.com/news/os-xpm-1995-03-14-9503130507-story.html.
Arthur Hammerstein House , Neighborhood Preservation Center. Accessed November 24th 2019. http://www.neighborhoodpreservationcenter.org/db/bb_files/1982ArthurHammersteinHouse.pdf.