Early Settler, Thomas Gould Alvord, Sr.
Introduction
Thomas Gould Alvord, Sr., Early Settler, built his cabin here in 1794 on land granted for services in the Revolutionary War. This marker is located on Intersection of NYS 41 and 42A at the Atwater Cemetery, about four miles from Homer, NY. This land was granted to Thomas Gould Alvord, Sr., as a recruitment device by New York State, that promised any potential soldiers acres instead of cash. The reason for this marker to be named "Early Settler" was meant for the reinforcement of the notion that the land given to Alvord Sr., was "final" or "settled". Which in turn forgot about the history of the "settled" land and that being the land here was Onondaga peoples' land for thousands of years, removing any part of history that they once lived here.
Images
Early Settler, Thomas Gould Alvord, Sr. (Homer, NY)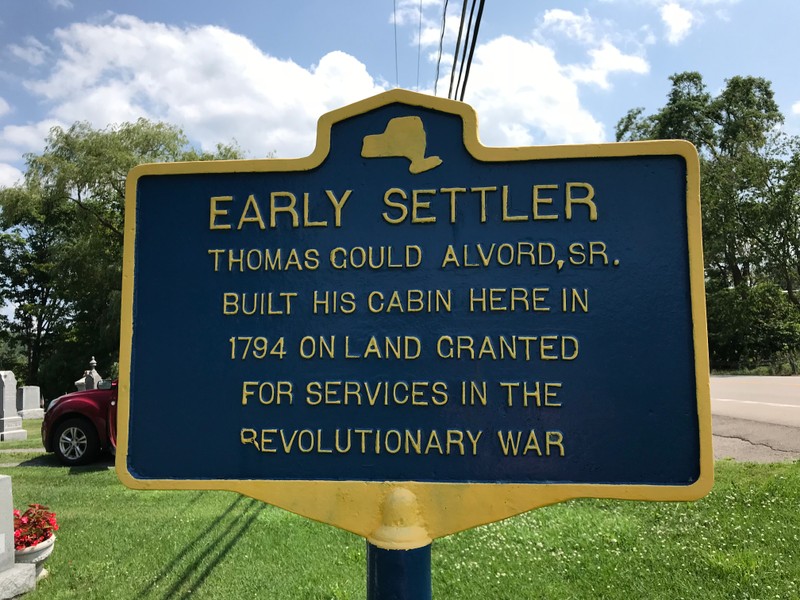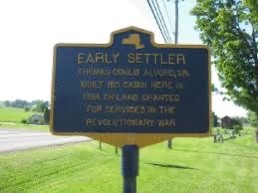 Historic Alvord homestead in Scott rd., near Homer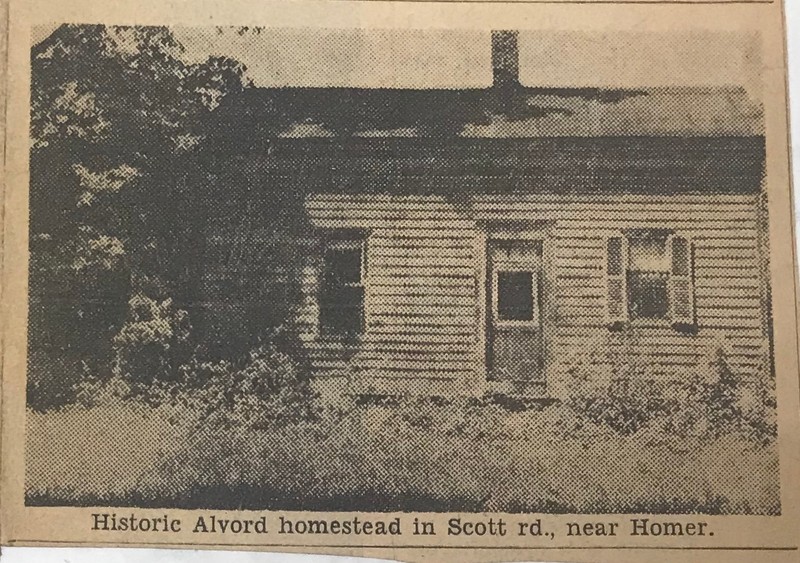 Backstory and Context
Thomas Gould Alvord, Sr., was a soldier who fought in the French and Indian War, as well as the Revolutionary War. Alvord Sr., died on May 18, 1810, aged 69 and buried at Atwater Cemetery. He served as a Sergeant for Captain Joesph Thomas Co., and Colonel John Lamb's Regiment. This land given to Alvord Sr., also known as "bounty land," gave him up to 600 acres of land that came from the Military Tract for his service in wartime. The Military Tract granted free land from the U.S. government as a reward for the service of men in the military. The reason for Alvord Sr., to choose this lot is because it was located near a creek which flows through Homer gulf. An interesting fact about the Alvord family is that Thomas Gould Alvord, Sr., son also fought in the Revolutionary War, and his name was Thomas Gould Alvord, Jr. A specific battle Alvord, Sr. and Alvord Jr., fought in was the surrender of the British at Yorktown, where they both fought to defeat the British. Alvord Jr., died on June 23, 1835, aged 72 and also buried at Atwater Cemetery. Alvord Jr., fought under the same Captain and Colonel as his father in wartime. For their honor and duty in war time, Alvord Sr., was granted lot 13, near the historical marker, and his son Alvord Jr., was granted lot 57. Though, in the future, land sharks tricked Alvord Jr., into selling the lot. These land sharks came from Manlius, New York. Another son in the Alvord family tree came from Farmington, Connecticut named Charles who came to help the family build their cabin on the granted lot. The cabin built on lot 13 in 1794 was sold 145 years later to a, Miss Vena Coon, who was a teacher in the schools of Brooklyn. The cabin was sold by the last descendent, Rev. Hattie E. Alvord, which was said to have a deserving mention for the sale of the cabin, due to, the cabins possession being sold from the Alvord family once and for all. The history of the land in this specific region is know for its rich past of Native American culture and land ownership. The land that was given to Alvord Sr., was in fact owned by the Onondaga Tribe who had their land stripped from their very hands due to the Military Tract put in place in order to pay for the soldiers wartime efforts.
By: Sully Badger, Brian Dillon, Jacob Travis, & Andrew Minichini
Sources
Bundy, Gail. "Early Settler." Neighbors of the Onondaga Nation, 2 July 2011, http://www.peacecouncil.net/NOON/markers/ma
rker-earlysettler.html.
Schouten, M. Louise. Revolutionary Soldiers of Cortland County. Cortland County, 1935.
"Alvord Homestead Farm Sold; In Same Family 145 Years." The Post-Standard, 4 June 39AD.
Image Sources
Elizabeth Wavle-Brown, Cortland, NY, (c)2018

Additional Information