Virgil's Historic Area Here and Nearby
Introduction
Virgil's Historic Area was once home to a vast number of mills and factories. Around the early to mid 19th century, the first cheese factories, saw and grist mills were founded. The town's factories and mills each served as a source of income for the area of Virgil between 1801 and 1965. The Historic Area marked Virgil's increase in production, which resulted in a larger job market, higher efficiency, and a growing economy. These Mills were located all throughout Virgil and many had been preserved for a large number of years. The introduction of Virgil's first factories and mills showed a positive progression in the town's history.
Images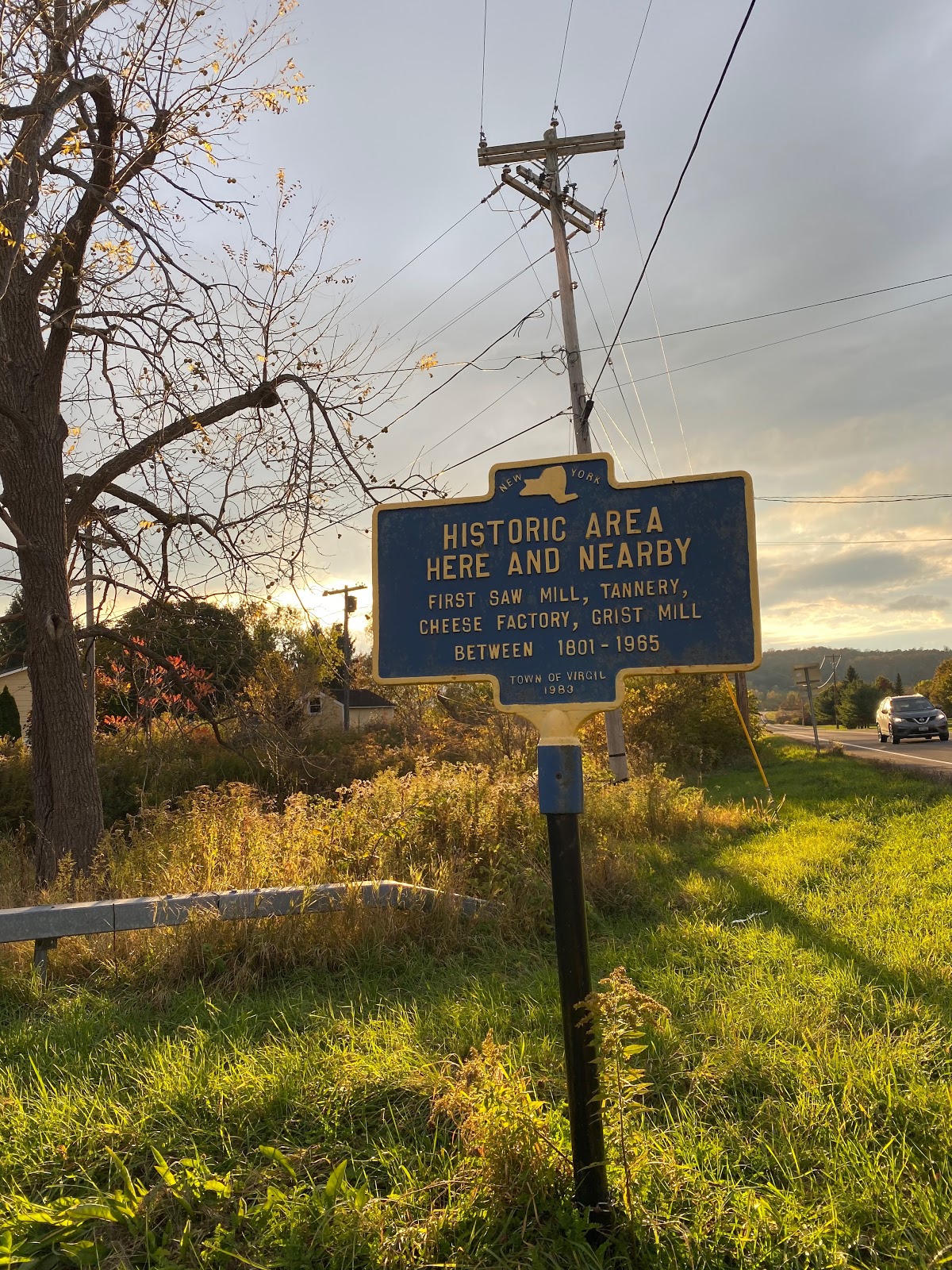 Backstory and Context
Darby's Grist Mill was one of the best preserved structures in the early 1900's. It was one of the main landmarks of the village, located on Water Street, and it stood for over 50 years. W.H. Darby ran the mill for 40 years, and after his passing was followed by his son, Ernest C. Darby. Ernest was born in Homer and lived there for the entirety of his life. Darby's mill was ahead of its time, equipped with state of the art, appliances, and machinery. The mill produced all types of feed, flour being the most popular.
The Homer Cheese Factory was founded in 1864 and used nearly 1200 cows to produce dairy product! Only one year after opening, the Homer Cheese Factory produced 537,868 pounds of cheese. All of the cheese factories in the area were equipped to produce butter, part-skimmed milk, and even cream cheese. The success of cheese factories in the area often depended on the supply of spring water that the area contained. Without successful spring water usage, cheese production would not exist.
The First Saw mill was built by Daniel Edwards in 1801. The opening of this mill allowed for settlers to build more efficient materials at a faster rate. Homes and frames were now built at a higher quality and many people decided to jump aboard the success that Daniel Edward's saw mill had. In the 1825 census it was recorded that there were 23 active saw mills in Cortland NY. Prior to these saw mills, settlers would have to travel miles and miles to the nearest wood shops.
With access to railroads around 1850, Cortland mills faced large success. They could import and export raw materials when needed which allowed for the business to flourish at the time. Industry even moved past just mills and went onto things like gunsmiths.
Virgil's first factories and mills were the stepping stones to a better society. They marked the transition from settlement to permanent town. The success of the newly founded town provided residence to families, an established local economy, and an overall greater sense of community.
Sources
Cortland County Historical Society
As We Were, A Picture History of Virgil. Virgil Historical Society 1997
Bouton, Nathan. "Festal Gathering of the Early Settlers and Present Inhabitants of Virgil," A.M Ford, Fine Book and Job Printer. August 25th, 1853.
Additional Information