The Climax Road Machine Factory (Marathon, NY)
Introduction
Near where this marker stands today was once the Climax Road Machine Company. Starting in 1887 the men who worked here built top of the line road machinery such as crushers, graders, snowplows. They also constructed steel bridges from this site. Their equipment was sold all across the country, including their personal invention the Climax Road Machine. Today, the sight is still in use, but for different purposes.
Images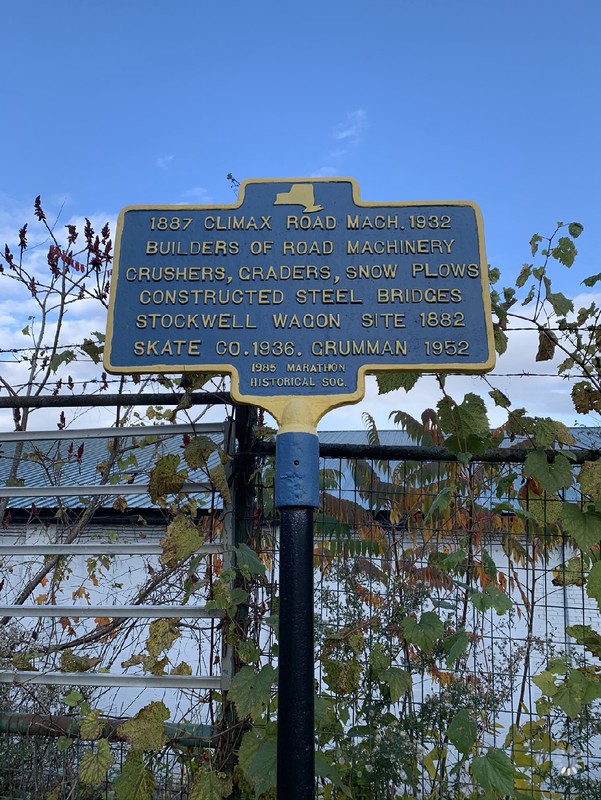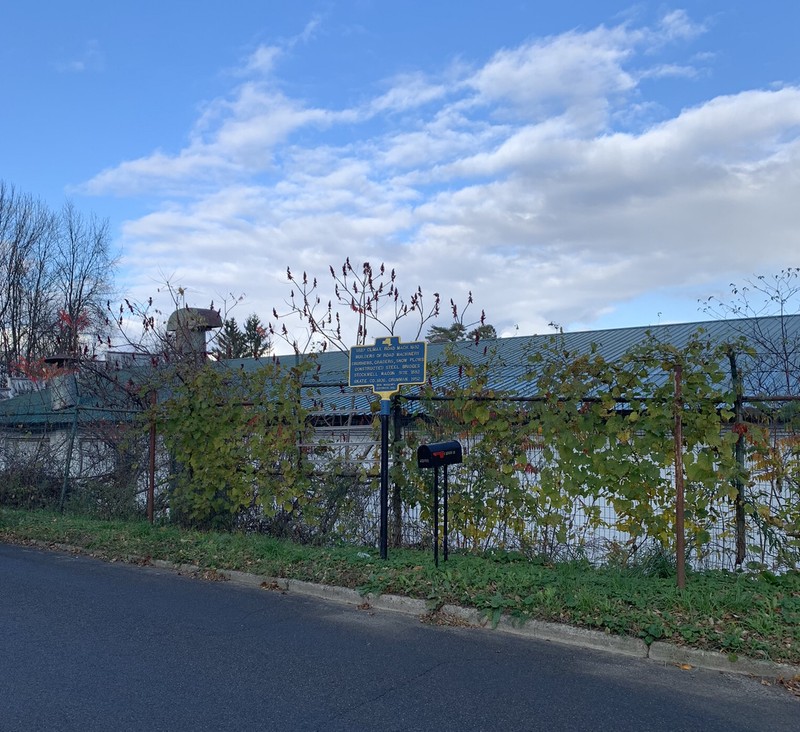 Backstory and Context
The main purpose of the Climax Road Machine Company was to sell their Climax Road Machine, a cutting edge invention that possessed many advantages and features not yet known to road grading. The first buildings were purchased in 1892. Originally it was organized as a co-partnership in October 14, 1887. 
Marathons roads were among the the firs in the state to be improved with crushed stone, utilizing their local new machinery. 
The Climax Road Machine Factory now known as the Marathon Boat Group factory or to most local people, the Grumman Canoe Factory, was once a prominent machine factory. Throughout time this space has been used for many things. But most notably this space was used for the production of the many road graders, stone crushers, road rollers, plows, scrapers, dump wagons, and many/all other implements used for grading, building, or repairing highways, bridges, engines or boilers. They also built agricultural equipment, street sweepers, snow plows, ore crushers, and even mining machinery. These machines were sold all across the country. 
This company also invented the Climax Road Machine. These machines crush a litany of materials, correct the gradients on the roads. Having this type of operation going soon after being incorporated by the United States was a great sign for the villages growth. Eventually the growth peaked, the general population started declining and by 1932 the Climax Road Machine Factory closed. Once the Climax Road Machinery Company stopped manufacturing all these items, the factory's equipment was then sold and shipped to Russia mostly for spare parts. 
Many of these inventive machines were patented by Lemuel B. McAlpine, who also lived in the village of Marathon at the time. The innovative Climax Road Machine was used and produced here in Marathon, New York.
Before it became a machine production factory it was the Stockwell Wagon site in 1882. After the machine factories closing it was a Skate Company in 1936 and then in 1952 this space was turned over to the Grumman family ever since.
By: Jacob Anweiler, Brian Baloga, & Sean Kelly
Sources
Marathonneighborhoodnews, /. "May 10th, 2019." Marathon Neighborhood News, 10 May 2019, marathonneighborhoodnews.wordpress.com/2019/05/10/may-10th-2019/.
Climax Road Machine Company (Marathon, N.Y.). 1893. Descriptive catalogue of the Climax road machine, manufactured at Marathon, N.Y. Marathon, N.Y.: The Company.
Marathon Area Historical Society Newsletter Volume 12, January 2006 
Chenango Co. Planning Board, Grip's C.S. industrial January 26, 1979
Additional Information