John Albright
Introduction
John Albright was a Revolutionary soldier, and one of the first non-Native American settlers in East Homer, New York. In 1797 he built a home for his wife Catherine Smith, her mother, and their four daughters. He helped establish East Homer by providing land for the cemetery, United Methodist church, parsonage, and school. In this town, you will find two historical markers and the final resting place for John Albright. His daughters, former home, a home he had built for her, is the location of one of the markers, the United Methodist Church, is the location of the second marker. John Albright's grave is in East Homer Cemetery. John Albright was a dedicated Revolutionary soldier who fought bravely until the end of the war despite the abuse he received as a prisoner of war for nearly two years. His home was located on lot 29, a 600-acre lot of land that he received for his services in the war.
Images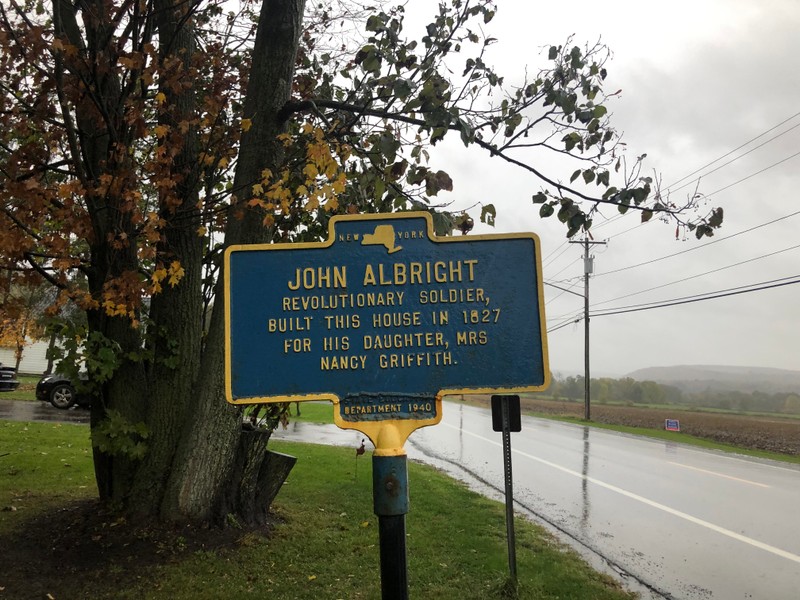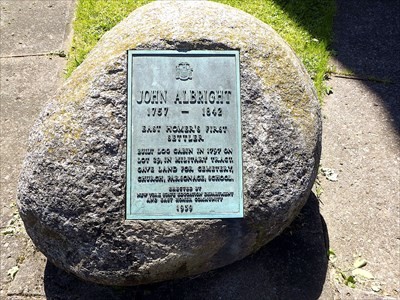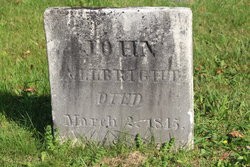 Backstory and Context
John Albright was an unhappy sixteen-year-old tailors apprentice who found an escape through the enlistment of the Revolutionary war as a replacement for his foster-parents only son. The patriotic kid was a good soldier and would go on to win laurels. John Albright proved his devotion and dedication to the newly formed United States, by braving captivity, enduring hardships, and fighting to the end of the war despite it all. He would go onto be a founder and prominent member of the East Homer, New York Community.
At his first station in Fort Montgomery, Orange County, New York, he was captured by the British. He was held in New York City, for eleven months, in miserable conditions. After his release, the brave young soldier went back to fighting only to be captured again, this time at Fort Stanwix in Rome, New York by loyalists (Tories) and Native Americans. John Albright would be forced to march to Canada, with a heavy pack and no shoes. His feet became raw and sore.
His only advantage was that he had befriended one of his captors, an elderly Native American woman. She grew fond of him and called him son, and he called her mother. Unfortunately, A young Native American male captor was not so fond of Albright and would walk on the backs of his sore feet. John Albright endured this until he could not take the pain any longer, he defended himself by knocking his tormentor to the ground. Expecting trouble, he was relieved to learn that he had earned the respect of some of his other captors for his bravery. He would still face cruelty throughout the rest of his forced travels. Even being marked for death, with his face painted Black. The elderly Native woman would not allow him to be killed and washed the paint off. With her protection, he was able to make it safely to a Canadian prison. His situation stayed grim. The prison was damp and miserable. He became very ill and had to receive medical attention to save his life. This miserable ordeal went on for approximately a year. The courageous young man again resumed fighting after his release.
Albright would face another long and painful march, but this time it was alongside his fellow continental soldiers from Philadelphia to Valley Forge, Pennsylvania. The soldiers would suffer severe damage to their feet, but they fought on. John Albright would eventually make his way to Yorktown, Virginia and take part in the successful Yorktown siege led by George Washington. These actions helped America win its independence.
After the war, John Albright would go home to his wife, four daughters, and mother-in-law. They moved around some, but would eventually settle down in East Homer, New York. He would help establish the town and become a farmer. Mr. Albright was not only a devoted and patriotic American, but he was also a kind person. According to his neighbor's, he treated people like they were his children, and they felt he was an excellent citizen.
Cortland County Historical Society has a rich source of information on John Albright. Books and documents that include copies of war pension receipts, legal indentures, and newspaper articles. This organization offers a close and personal look at an American hero.
Sources
Lumbricus. John Albright - East Homer, NY - New York Historical Markers, Waymarking.com. Accessed November 13th 2019. https://www.waymarking.com/waymarks/WMW0JR_John_Albright_East_Homer_NY.
Goodwin, Herman Camp. Pioneer History, or, Cortland County and the Border Wars of New York: From the Earliest Period to the Present Time. Edition Kindle. New York. Dixon&Cabe,In the Clerks Office of the District for the Northern District of New York, 1855.
Smith, H.P.. History of Cortland New York. Syracuse, New York. 1885.
Additional Information