Lamont Memorial Library
Introduction
The Lamont Memorial Library was one of the first homes built in McGraw. It was built by Marcus McGraw in 1810-1813 and designed to resemble Greek architecture. But the building is best known for being the childhood home of Daniel S. Lamont, who was the 39th United States Secretary of War from 1893-1897 under President Glover Cleveland. Upon his death, Daniel Lamont's widow, Juliet Lamont, in 1906, designated her late husband's childhood home to be turned into a library in July of that year. The library in its own right has become significant, being an important part of the McGraw community.
Images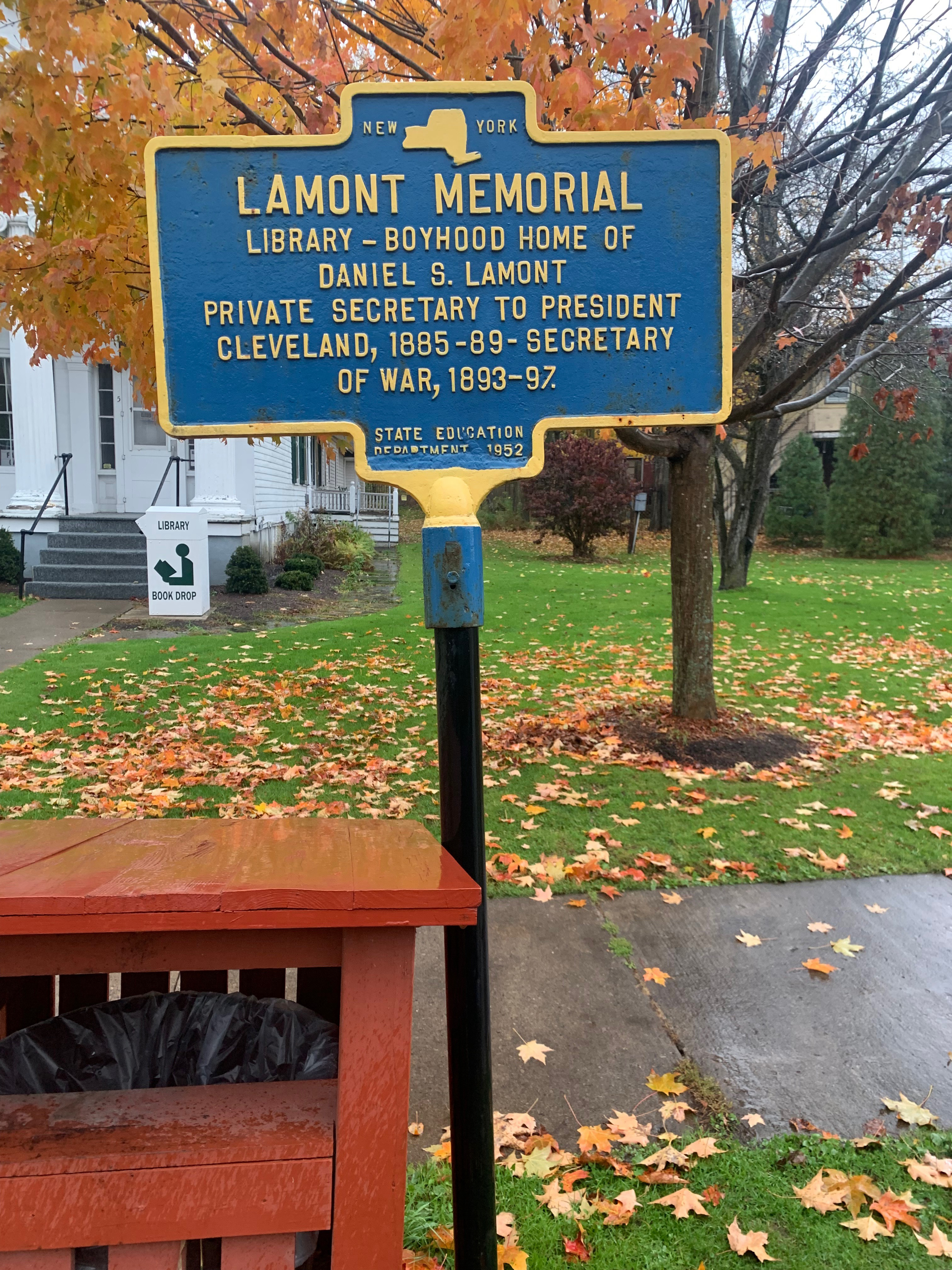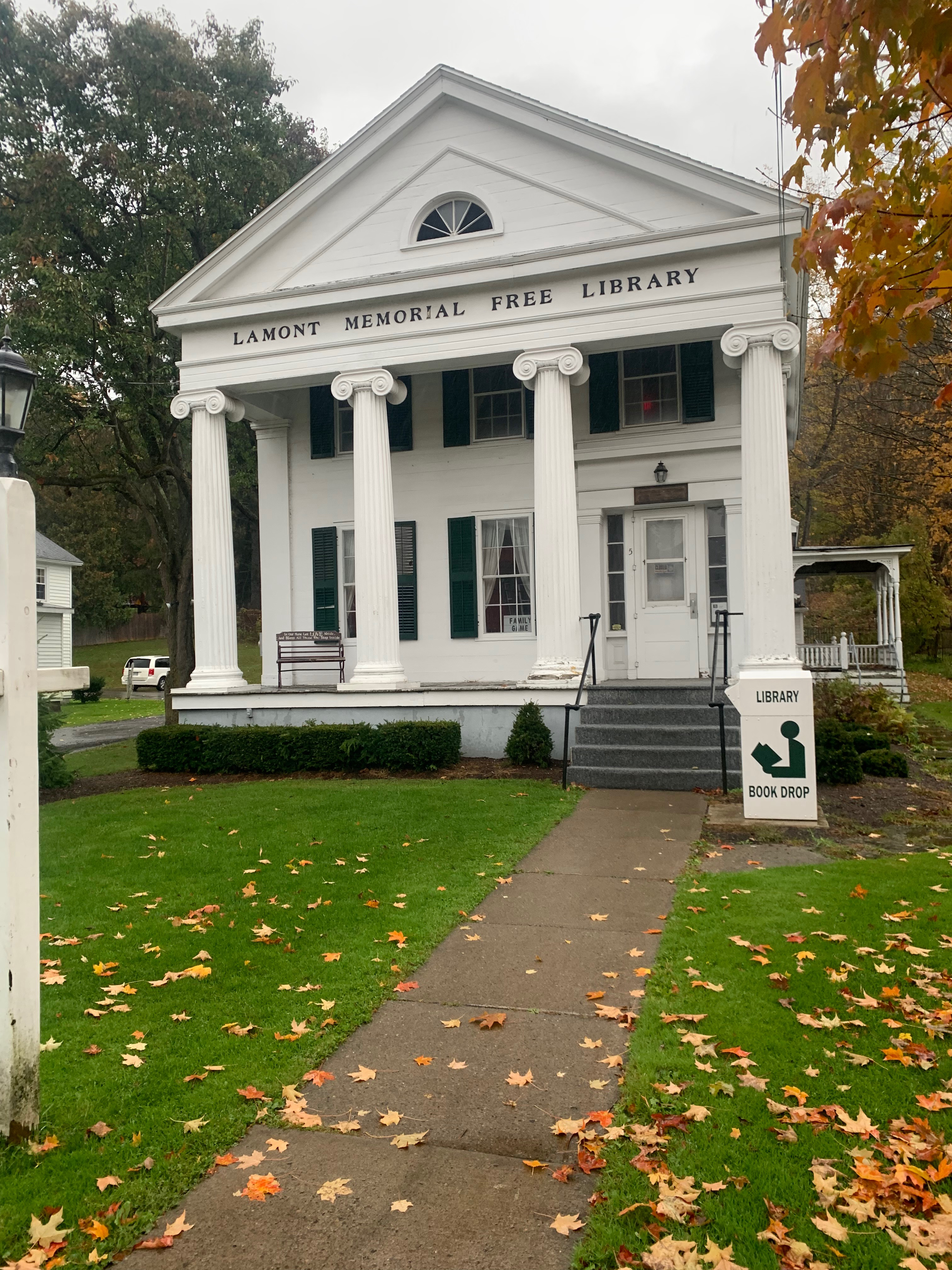 Backstory and Context
In 1810-1813, the Lamont Memorial Free Library was built. Built by Marcus McGraw, one of the initial American settlers of this region, he wasn't one of the first people here of course, with Native Americans being here, but he was one of the first Americans. He designed the building, modeling it after Greek architecture, similar to the White House and Capitol Building in Washington D.C. He was born in 1851 one year after his parents settled in the Scottish Highlands. At age twenty, he became deputy clerk of the New York State Assembly. This caught the attention of Grover Cleveland who upon being elected in 1883, made Lamont one of his Private Secretaries. Later he became Military Secretary under Governor Cleveland, with the honorary title of Colonel. Once Grover Cleveland Became the 22nd President of the United States in 1885, he brought Lamont with him as a private Secretary. During Cleveland's second term, Lamont was appointed the 39th Secretary of War, from 1893-1897. As Secretary of War, he instigated the three battalion infantry regiment to help modernize the Army. The end of Cleveland's Presidency wasn't the end of Lamont's career. He served as Vice President of the Northern Pacific Railroad. He also served on the board of other companies and rail lines, such as Syracuse, Binghamton, New York, and Monongahela rail lines. After Daniel Lamont's death, his widow, Juliet Lamont designated her late husband's childhood home as a library.
As a library the building has its own history. The Great Table in the library was used by Dr. Warner, a local Cortland County physician, turned clothes maker. Dr. Warner used this table to cut some of his first corsets. Dr. Warner's company was known as Warnaco, which was a large and profitable clothing company. One of the subdivisions of the company is Calvin Klein. The library itself has become an important part of the town of McGraw, especially for children. Hosting events like arts and crafts, hosting story tellers, and musicians these events help bring a community together. The book collection started off small with only about 1,000 books, but over a hundred years later, there's about 15,000 books. The Lamont Memorial Library has historical significance, being named after and the childhood home of Daniel S. Lamont. An important person in U.S. history was born in this town and lived in this building. When it became a library it became a significant part of the town, from helping start a large modern clothing company to being a center stage of a town. This building is significant historically and culturally.
By: Patricia Rose, Fallon Haggerty, Michael Armstrong, & Jack Quinn
Sources
ConRoe, Scott. 'Has Become Key Part of the Town of McGraw. 'Library Vital Part of McGraw.'" Cortland Standard. December, 8. 2008
Daniel Scott Lamont. History.Army. March, 2. 2001 https://history.army.mil/books/Sw-SA/Lamont.htm
Hall, Katie. "Library Opens its Doors in 1906." Cortland Standard. April. 30. 1998
Richard Palmer "Famous Politician was from McGraw. 'Tracks of Local History.'"
https://lamontlibrary.org/
Additional Information