Rankin Hall
Introduction
In its historic 113 years, Rankin Hall has housed multiple departments and countless general education courses. And all of it is thanks to a massive donation from a friend of Carroll's second president, Walter Rankin. However, Ralph Voorhees, a blind philanthropist from the East Coast who went to school with Walter Rankin, and his wife, Elizabeth, never visited the school.
Images
Rankin Hall, September 1942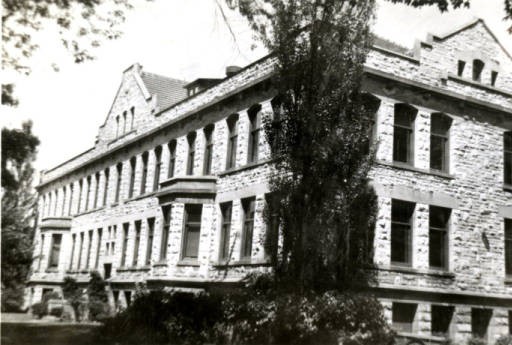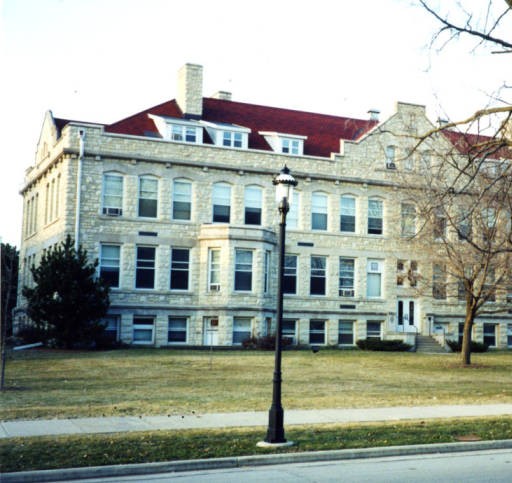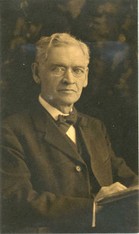 Backstory and Context
One of four historic buildings on the Carroll campus, the Rankin Hall of Science was built in 1903. The funding for the building was part of the final gift from Ralph and Elizabeth Voorhees to what was then called Carroll College. The couple's $100,000 donation (roughly $2.6 million today), funded the construction of three buildings: The Rankin Hall of Science, the Elizabeth Voorhees Dormitory for Women, now called Voorhees Hall, and Voorhees Cottage, which was torn down in 1965 to make way for Shattuck Auditorium. 
Neither Ralph or Elizabeth Voorhees attended Carroll. In fact, there's no record of them ever visiting Waukesha. However, the two were proud members of the Presbyterian Church, and donated much of their wealth to various church-affiliated schools and programs They also had a particularly close connection to Carroll, which may explain their generosity toward a small Presbyterian college some benefactors once called a "Princeton on the Prairie." 
In 1860, future college president Walter Rankin, graduated from Princeton University in New Jersey. As a student, he had befriended Ralph Voorhees. By 1866, Rankin was serving as Carroll's second president and chief fundraiser. Meanwhile, Voorhees had gone blind in both eyes from an eye infection. After losing touch with each other for nearly 30 years, Rankin renewed contact with his old friend in the 1890's. At the time, Carroll was struggling to keep its doors open. The generous gifts of the Voorhees family between 1896 and 1906, totaling $200,000 at the time, gave the school a strong financial foundation. 
Rankin Hall has undergone many changes in the last 113 years. Physically, the structure underwent minor renovations in 1975, and major renovations in 2018, where the insides of the hall were completely remodeled to meet the demands of modern learning, including technology changes. 
Originally, Rankin Hall was home to the Chemistry, Biology, and Physics departments. However, with the additions of the Michael and Mary Jaharis Science Laboratories and Dough and Nancy Hastad Hall, Rankin was no longer needed to house those programs. Instead, Rankin now houses the Environmental Science and Psychology programs, as well as a number of other general education classes. Rankin Hall continues to be beloved fixture on historic Carroll University campus. 
Sources
New Netherland Institute. Ralph Voorhees [1835-1907] College and University Philanthropist, Invalid date. Accessed December 4th 2019. https://www.newnetherlandinstitute.org/history-and-heritage/dutch_americans/ralph-voorhees/.
"Rankin Family Collection." Carroll Archives Finding Aids, Carroll University Archives, archives.carrollu.edu/cdm/ref/collection/find/id/120.
"Ralph Voorhees: The Blind Philanthropist Who Died on April 1st." Carroll University Archives Newspaper Clippings Collection, archives.carrollu.edu/cdm/singleitem/collection/clippings/id/987/rec/3.
"New Buildings for Carroll College Gift of $100,000 from Ralph Voorhees." 6 Jan. 1906. Carroll University Archives , archives.carrollu.edu/cdm/ref/collection/clippings/id/978.
"Buildings Collection." Carroll Archives Finding Aids, archives.carrollu.edu/cdm/ref/collection/find/id/117.
"Rankin Hall." Carroll University, Carroll University, www.carrollu.edu/rankin-hall.
"Restoration and Renovation Underway at Carroll University's Rankin Hall of Science!" Restoration and Renovation Underway at Carroll University's Rankin Hall of Science! | Allume Architects, Allume Architects, 2 Apr. 2018, allumearchitects.com/blog-post/restoration-and-renovation-underway-carroll-university%E2%80%99s-rankin-hall-science.
Image Sources
Carroll Photograph Collection

Carroll Photograph Collection

Carroll Photograph Collection