The Richard Smart House
Introduction
Richard Smart, one of the earliest settlers to Waukesha, found his calling after immigrating from England. His house was built in 1850, predating the civil war, and served as a parsonage for the Methodist church. However, there weren't full neighborhoods then, in fact, his house stood in the land where he farmed. The Smart family watched the nearby Carroll University campus grow before their eyes and eventually were able to become a part of its history.
Images
Methodist District Parsonage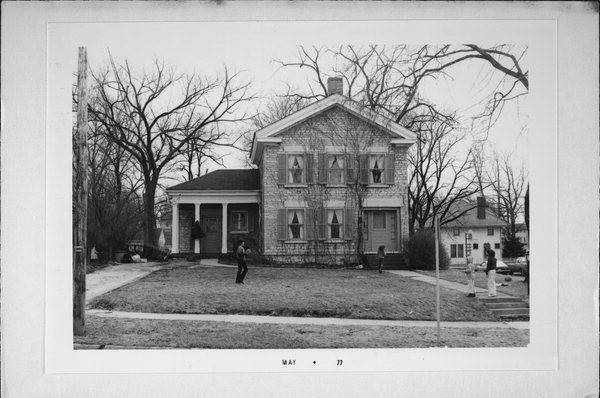 Backstory and Context
The Smart house was built in the 1850's. Richard Smart owned the land where the house was located. The house served as a parsonage for the Methodist church which Richard was a part of. A parsonage is a house used for housing the people of the church.
Richard was one of the earliest settlers in the Waukesha area. Smart migrated to the United States from England in the year 1835 to the Americas. The land he owned, coming in, covered from College Avenue on the North to Estberg Avenue on the south between East and West Avenue. Imagine standing where you are today, the history that is surrounding you, and the land you're on-- nothing but farmland. As you look at the building, it's astonishing to think of the world built around it. Especially, the Carroll University that rose during the years.
The house was built of limestone that came from the quarry where Schneider Stadium stands today. Robert Smart, the great grandson of Richard (Carroll Alumni), wished to donate the house to the University once in possession. His widow, Carol Smart, carried out his request after his passing. The house is now home to the Violence Prevention House claiming 239 W College Ave on Carroll University's campus continuing to serve as a part of their legacy.
Sources
"Richard Smart House." N.D. Box 11 Folder 12. Carroll Building Collections. Carroll University Archives. Waukesha, WI.
Waukesha City Accessor's File. Folder 5547. WCHSM.
Image Sources
Wisconsin Historical Society, Wisconsin Architecture and History Inventory, "Methodist District Parsonage", "Waukesha", "Waukesha", "WI", "94099".