Walter S. Chandler House
Introduction
An old building alongside an historic campus, the Walter S. Chandler House is a beautiful example of the architecture both on and around Carroll University. Though no longer owned by Carroll, the Chandler House, with its state-renowned Victorian Gothic architecture, continues to wow passersby and provide a scenic focal point for students climbing the College Avenue hill to class or the Campus Center.
Images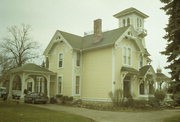 An older picture of the house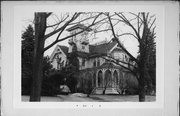 Backstory and Context
Milwaukee lumber dealer Walter S. Chandler built the house at 151 W. College Avenue in 1870. Architect Edward Townsend Mix's careful attention to detail makes it one of the best examples of the Victorian Gothic style in southeastern Wisconsin.  Even a casual viewer will notice the clapboard siding, four-story Italianate tower and stained glass cupola. Look a little more closely, and you'll notice a variety of wooden decorations that includes scroll-sawn brackets, bow ribbon pendants and quatrefoils. The wood-trimmed windows are an eclectic mix of rectangular shapes and pointed arches. Also of note is the porte cochere on the east side. Tall enough to accommodate horse-drawn carriages, this feature protected arriving family and guests from the elements; horses and carriage could be serviced in a spacious backyard carriage house.
While not of vital importance to Carroll University, the Chandler House has important historical value due to its age and unique architecture. Also on the property was the Eocene Spring. Like many springs in turn-of-the-century Waukesha, Eocene was famed for its healthful water. For all these reasons, the Chandler House was added to the National Register of Historic Places in 1974, and became Waukesha's first landmarked home in 1978. It was a featured site during Waukesha's 2019 Preservation Days festivities. Clearly, the Chandler House adds to the visual appeal of the College Avenue neighborhood, and offers the Carroll community a unique glimpse of history.
Sources
Wisconsin Historical Society. Property Record, 151 W. College Ave., Architecture and History Inventory. Invalid date. Accessed December 25th 2019. https://www.wisconsinhistory.org/Records/Property/HI94092.
Image Sources
https://www.wisconsinhistory.org/Records/Property/HI94092

https://www.wisconsinhistory.org/Records/Property/HI94092

https://landmarkhunter.com/148389-walter-chandler-house/