New York Central College
Introduction
The New York Central College was established in McGrawville, New York in 1849 and lasted about eleven years. This was the first college to accept nearly everyone, no matter what their gender or race was. It was an institution that was strongly against slavery and gave African-Americans a right to an education. Students came from all over the nation to attend this college. The idea sprung up when the American Baptist Free Mission Society saw economic and cultural problems throughout the country. In 1860 the college closed down for several reasons but mostly for the fact that the college did not have much support.
Images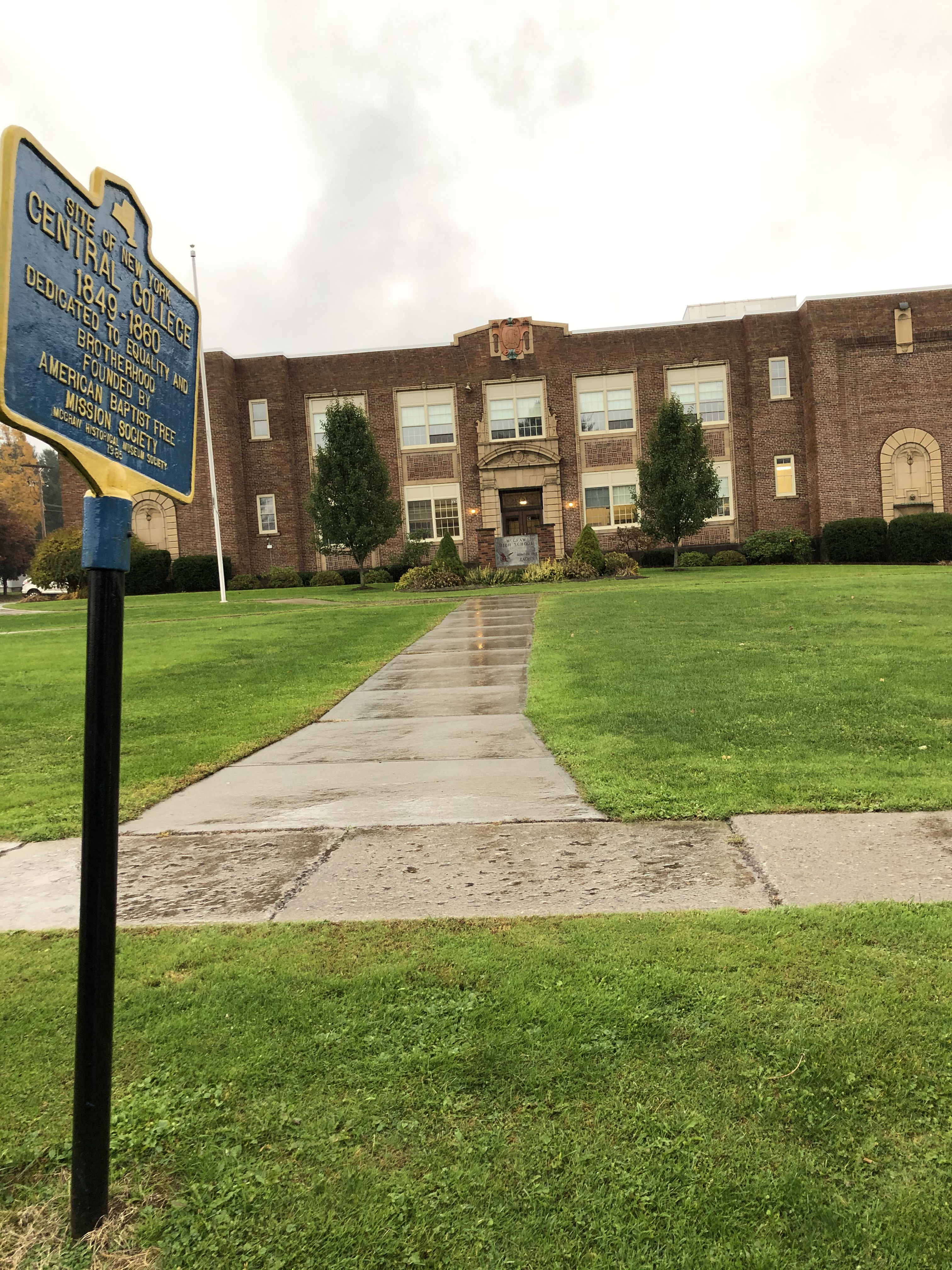 Backstory and Context
The New York Central College was established when 167 aces of land was purchased on April 12th 1848, costing 50,000 dollars. The college was founded by a group of anti-slavery Baptists. The land was purchased by Orrin Salisbury, Thomas Tillinghast, and Steph Potter. The college opened on September 5th, 1849 and had 150 students enrolled. The college was one of the first to accept many people of all races. Not many schools accepted women or minorities and most of the schools were private. This institution gave African Americans a chance during a rough time in the pre-Civil War era, where not many schools offered education to the African-Americans. It was one of the first college to hire African American professors as well.
The property contained three main buildings. These buildings consisted of four floors and a section for male student boarding. The second building was for female student boarding. The third and final building was boarding for the supervisors of the farm house. Tuition per year costed thirty dollars. To lower this cost, students were allowed to work. Males made five cents per hour and females made three cents per hour. Women were charged one dollar a week for board. An example of a successful student was one named Mary Edmonia Lewis, who was part African-American and part Native American, that attended the college. Lewis attended the college for a couple years, taking English and writing courses to help improve her education. Later in her life she became a famous sculptor but started her journey at the New York Central College.
In 1860 the college experienced an outbreak of small pox. Many students died and were buried on the property. The college today still has the gravestones of those who passed from the disease. The small pox outbreak spread fast and classes were put on hold. After the outbreak the college had to shut down for several reasons, but mostly that the college didn't have the financial support it needed to succeed. The property was sold to a stock company, which organized the New York Central Academy.
The New York Central College is important because right here, in Cortland County, we had an institution that accepted all races during the before the Civil War began. African Americans in the south were deprived of getting any education. Northern African Americans were sometimes given a chance to escape, therefore they were given a higher chance to be educated. This school helped African Americans advance in society and allowed them to not be discriminated because of the color of their skin.
By: Patricia Rose, Fallon Haggerty, Michael Armstrong, & Jack Quinn
Sources
"First Negro College in County Founded in McGraw in 1850." Cortland County Historical Society, binder relating to "New York Central College."
"New York Central College at McGraw First Admitted Negro." August 18th 1949. Cortland County Historical Society binder relating to "New York Central College."
Parks, Marlene. New York Central College1849-1960 McGrawville, New York Volume 1., Cortland County Historical Society, book provided by the historical society
"History of College At McGraw Given by Miss Claribel Warren." . ., Cortland County Historical Society binder relating to "New York Central College"
Additional Information