Court House Elementary School
Introduction
Constructed in 1931, Court House Elementary was Princess Anne County's third consolidated public elementary school. Its students were taught the basic subjects of American and Virginia history, English, arithmetic, and geography, with an average class size lower than twenty. In the 1950s and 1960s, public school enrollment grew, and classrooms began to be overcrowded. This caused Court House to expand in 1955 and once again in 1964. It continued as a public elementary school until closing between 1985 and 1989.
Images
A view of the 1931 Court House Elementary School building.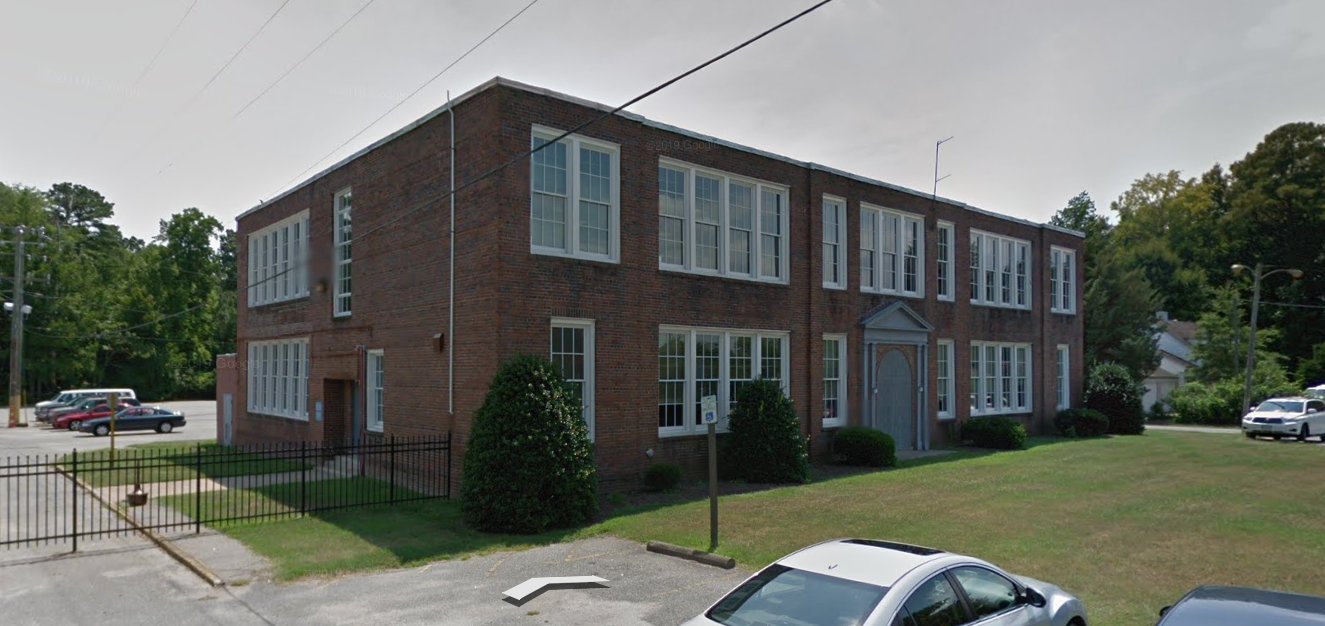 A view of the 1931 Court House Elementary School building.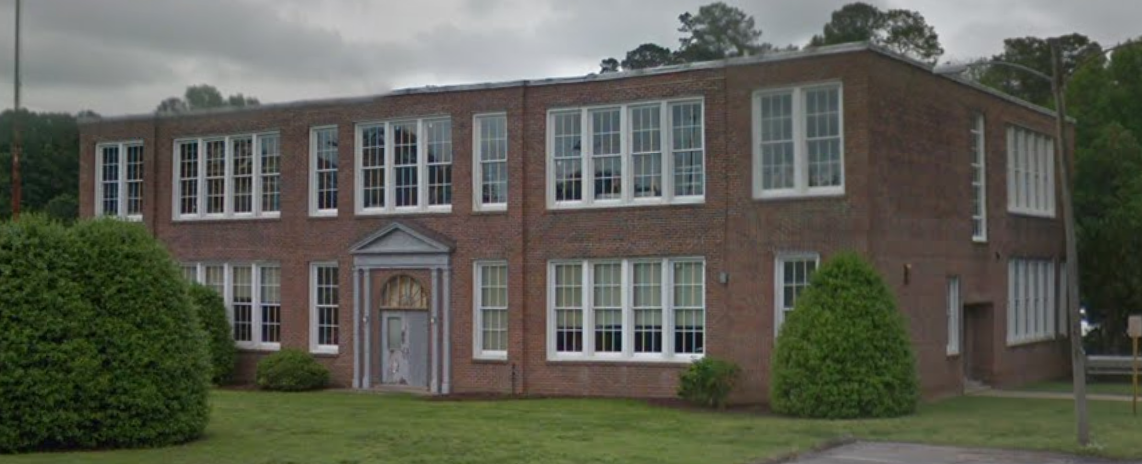 An angled overhead view of the former Court House Elementary School complex.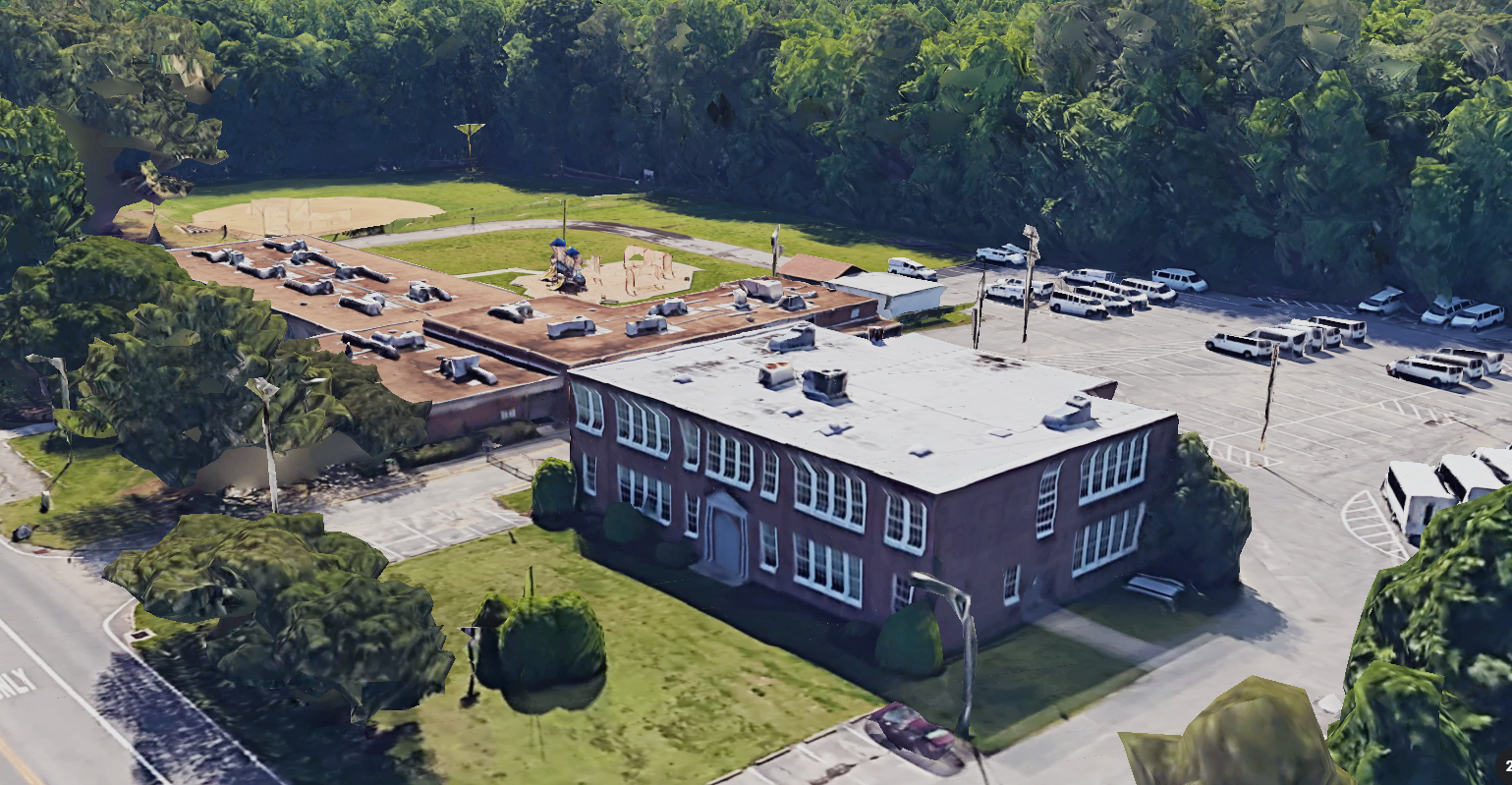 A sketched plan of the first floor of the 1931 Court House Elementary School building.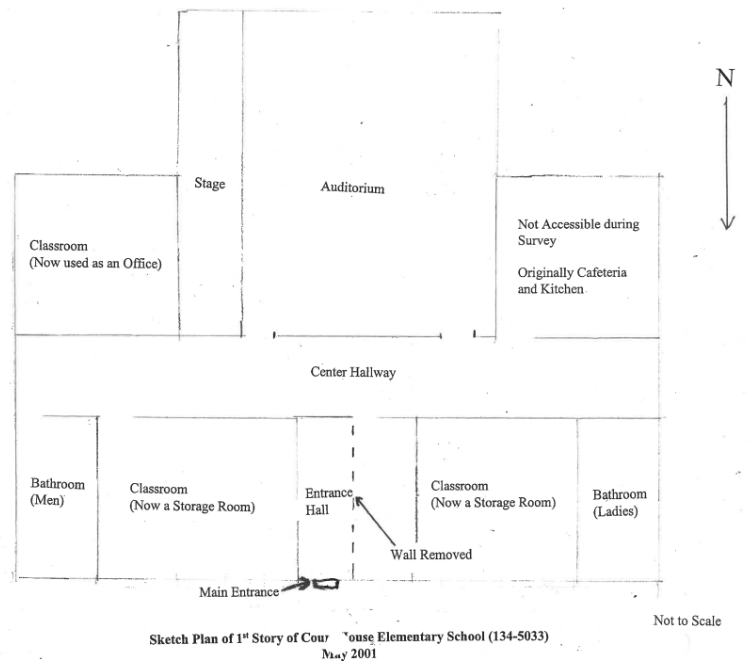 A sketched plan of the second floor of the 1931 Court House Elementary School building. Note that the auditorium is not accessible from the second floor.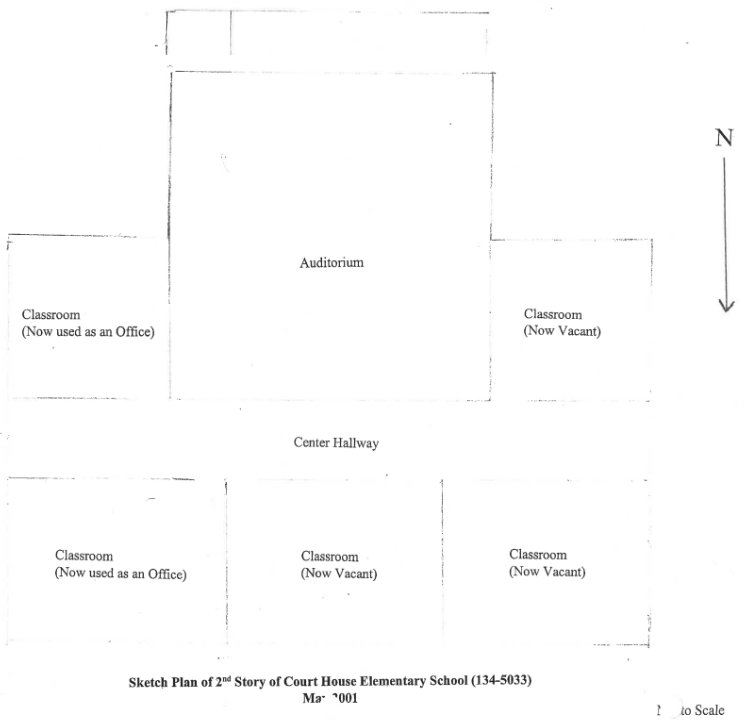 A view of the Court House Elementary School's auditorium.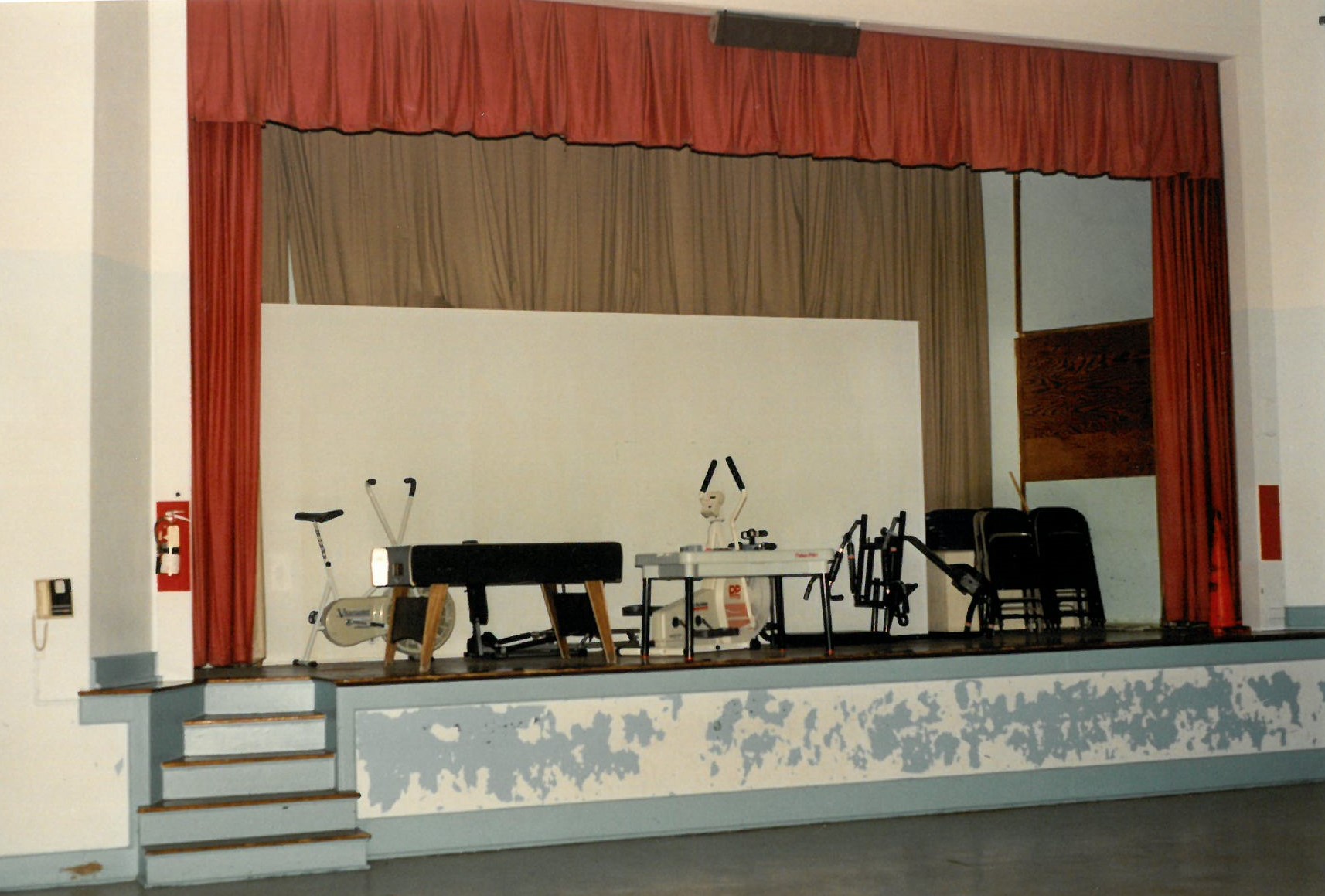 Backstory and Context
At the beginning of the twentieth century, Princess Anne County felt compelled to provide a better, more modern education system to its citizens. After decades of having public school take place in many one-room schoolhouses dotted around the area, P.A. County began to pursue a policy of school consolidation. The idea was this: phase out individual schoolhouses in favor of larger schools. Large schools would be able to serve multiple schoolhouses' students at a central location, and they would also reap the added benefits of having more teachers, more equipment, more grades (kindergarten to twelfth grade), and a more diversified and improved curriculum. The first consolidated high school would open in 1908, and a number of other schools would also be built, including Court House Elementary School in 1931.
The original Court House Elementary School building was constructed in 1921 in the hamlet of Princess Anne. It was a two-story wooden structure with classrooms on both floors and a small auditorium upstairs. Serving Princess Anne for nearly a decade, the school absorbed the students of four schoolhouses, among them Hickory Bridge (which was across the street from Court House), Tabernacle, Shipps Corner, and Beech Grove, though the school was not yet consolidated. The first Court House Elementary School's life was cut short by a boiler explosion in March 1931. The story goes that a janitor attempted to ignite the boiler fire with kerosene, and because of this, it blew up, burning the school to the ground.
Soon after the debris had been cleared, a new Court House Elementary School began to be planned. The services of the Norfolk architectural firm Rudolph, Cook & Van Leeuwen, a firm mainly known for office and apartment buildings, were hired to design the new school. While the design and construction phase went on, the students of the first Court House continued their education in two rooms of the old P.A. County Courthouse building.
The new Court House Elementary School was designed and built within a year's time for the overall price of $349,000. Its initial staff included principal Harry S. White and four teachers. By Thanksgiving of November 1931, the new building was complete and school was ready to begin inside.
Designed in the Colonial Revival architectural style, the school was a very formal brick structure. The front entrance had a double pilaster and a triangular pediment with fan light below, and opened to the central T-shaped hallway. The school had eight classrooms; five were on the second floor (one was used as a library), and three were downstairs. On the first floor, there was also an auditorium which doubled as a gymnasium, the school's kitchen and cafeteria, and two bathrooms. Court House also had athletic fields, including one baseball field, outside.
In 1955, a separate annex containing nine classrooms, a library, a cafeteria, and administrative offices, was built next to the old school for the cost of $298,000 (which also paid for air conditioning in the old building's library and office). In 1964, space concerns prompted another expansion; two modular classrooms (which are no longer on-site) were added. Court House Elementary School closed between 1985 and 1989. It then became the school system's print shop until 1997. Since then it has been used for office space, while the 1955 annex has been used by Virginia Beach;s child services as a residential facility. It is the oldest surviving elementary school building of the county's consolidation period.
Sources
Louis Berger Group, Inc. "Management Summary for Intensive Architectural Survey of Court House Elementary School (143-5033)," City of
Virginia Beach, VA: June 2001.
Virginia Beach City Public Schools. "Closed/Former Schools & Centers." VB Schools. Virginia Beach City Public Schools. Accessed December 10, 2019. https://www.vbschools.com/about_us/schools/history/closed.
Virginia Department of Historic Resources. "Architectural Survey Form." Accessed October 14, 2019.
Image Sources
Google Earth

Google Earth

Google Earth

Management Summary for Intensive Architectural Survey of Court House Elementary School (143-5033)

Management Summary for Intensive Architectural Survey of Court House Elementary School (143-5033)

Mark Reed

Additional Information