Lincoln Elementary School
Introduction
Lincoln Elementary School is an elementary school located on Bartlett Street in New Brunswick New Jersey, sandwiched between two of the liveliest streets at Rutgers, Easton avenue and College Avenue. Established in 1910, Lincoln Elementary serves as the foundation for the Latino community in New Brunswick. Some classes even consist of entirely Latino students and are taught in Spanish.The faculty that works there is open-minded, devoted and caring, and the school encourages engagement with the community of New Brunswick, from the Police to Rutgers itself. The school also wears its largely Latino identity with pride, celebrating the Hispanic Heritage that the majority of its students have. The school is severely underfunded, resulting in some teachers paying for their own materials without promise of reimbursement, and the surrounding neighborhood is impoverished and unemployment rates here are well above average.
Images
This is a photo of the student body and faculty inside their gymnasium during their annual Hispanic Heritage Celebration. Though it's a little cramped for over 600 students, they find ways to make the best of it.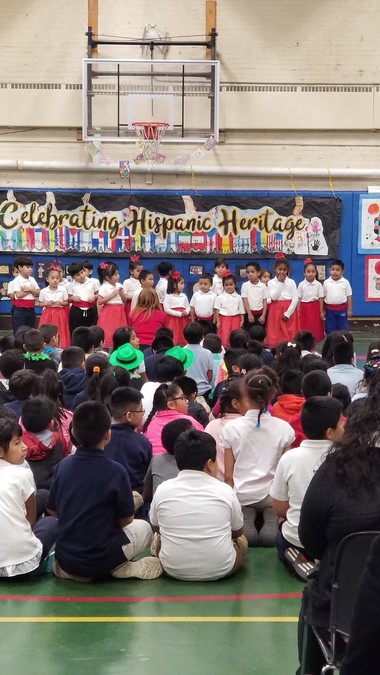 This was a photo that was taken around Thanksgiving, after Officer Cruz (left) and the PTO donated turkeys to families of students in need. Lincoln Elementary School fosters a sense of community with its students and New Brunswick as a whole.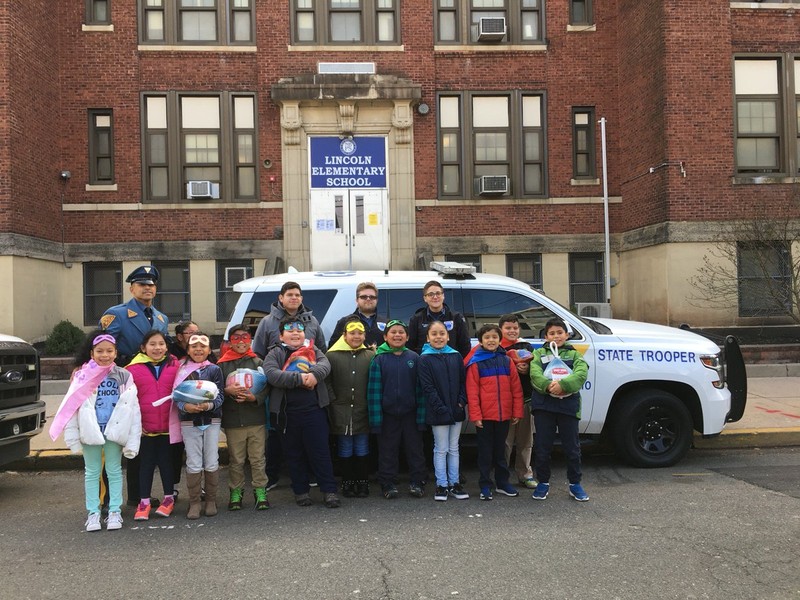 This is a photo of the front of the school. Though it may not seem welcoming from the outside, the faculty and community never fail to bring joy to the students there.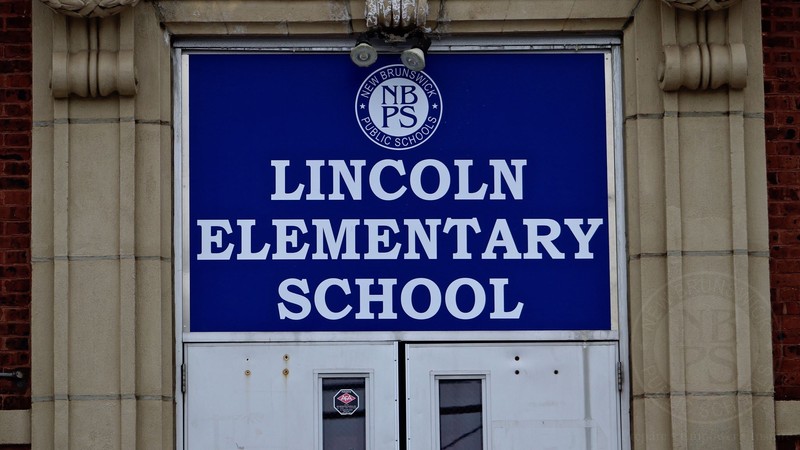 Backstory and Context
Lincoln Elementary School in New Brunswick, New Jersey may not seem different than the average American elementary school to the untrained eye. Located on Bartlett Street, less than five minutes away from the College Avenue Student Center, countless students here at Rutgers walk past this building on a daily basis and don't blink twice. Many don't even immediately process that it's a school. The school doesn't have a playground, just a stark Blacktop with a few basketball hoops. Yet what most don't realize is that this school serves not as a monument of Latino and Caribbean repression, rather it serves as a monument to the hard work and dedication that the Latino community in New Brunswick puts into its school system.
New Brunswick is 53% Latino according to Datausa.io, and the median household income is drastically lower than the national median income ($38,413 compared to $57,652). This ratio exceeds that of Middlesex County, Newark, New Jersey itself and the United States as a whole. The poverty rate rose by nearly ten percent and the median income dropped by over twenty percent over a five year period. New Brunswick was also heavily impacted by the recession under the Bush administration and has not recovered as uniformly as other parts of the country. The issue is systematic and demonstrates the inequality that is prevalent in society. Though the most common country of origin is India, the Dominican Republic and Mexico are the second and third most common respectively. All of these statistics and more are vital in demonstrating the underlying factors contributing to the poverty of New Brunswick. They characterize a city of hard workers that do their best to provide their youth with a proper education.
Lincoln Elementary has is a school system that despite barely managing to accommodate its student body due to societal and economic constraints, perseveres and does its best to provide its student body with opportunities for the future. This is undeniably due to the devoted faculty that works at the school. Niche ranked both the academics and teaching of Lincoln Elementary School as an A-. Seventy-five percent of students are at least proficient in math and ninety percent are proficient in reading. This is all in spite of the fact that Niche rated New Brunswick a C for quality of living and at a C+ in diversity.
The school has also flourished thanks in part due to the sense of camaraderie the community fosters. On thanksgiving, the state troopers and PTO band together and provide turkeys for families of students that are unable to afford it themselves.Small acts of kindness like these are abundant and imbue the students of Lincoln Elementary with love and empathy for the people around them. Lincoln Elementary also teaches its students to to be proud of their roots, hosting a "Hispanic Heritage Celebration," for their students. Though this is a seemingly insignificant gesture, by doing this the school is sending the message that it's okay to be different. Our history isn't what holds us back, it's what keeps us strong, makes us special and empowers us. Lincoln Elementary goes the extra mile. It challenges the norm. It gives back to the community. That's why it succeeds.
If you are a Rutgers student, join the Big Buddy club, a club of students that volunteer at Lincoln Elementary during school hours. They serve as assistants to the teacher and typically help kids that are behind with reading or writing. They are also planning a "Rutgers Day" at Lincoln Elementary to encourage higher education to the student body.
Sources
Biryukov, Nikita. "Poverty up, Income down in New Brunswick." MY CENTRAL JERSEY. Courier News and Home Tribune, December 16, 2016. https://www.mycentraljersey.com/story/news/local/middlesex-county/2016/12/16/housing-crisis-scars-new-brunswick/95525132/.
"Explore Lincoln Elementary School." Niche. Niche.com Inc. Accessed October 8, 2019. https://www.niche.com/k12/lincoln-elementary-school-new-brunswick-nj/.
"Lincoln Elementary School." Lincoln Elementary School - About Our School. Accessed November 19, 2019. http://ln.nbpschools.net/About-Our-School/index.html
"New Brunswick, NJ." Data USA. Data USA. Accessed October 8, 2019. https://datausa.io/profile/geo/new-brunswick-nj/.
Tortorella, Erica.The Hispanic Outlook in Higher Education; Paramus Vol. 19, Iss. 20, (Aug 3, 2009): 16-17. https://search.proquest.com/docview/219233147?accountid=13626&rfr_id=info%3Axri%2Fsid%3Aprimo
Winas, Dave; EA Today: a newspaper for members of the National Education Association; Washington Vol. 22, Iss. 1, (Sep 2003): 41.
https://search.proquest.com/docview/198873133?OpenUrlRefId=info:xri/sid:primo&accountid=13626
Image Sources
https://twitter.com/LincolnNBPS/status/1068546101245038593

https://twitter.com/LincolnNBPS/status/1065306819332063232

https://www.google.com/url?sa=i&source=images&cd=&ved=2ahUKEwi1mrfCsvXlAhXGc98KHQFlBHMQjRx6BAgBEAQ&url=https%3A%2F%2Fallevents.in%2Fbrunswick%2Fwinter-concert%2F20002550524619&psig=AOvVaw0yeWhG0oZ0_Gj1UyVNf-hW&ust=1574222647737550

Additional Information