Alwood Oak
Introduction
Around 1895, "father of Virginia horticulture" Professor William Bradford Alwood planted a collection of specimen trees at the Virginia Agricultural Experiment Station. This bur oak (Quercus magrocarpa) is one of six surviving specimens, and the only specimen of the campus arboretum Alwood documented. Located near the Drillfield on the Virginia Tech campus, the tree was dedicated to Alwood with a plaque and a memorial plaza by the Virginia Tech Board of Visitors in 2011.
Images
Alwood Oak by John McCormick (image reproduced under Fair Use).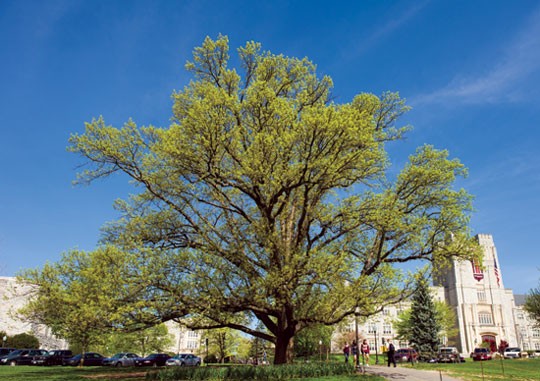 Backstory and Context
William Bradford Alwood (1859-1946) began working at Virginia Tech, then Virginia Agricultural and Mechanical College, in 1888, as the university's first entomologist, and served as the director of the Department of Horticulture, Entomology and Mycology. The department divided into two new departments in 1902, with Alwood directing the Department of Entomology and Mycology. Alwood founded the Virginia Horticultural Society in 1897 to organize efforts to save the Virginia fruit tree industry from a destructive insect species, and wrote over 60 publications on pest management during his 16-year tenure at university. He left the university in 1904. Virginia Tech honored Alwood with a Certificate of Merit in 1923 and in 1927 received from him a donation of his extensive library on horticulture, entomology, etc.
Around 1895, Alwood planted bur oak acorns from Ohio, his birthplace, in the Agricultural Experiment Station greenhouse and later outside the station. Six of these trees survive. To honor Alwood, the Virginia Tech Board of Visitors dedicated one of these trees in his name in October 2011, and dedicated a permanent monument in the surrounding area "Alwood Plaza." Additionally, the Board of Visitors awarded a citation of recognition to the Alwood family. The Alwood Oak was originally denoted "Tree #66 -- Bur Oak" in Alwood's inventory of campus trees. The Alwood Oak is the only surviving specimen of the documentation Alwood created on the campus's arboretum.
The oak measured 177 inches in circumference and 85 feet tall, with a 123-foot crown as of 2010. It is one of the largest bur oaks in the state of Virginia.
Sources
Carmean, Byron, Jeff Kirwan, and Gary Williamson. Bur Oak, Virginia Big Trees Register. 2010. Accessed November 10th 2019. http://bigtree.cnre.vt.edu/detail.cfm?AutofieldforPrimaryKey=1677.
Neff-Henderson, Laura. Bur Oak dedication, Hokie Bugfest festival to honor legacy of William Alwood, Virginia Tech Daily. October 10th 2011. Accessed November 10th 2019. https://vtnews.vt.edu/articles/2011/10/101011-cals-alwood.html.
Virginia Tech Department of Entomology. History, About the Department of Entomology. 2019. Accessed November 10th 2019. https://www.ento.vt.edu/about.html.
W., Kevin. The Alwood Oak, Historical Markers Database. April 6th 2013. Accessed November 10th 2019. https://www.hmdb.org/marker.asp?marker=64221.
Wiseman, Eric. Virginia Tech Faculty and Staff Partner With Volunteer Arborists to Protect the Alwood Bur Oak, Engagement Matters. December 2011. Accessed November 10th 2019. https://vtechworks.lib.vt.edu/bitstream/handle/10919/23958/engagement-matters-dec-2011.pdf.
Image Sources
https://www.vtmag.vt.edu/fall11/news.html

Additional Information