Epperson House
Introduction
This historic Kansas City home was completed in 1923 and the home of Uriah and Mary Epperson, local business owners and philanthropists. The couple shared a love of music and the arts and donated considerable sums to charitable institutions around Kansas City. The Collegiate-Gothic mansion has 56 rooms and cost $450,000 at the time it was built. The home has belonged to the University of Missouri-Kansas City since 1942, although it has been underutilized for over a decade due to accessibility requirements. Plans are underway to find funds to restore the mansion and find a new use for the property.
Images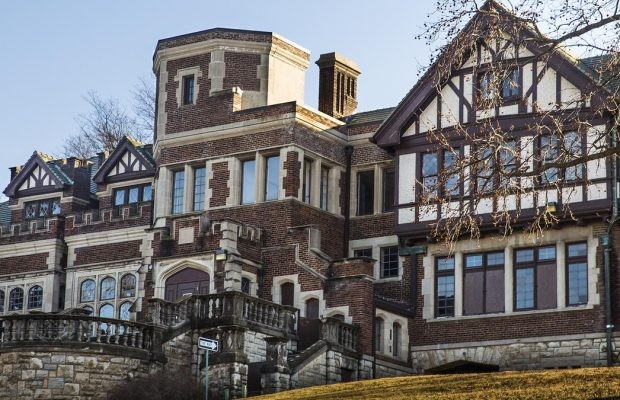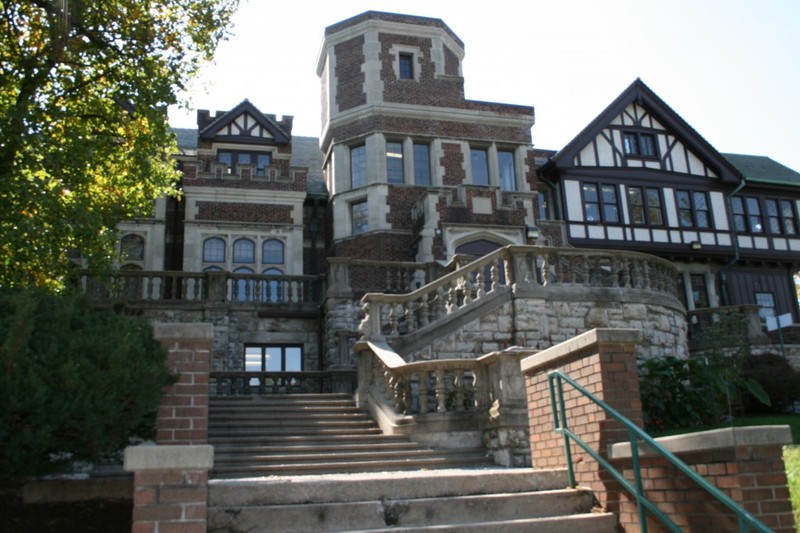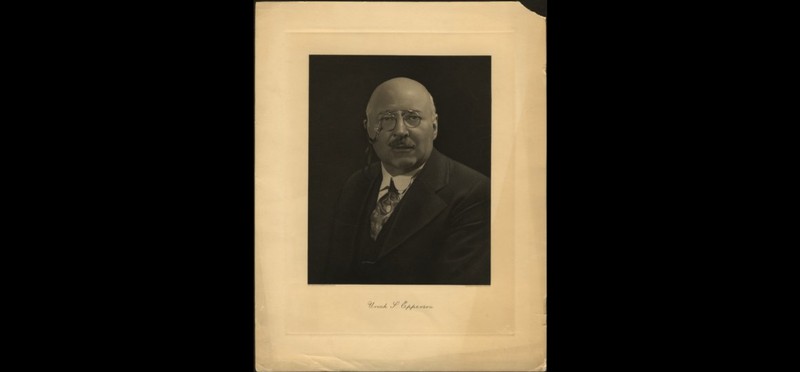 Mary Elizabeth (Weaver) Epperson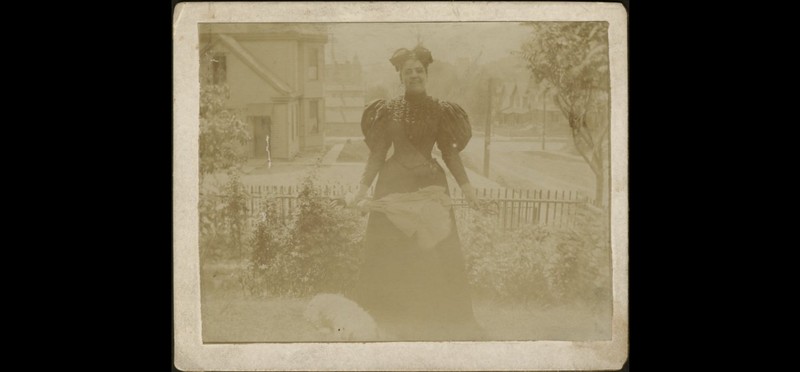 The Eppersons and a friend inside the main living room of the home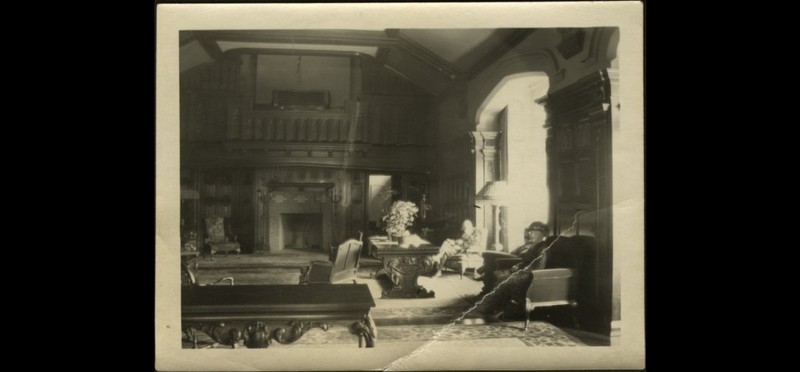 A group gathered on the steps at the front of the home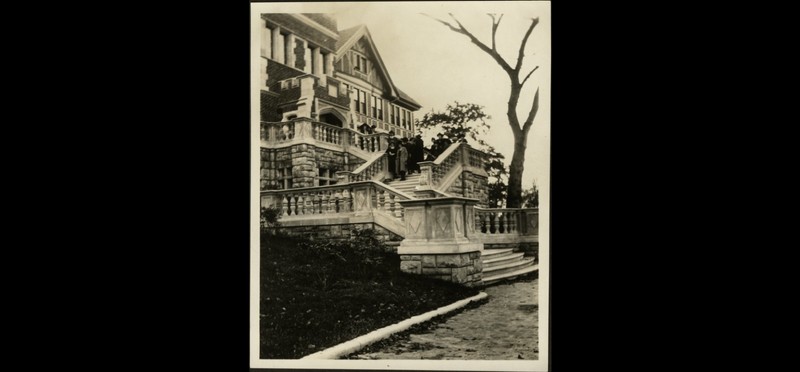 Aviation cadets inside the home in 1942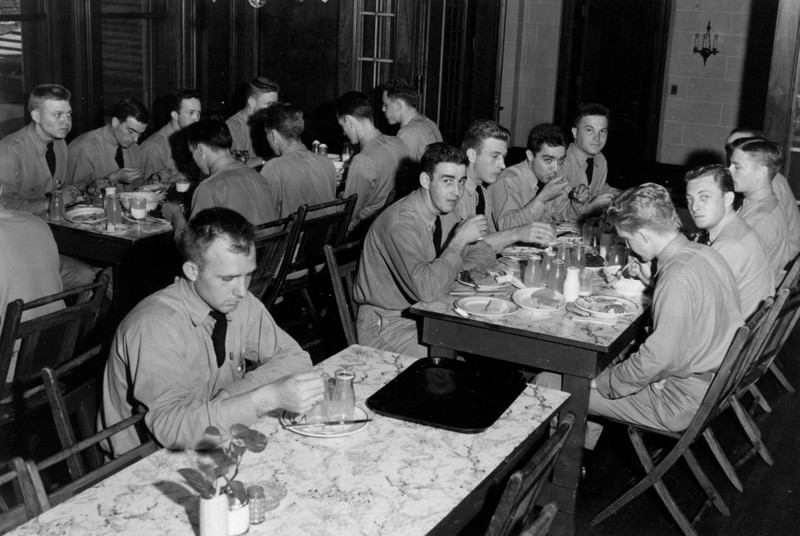 Backstory and Context
Uriah Spray Epperson was born in 1861 in Indianapolis and moved with his family to Kansas City when he was six years old. He started working for the Fowler Meat Packing Plant when he was 19 years old and stayed with the company for 22 years, eventually becoming the plant's general manager. Epperson started two of his own businesses: Epperson Land Investment Company and U.S. Epperson Underwriting Company, which sold fire insurance. Mary Weaver was born in New York in 1855 to a prominent family. She married Uriah in 1899.
Both of the Eppersons had a love of music and the arts. In the late 1890s, Uriah created a band of over 100 local businessmen, known as Epperson's Megaphone Minstrels, to raise funds for local parks. The band played ragtime and cakewalk music, while performers in Blackface danced and did skits. [2] Epperson also helped organize the annual Priests of Pallas Festival, which included a parade, exhibits, concerts, and a masked ball. He served for a time as president of the predecessor of the Chamber of Commerce and spearheaded the construction of the Convention Hall. [3] The Eppersons were great philanthropists as well, donating to Kansas City Philharmonic Orchestra, the Kansas City Art Institute, and the Kansas City Conservatory of Music, among others. [1]
The Eppersons chose Horace LaPierre to design their ostentatious mansion. LaPierre specialized in designing grand residences around Kansas City. Construction began in 1919, and it was completed in 1923. The four-story home is built in a Collegiate-Gothic style, with a mix of Renaissance, Tudor, and Gothic elements, and is meant to emanate a large English university or country estate. [4] It takes up 24,180 square feet and has 56 rooms. It had a swimming pool, billiard room, organ loft, living room with a performance stage, and outdoor deck large enough for an orchestra. The inside features ornately carved oak fireplaces, stair bannisters, and wall panels. [3] The ceilings are also decorated and have crown moldings, and there are leaded glass windows throughout. The home cost a total of $450,000 to build, or about $6.75 million adjusted for inflation in 2019. The Eppersons named their home Hawthorn Hall, but it has been known locally as the Epperson House for decades.
Uriah died in 1927, just four years after the home was completed. Mary continued to live in the home until her death in 1939. Over 600 people attended her funeral, which was held in the home. [3] As the Eppersons had no children, they left their estate to Uriah's business partner, J. J. Lynn. Lynn attempted to use the home as business offices for the Epperson Underwriting Company, but was denied commercial use of the property. In 1942, he donated the house to what would become the University of Missouri-Kansas City. It was used as a residence hall for aviation cadets being trained during World War II. After the war, the university used the home for classrooms, office space, and storage. [3]
The home is the setting of numerous stories of paranormal activity and investigations over the years. In 1990, the Americans with Disabilities Act was passed, and the home, with its many staircases and recessed floors, could not easily comply with the new law. It has been vacant since 2010 and in a state of disrepair for years. A fire in 2006 caused water damage to some of the woodwork. [3,4] Due to the size of the building, renovation costs to comply with the law would be exorbitant, around $8-14 million. The university spends approximately $60,000 a year just to maintain the building. In late 2018, the university chancellor organized a task force to determine how to raise funds to preserve the home. [5]
Sources
1.      Coleman, Daniel. "Biography of Uriah Epperson (1861-1927) and Mary E. Epperson (1855-1939), Philanthropists." Missouri Valley Special Collections – Kansas City Public Library Website. 2008. Accessed November 7, 2019. https://kchistory.org/islandora/object/kchistory%253A115354.
2.      Gage, Emma Abbott. Western Wanderings and Summer Saunterings Through Picturesque Colorado. Baltimore, MD: Lord Baltimore Press, 1900. Accessed November 7, 2019. https://books.google.com/books?id=rjJWHAcbTKsC&pg=PA205&lpg=PA205&dq.
3.      Hinesley, Darren. "The Fall of the Epperson House." Squeezebox Website. August 6, 2018. Accessed November 7, 2019. http://www.squeezeboxcity.com/the-fall-of-the-epperson-house/.
4.      Shea, Meredith. "House on the hill: Epperson House, rich in history, uncertain future." University News Website. February 4, 2013. Accessed November 7, 2019. https://info.umkc.edu/unews/house-on-the-hill-epperson-house-rich-in-history-uncertain-future/.
5.      Evans, Ethan. "New future for Epperson House?" University News Website. November 6, 2018. Accessed November 7, 2019. https://info.umkc.edu/unews/new-future-for-epperson-house/.
Image Sources
https://www.historickansascity.org/endangered-list/

https://info.umkc.edu/unews/campus-history-epperson-house/

LaBudde Special Collections, UMKC Libraries: https://dl.mospace.umsystem.edu/umkc/islandora/object/umkc%3A944

LaBudde Special Collections, UMKC Libraries: https://dl.mospace.umsystem.edu/umkc/islandora/object/umkc%3A952

LaBudde Special Collections, UMKC Libraries: https://dl.mospace.umsystem.edu/umkc/islandora/object/umkc%3A950

LaBudde Special Collections, UMKC Libraries: https://dl.mospace.umsystem.edu/umkc/islandora/object/umkc%3A962

https://info.umkc.edu/unews/campus-history-epperson-house/

Additional Information