Campbell's Island State Memorial
Introduction
This monument commemorates an 1814 battle that was part of the larger war between British and American forces and their Native American allies during the War of 1812. This was one of the westernmost battles fought by American troops at that time and occurred at Campbell's Island. In July of 1814, an American Force, led by Lieutenant John Campbell of the 1st U.S. Regiment of Infantry, was on their way to Prairie du Chien, Wisconsin to bring supplies to Fort Shelby. As they made their way up the Mississippi River with three gunboats, the Force clashed with approximately 500 Sauk warriors and their British and French Army allies. The one-day battle at Campbell's Island was a defeat for the American Force. It helped the Native Sauk maintain control over the region for the next 20 years until the Black Hawk War in 1832.
Images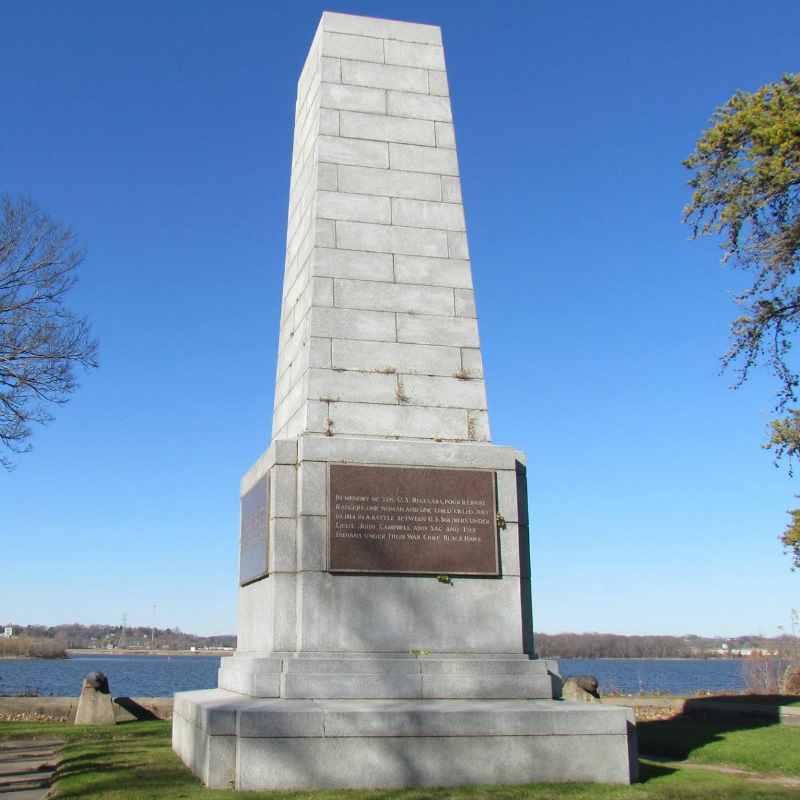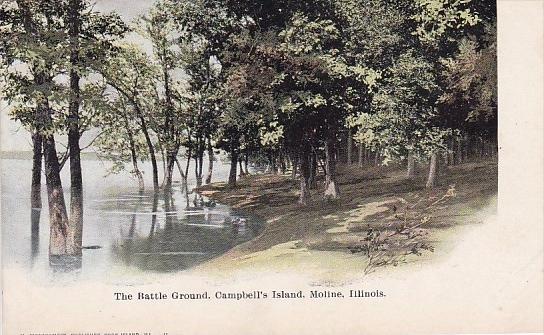 Backstory and Context
During the early 1800s, Americans were building temporary forts along the Mississippi River for trading with area tribes and as part of their effort to secure alliances as the first step towards acquiring the power that could lead to the acquisition of western lands. Near Rock Island, Illinois, a small island, known as Campbell's Island was the location of a single-day battle during the War of 1812. On July 19,1814, a band of an estimated 400 Sauk Natives, backed by British and French Forces, attacked an American Force led by Lieutenant John Campbell. Blackhawk led the Sauk Forces. The American Force was on their way to the American Fort Shelby located at Prairie Du Chien, Wisconsin to deliver much needed supplies and ammunition. The battle was a defeat for the American forces, resulting in the loss of 16 American lives. None of the ammunition and supplies ever made its way to Wisconsin. All supplies were captured by the Sauk Natives and Blackhawk.
Campbell's Island State Memorial consists of a North Carolina granite monument dedicated in 1908, in a mini-park overlooking the river. A bronze plaque on the monument base, attributed to sculptor A. L. Van der Berghen, commemorates the battle. The plaque foreground depicts two soldiers with rifles and a woman comforting a wounded soldier. In the background are several soldiers and a boat, with Native American warriors emerging from trees across the river. The other three sides of the base carry Wisconsin red granite tablets describing the memorial's history. 
A low concrete wall surrounds the monument, with an inner walk. A "peace garden" contains four concrete benches, arranged in a "Sacred Circle" design and decorated with mosaic tiles in Sauk and Mesquakie artistic motifs. Designed by area artist Kunhild Blacklock and dedicated in 1998, the garden was funded by a grant through the River Action Committee of the Quad Cities.
Sources
Campbell's Island, Illinois Historic Preservation Division. Accessed November 16th 2019. https://www2.illinois.gov/dnrhistoric/Experience/Sites/NorthWest/Pages/Campbells-Island.aspx.
Additional Information