Adams Museum
Introduction
Operated by Historic Deadwood, Inc., the historic Adams Museum is dedicated to preserving and promoting the history of the city and the Black Hills. The museum is named after its founder, businessman, and six-term mayor, William E. Adams. He built the museum in 1930 and donated it to the city. The building is a fine example of Classical Revival architecture. The museum features many historical items on display including personal belongings, memorabilia, and artifacts of well-known historical figures of Deadwood. Highlights include a large 7.346 troy ounce gold nugget, a pencil sketch of the famous Western historical figure Wild Bill Hickok by illustrator N.C. Wyeth, and a rare specimen of a plesiosaur (an ancient marine reptile). The building is a contributing property of the Deadwood Historic District, which is listed on the National Register of Historic Places. Historic Deadwood also operates the Days of '76 Museum, the Historic Adams House (see below), and the Homestake Adams Research Center, which holds one of the largest collection of Black Hills archival materials in the country.
Images
The Adams museum was built in 1930 and showcases local and regional history.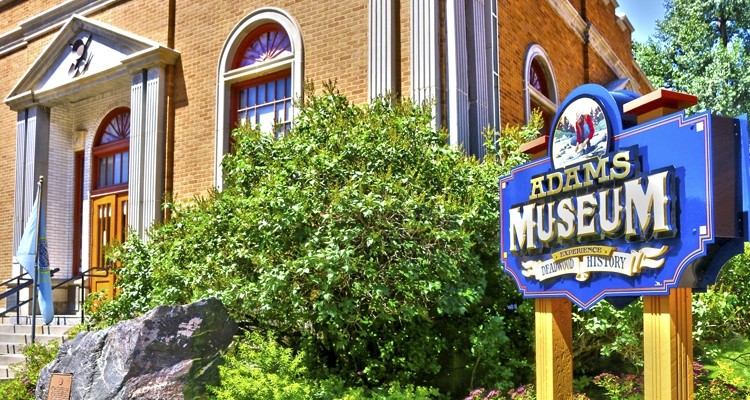 Built in 1892, the Historic Adams House is fine example of Queen Anne architecture.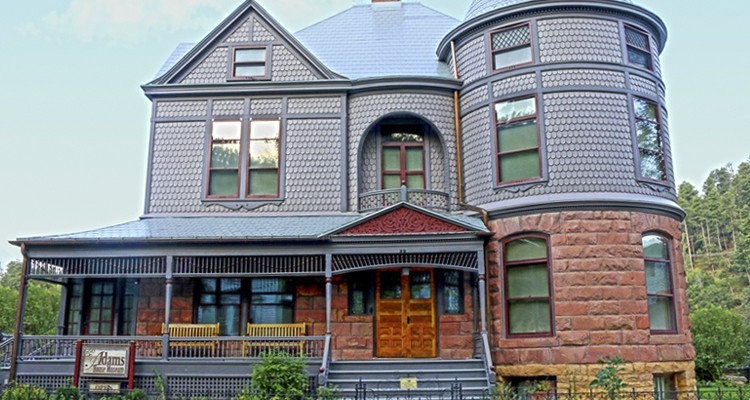 Backstory and Context
William E. Adams arrived in Deadwood with his brother, Avery, in 1877. They built and opened a grocery store on Main Street they called Banner Grocery. The building burned down in a fire but, undeterred, they built new store. Adams married his wife, Lucile, in 1880 and they had two daughters together. As the business grew, Adams moved his family to a number of increasingly larger homes including this property and their final home built 1892 at 22 Van Buren Street. The elegant, Queen Anne-style home today operates as a house museum and features oak woodwork, stained glass windows, and original furnishings.
Adams built a new store in 1894 that he expanded in the coming years as he transitioned from retail to wholesale. The building grew significantly; it covered a whole city block and was four-stories tall. As a result of his success, Adams became a prominent figure, not only contributing to the economy but, as note above, serving as mayor six times. Wanting to contribute further, Adams decided to build the museum. He also built it in honor of Lucile and his daughters who, sadly, had passed away. The house is also a contributing property of the Deadwood Historic District.
Sources
"About W.E. Adams." Deadwood History, Inc. Accessed November 6, 2019. https://www.deadwoodhistory.com/about-us/about-w-e-adams.html.
Rau, John E. "Deadwood Historic District Amendment." National Park Service - National Register of Historic Places Nomination Form. October 15, 1966.
Image Sources
Deadwood History, Inc.

Deadwood History, Inc.

Additional Information