Gates Funeral Home
Introduction
Gates Funeral Home was established in the mid-1890s by Horatio W. and Mary Gates. That Gates family was among the first licensed embalmers in the state and they built this Neoclassical-style funeral home in 1922 to house their growing business. The building was designed by renowned local architect Fred. S. Wilson. The Gates Funeral Home was run by three generations over almost 100 years in the Rosedale neighborhood of Kansas City.
Images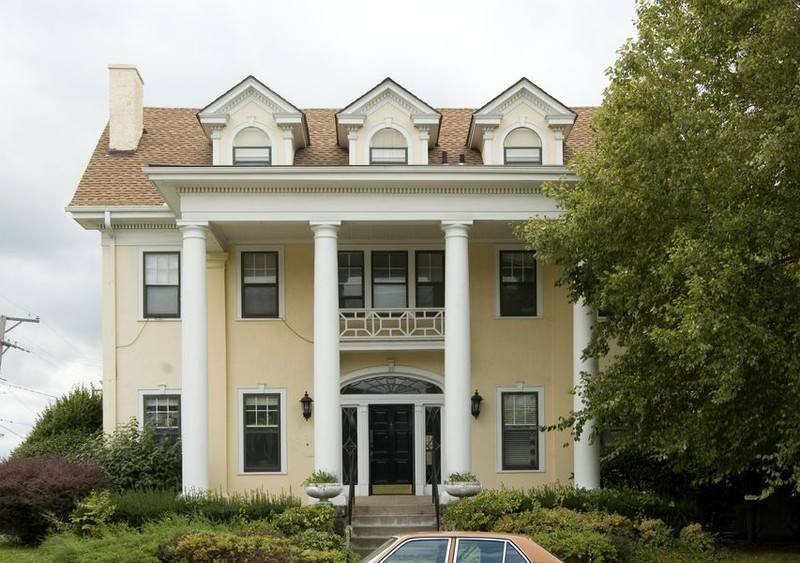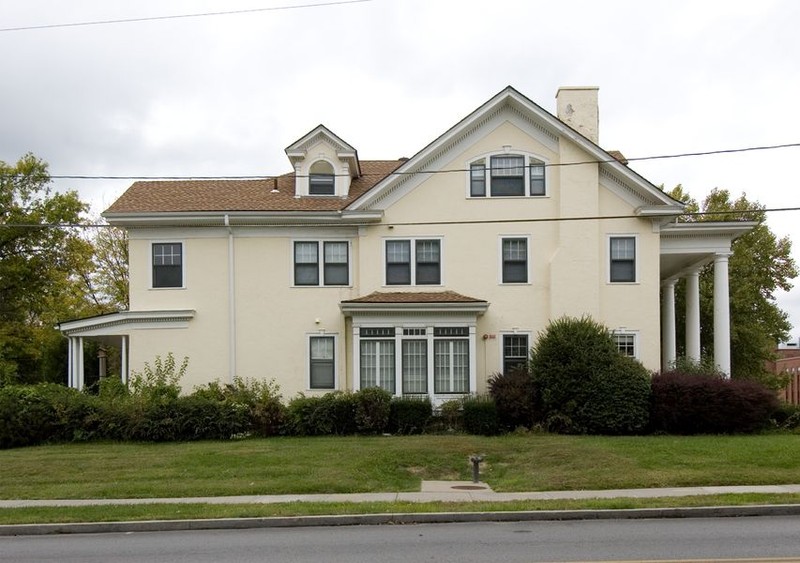 Horatio and Mary Gates in an automobile in front of their first funeral parlor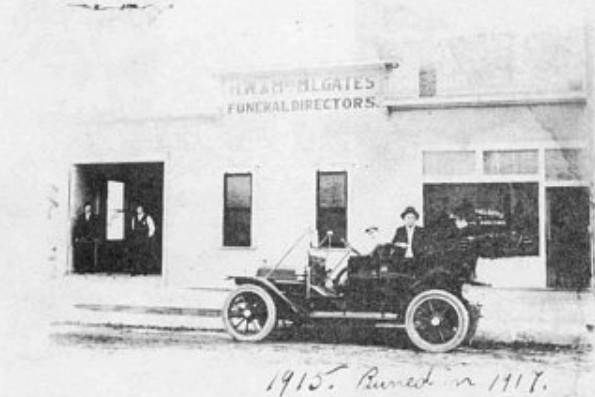 The second Gates funeral parlor and the family home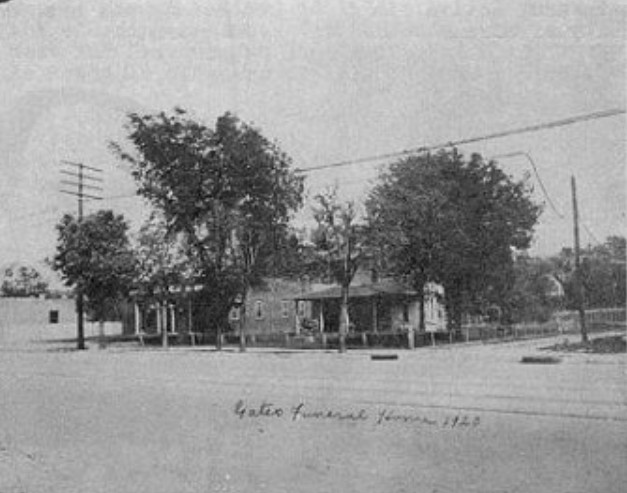 Gates Funeral Home in the 1960s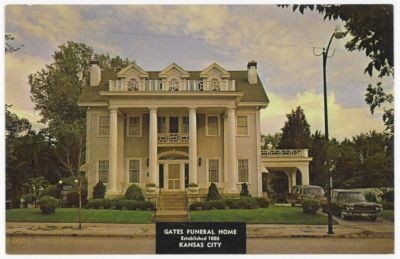 Gates Funeral Home in the 1970s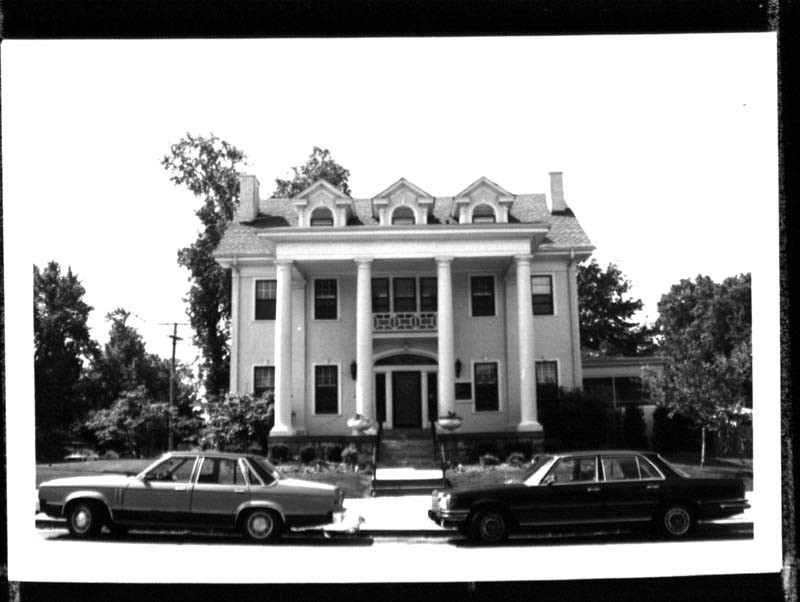 Mary Gates, first woman licensed in the state of Missouri and possibly in the US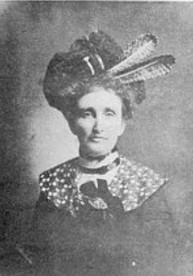 Backstory and Context
Horatio W. and Mary Gates owned a livery and wagon yard in Rosedale, Kansas in the late 1880s. The Gateses used their horses and wagons to move coffins and assist with burials. Eventually this transitioned into an undertaking business in the 1890s. The Gateses helped found the Kansas Funeral Directors Association in 1897. Horatio became president and Mary was secretary and later treasurer. They were also among the first embalmers to be licensed in Kansas. Mary became the first female embalmer licensed in Missouri.
In 1915, the Gates Funeral Home opened in a new commercial storefront next to their home at 29 Southwest Boulevard. Unfortunately, this new building was destroyed by fire just two years later. A new brick building with modern equipment was constructed in its place. The Gateses also closed their livery stables by 1918 and transitioned to using automobiles in their business. Early advertisements for the Gates Funeral Home tout their "rubber-tired" carriages available for hire.
The Gateses soon outgrew their storefront in Rosedale. They purchased property at Olathe and State Line Road, in the residential Hanover Heights neighborhood and very close to a new hospital and medical school. In 1922, they built a new funeral home at the site and chose Fred S. Wilson as the architect. The new 2.5-story building was designed in the Neoclassical style, with large columns and a stately front porch leading to a grand entrance. The symmetrical layout had a large central staircase in the hall inside the main entrance.
Along with the residential location, the style of the building gave more of an impression of a grand family home and an air of "domesticity" than their past commercial-front stores had. In addition, the Gates family lived on the upper floor of the business, which was common practice for funeral directors at the time. The Gates Funeral Home continued to operate as a family-run business for decades. Horatio and Mary's son Miles Gates and their son-in-law Frank Wickert ran the funeral home in their later years. Miles' son John S. Gates was the last family member to manage the business. Gates Funeral Home finally closed when he retired in the late 1970s.
The property was purchased by McGilley Memorial Chapels. Ownership was transferred in 1980 to the Children's Oncology Services of Mid-America, which used it as a Ronald McDonald House to provide housing for the families of children receiving medical treatment. The house received extensive renovations at this time. It has since been used as a spa center, and MPM Capital, a healthcare firm, used it as MPM Heartland House. MPM received Preservation Stewardship Award from the Kansas Preservation Alliance for restoration work done on the house in 2010.
Sources
Rosin, Elizabeth and Kristen Ottesen. "National Register of Historic Places Registration Form: H. W. Gates Funeral Home." Kansas State Historical Society Website. Form prepared December 27, 2007. Accessed November 3, 2019. https://khri.kansasgis.org/index.cfm?in=209-2820-00611.
Connelley, William E. A Standard History of Kansas and Kansans, Vol. III. Chicago: Lewis Publishing Company, 1918. Accessed November 3, 2019. https://books.google.com/books?id=s6IUAAAAYAAJ&source=gbs_navlinks_s.
"H. W. Gates Funeral Home." Kansas Preservation Alliance Website. Accessed November 3, 2019. http://kpalliance.org/h-w-gates-funeral-home/.
Image Sources
Brad Logan: https://khri.kansasgis.org/index.cfm?in=209-2820-00611

Brad Logan: https://khri.kansasgis.org/index.cfm?in=209-2820-00611

https://www.kckpl.org/kansas/documents/rosedale-history/rosedale_appendix5.pdf

https://www.kckpl.org/kansas/documents/rosedale-history/rosedale_appendix5.pdf

https://www.worthpoint.com/worthopedia/gates-funeral-home-kansas-city-ks-140026689

https://khri.kansasgis.org/index.cfm?in=209-2820-00611

https://www.kckpl.org/kansas/documents/rosedale-history/rosedale_appendix5.pdf

Additional Information