Bordner House
Introduction
Perry township farmer Haman Bordner constructed this house in 1880. Bordner was also a successful cattleman, producing Shorthorn, Jersey, and Guernsey cattle as well as hogs. Bordner married in 1854, and at that time he owned 75 acres of land and lived with his family in a modest log cabin on the property. By 1880 when he constructed this home, his land holdings had grown to 247 acres of farmland.
Images
Bordner Home shortly after its construction.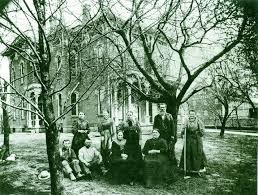 Backstory and Context
The house is an example of an Italianate Victorian style. In the early 1900s, the home was expanded when a one-story glass-enclosed porch was added. The porch extends from the northwest comer around and across the first two sections of the east side. The house is the last of the farm buildings still standing; it now sits on a 3/4 acre of land surrounded by other residences. 
Sources
Klimoski , Grethchen. Bordner House . National Register of Historic Places Nomination Form. Published February 17th 1978. National Register of Historic Places .
Ohio Historic Places Dictionary. Volume 2. North American Book Dist LLC, 2008.
Image Sources
https://www.cantonrep.com/x1715260004/Pictures-from-the-past-Bordner-home-in-Perry