Historical Marker: General Matthew D. Ector
Introduction
This historical marker, which is located on the grounds of the Ector County Courthouse, commemorates the man for whom the county is named: General Matthew Duncan Ector (1822-1879), who was a Confederate general in the Civil War. The marker is situated in between two other markers; one provides information about the history of the courthouse and the other commemorates the Ector County Land Rush.
Images
The marker is located just outside the Ector County Courthouse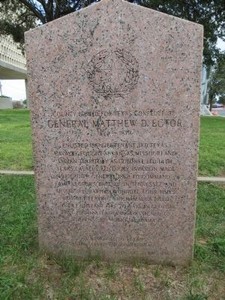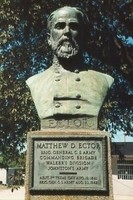 Backstory and Context
General Matthew D. Ector was born in Putnam County, Georgia on February 28, 1822. He briefly studied law in 1841 in Greenville, Georgia under the tutelage of state Supreme Court justice Hiram B. Warner. However, after getting married in 1842, Ector lost interest in law and got into farming, which he did for the next seven years. Unfortunately, his wife died in 1848. Within the next couple of years, he went to California and Georgia before moving to Henderson, Texas in 1850. Ector took up law once again and was admitted into the bar the next year; he also remarried. He became the editor of a local newspaper and was elected county representative to the state legislature (sadly, his second wife passed away in 1859).
Ector enlisted as a private in the Third Texas Cavalry shortly after the Civil War broke. He quickly rose up in the ranks, first becoming lieutenant then adjutant to brigade commander General James L. Hogg. With the Third Cavalry he fought in a number of battles in Arkansa, Missouri, and Indian Territory. He was eventually promoted colonel and commanded the Fourteenth Texas Cavalry (dismounted), which was soon called Ector's Brigade. At the Battle of Richmond, Kentucky he was promoted to brigadier general on August 23, 1862. He would later serve under General Joseph E. Johnston in Mississippi, and then later saw battle at Chickamauga, Georgia. On July 27, 1864, while fighting in Atlanta, he was severely wounded in his left leg which had to be amputated. The plan was for him to take command of the Confederate army in Mobile, Alabama once he recovered but the war ended.
After the war, he moved back to Henderson with his third wife (whom he married in 1864) and once again took up law. They moved to the town of Marshall in 1867. In the coming years he became judge of the new Seventh District, was elected to the Court of Appeals (1875), and then became presiding judge. He served in that last position until his death in 1879. He is buried in Marshall.
Sources
"General Matthew D. Ector." The Historical Marker Database. Accessed October 30, 2019. https://www.hmdb.org/marker.asp?marker=85779.
Stroud, David V. "Ector, Matthew Duncan." Handbook of Texas Online. June 12, 2010. Last Updated March 4, 2011. https://tshaonline.org/handbook/online/articles/fec02.
Image Sources
The Historical Marker Database

Wikimedia Commons