American Museum of Fly Fishing
Introduction
Established in 1968, the American Museum of Fly Fishing "…was created to serve as an institution to research, preserve and interpret the treasures of angling history." Its archives hold the world's largest collection of fishing related artifacts, numbering well over 25,000 items. This collection traces the evolution and progression of fly fishing in America from the country's origins to present day. Aside from its expected collection of rods and reels, the museum also possesses an impressive collection of fishing related art and vintage photographs. It has been accredited by the American Alliance of Museums since 1973 and was re-accredited in 2009, one of only five such museums in Vermont.
Images
The American Fly Fishing Museum (AMFF) is located next to the Orvis Company headquarters.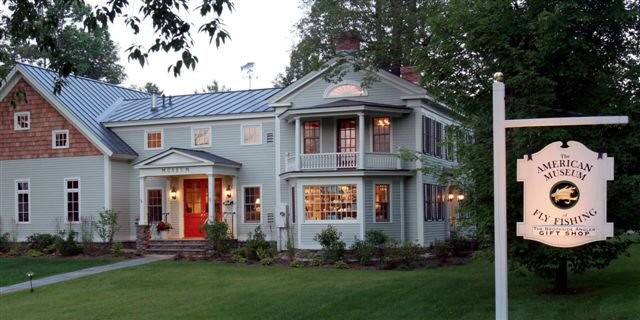 The heart of the AMFF; vintage rods, reels, flies and photos.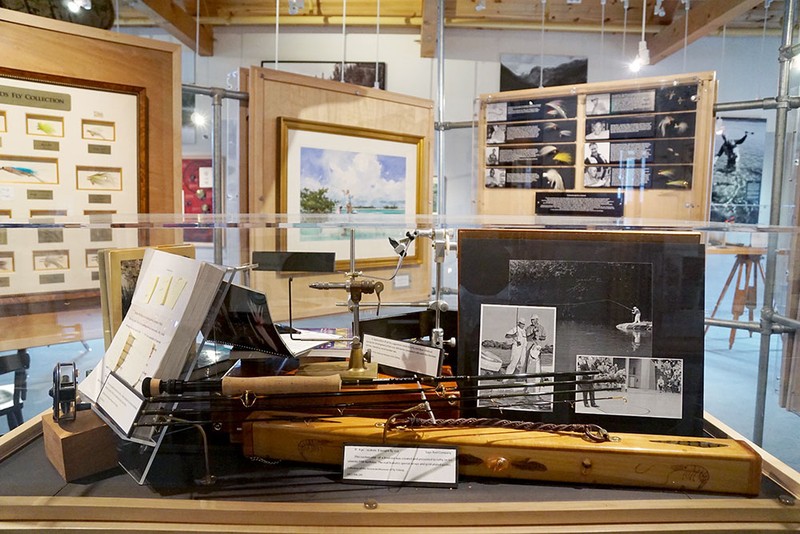 The Presidential Seal indicates fly fishing artifacts that were used by former presidents.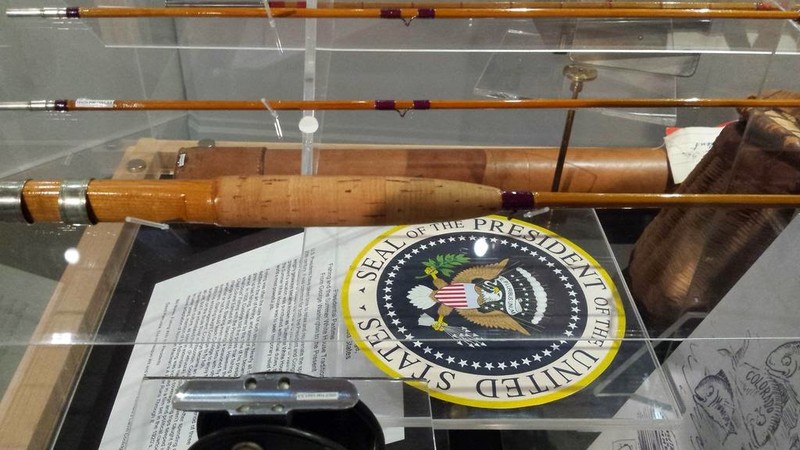 The AMFF hosts a fly fishing festival on its grounds every year.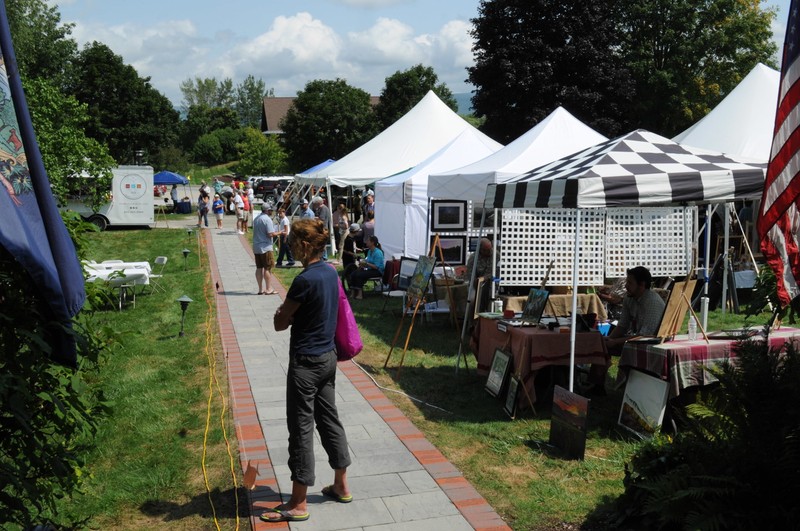 President Jimmy Carter was awarded the AMFF's Heritage Award in 2019 along with George H.W. Bush, posthumously.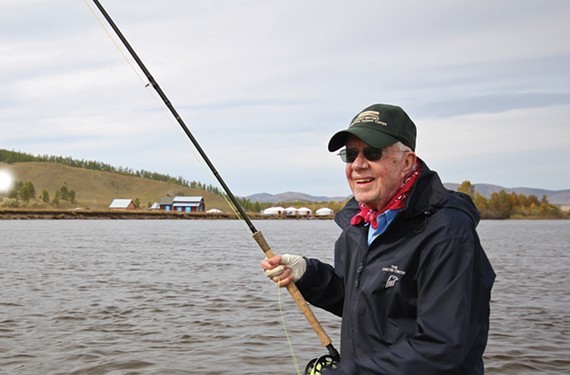 Backstory and Context
In 1963, local Manchester resident and fly fisherman, Hermann Kessler, while doing research for Field and Stream magazine located several hinged, wooden panels in the attic above the C.F. Orvis Company's rod factory. These panels were created by Mary Orvis Marbury, daughter of the company's founder, in preparation to be displayed at the 1893 Columbian Exposition (or World's Fair) in Chicago. On these panels were numerous flies tied at the company's shop along with vintage Black and white photographs. Years later, in 1968, when Kessler came across an old rod being turned in for a discount on a new one, he thought the rod and Mary Orvis' fly panels should be in a museum somewhere. Kessler then took his idea to Leigh Perkins and the American Museum of Fly Fishing was the result.
The museum began as nothing more than some bamboo rods along a back wall within the Orvis store. However, as with most museums, the American Museum of Fly Fishing expanded gradually from its humble beginnings as its dedicated board of directors managed to acquire rods, reels, flies, tackle, tackle boxes, artwork, photos, manuscripts and books, the vast majority acquired via donations. Eventually, the museum obtained a building along Main Street next to the Orvis headquarters and is still located there to this day.
Its current collection of fly-fishing ephemera includes over 1,200 reels from early models cast in bronze to today's lightweight aluminum versions. Their rod collection includes over 1,400 models from wooden rods that belonged to Senator Daniel Webster to bamboo rods to modern graphite versions produced by Leonard, Edwards, Chubb and Orvis. Contained within their collection are rods that belonged to Babe Ruth, Winslow Homer, Ernest Hemingway, Ted Williams, Glenn Miller and Presidents Herbert Hoover and Dwight Eisenhower. As for their fly collection, it contains over 22,000 flies tied by people as diverse as Theodore Gordon, George LaBranche, Megan Boyd, and Helen Shaw. It also includes flies from England and Scotland tied in 1789 with Indian grass leaders. The museum also houses a large collection of fishing related artwork, to include over 700 paintings and prints from such artists as Ogden Pleissner, Stanley Meltzoff and the appropriately named George Van Hook. 
The museum offers permanent and rotating exhibits. Among its permanent exhibits is the President's Collection as fly fishing has been a presidential and post-presidential activity on par with golf. The historical artifacts within this collection include Herbert Hoover's fly box and reel, a collection of Dwight Eisenhower's flies, and John Q. Adams' fly wallet. Other exhibits have included, "On Fly in the Salt: American Saltwater Fly Fishing from the Surf to the Flats," "Commemorating the Catch: Fish Carvings by Stephen R. Smith," "Side Effects: Billinghurst and Early Fly-reel Culture," "Wonders of Fly Fishing: Who, What, Where, When…" and an art exhibit that features the artwork from the cover of Trout magazine.   
The Museum also honors those who have made significant contributions to the art and culture of fly fishing and in 2019 honored former President's Jimmy Carter and George H.W. Bush with their Heritage Award. The museum also offers numerous educational opportunities, workshops and special events. Please call or visit their website for dates and times.     
Sources
"About, Exhibitions, Collections, and Blog." AMFF. Accessed October 29, 2019. https://www.amff.org/
Fee, Gayle. "The American Museum of Fly Fishing." Stratton Magazine. May 23, 2018. Accessed October 29, 2019. https://strattonmagazine.com/local/fly-fishing-museum/
Benner, Dana. "Learn About the ALlure of Fly Fishing at the American Museum of Fly Fishing." ODU Magazine. April 1, 2017. Accessed October 29, 2019. https://www.odumagazine.com/learn-about-the-allure-of-fly-fishing-at-the-american-museum-of-fly-fishing/
"Angling Art and Artifacts." Manchester Vermont. December 29, 2017. Accessed October 29, 2019. https://www.manchestervermont.com/fly-fishing-museum/
Additional Information