Merle Hay Grave Marker
Introduction
Merle David Hay is known as one of the first three American servicemen to die in the First World War. After signing up for service in May 1917, he and three other servicemen were assigned to Company F of the 16th Infantry Regiment in November 1917. They were posted near the French Ville of Artois, and in the early morning of November 3rd they were attacked by the German Army. After nearly an hour of intense fighting, Merle Hay and two other servicemen were killed by German gunfire and were declared the first three casualties of the American Expeditionary Force. Hay's grave marker and memorial is located just outside of Glidden, Iowa where he served as a farm implement mechanic before entering into the service.
Images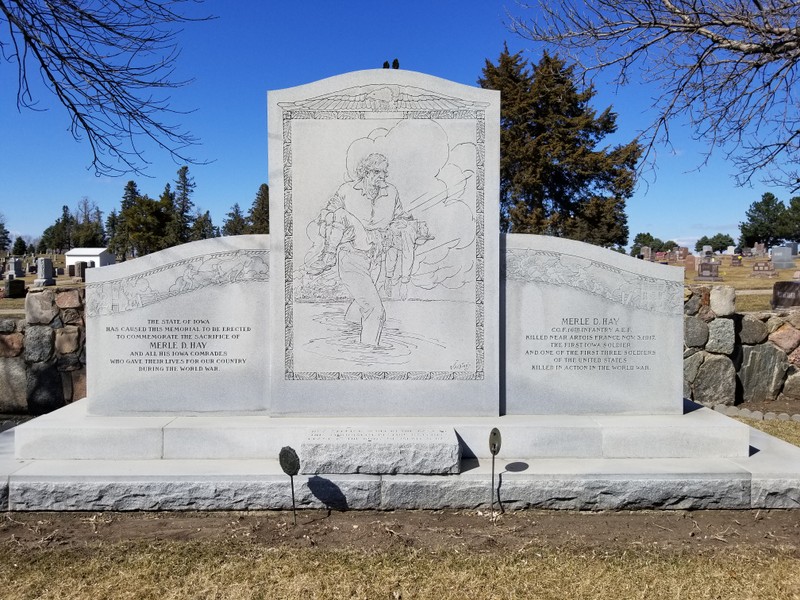 The Carroll Times, November 8th, 1917

Backstory and Context
Merle Hay was the oldest of 3 children born to Harvey and Carry Hay in Glidden, Iowa. He was a farm boy and store clerk. And in May 1917, he signed up to fight in World War I just weeks after the United States congress declared war on Germany. Hay was one of seven other men from the Glidden area to sign up.
Within three weeks of enlisting he was sailing to France, and a few months later he became one of the first three US Army soldiers killed in World War I. Private Hay, along with Corporal James Bethel Gresham and Thomas Enright, were killed by German troops in Artois, France while serving as part of Company F, 16th Infantry Regiment, 1st Infantry Division on November 3rd, 1917. The surprise attack by the Germans occurred at night, with vastly outmanned American forces engaging the enemy in close combat. Witnesses saw Private Hay using a bayonet to fight two German soldiers during the battle, and he was found dead after the attack. Besides the three men killed in the attack, five were wounded and twelve captured. All three soldiers were buried on the battlefield where they fell. In 1921, Private Hay was removed and re-interred in Glidden, Iowa.
Thousands attended his funeral as a procession was formed from Des Moines, Iowa, down Highway 30, to his final resting place less than a mile outside his hometown of Glidden, Iowa.
The cemetery itself, previously known as West Lawn Cemetery, is now also known as Merle Hay Memorial Cemetery. An 8-foot monument commissioned by the Legislature marks Hays' grave at Westlawn Cemetery in Glidden. It can be found on a little gravel access road in front of the Merle Hay Memorial Cemetery in Glidden. Hay was the first of 3,576 Iowans killed in World War I.
Sources
April 2nd 2019. Accessed November 5th 2019. https://www.iowaadventurer.com/single-post/2019/04/01/Visiting-the-grave-of-Merle-Hay-the-first-Iowan-and-one-of-the-first-Americans-to-die-in-WWI.
Additional Information